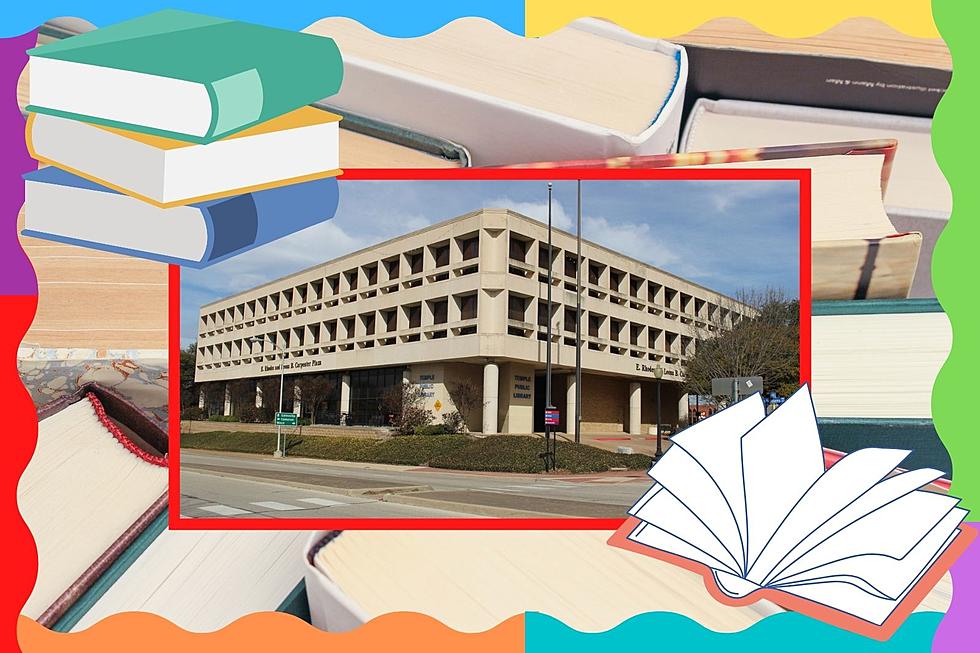 Readers Rejoice! The Temple Public Library's Labor Day Sale Returns
Aaron Savage, Townsquare Media/Canva
My book shelves are packed, and there are stacks of books around my place that are either favorites I revisit or new adventures I haven't had time to dive into yet. I would probably have time if I didn't keep buying more books, but if you're a bookworm like myself, you know that's impossible.
Nothing Beats A Real Book
Kindles and other e-readers are great, but there's nothing like the feel, smell, and joy of a real, tangible book in your hands. Most of mine are filled with scraps of paper marking favorite pages and passages, and I'm sure yours are too.
If you suffer from the same compulsion to get your hands on as many books as you can, or if you're looking to start a collection, make plans to attend the Friends of the Temple Public Library's Labor Day Used Book Sale.
A Temple Tradition Returns
Last year, the COVID-19 pandemic put the kibosh on the Friends' annual book sale. Summer without their book sale just doesn't feel complete. They've been doing this for 35 years, and it's great to see them poised to make a triumphant return this September.
Where Is The Sale?
The sale is held on the top floor of the Temple Public Library, 100 West Adams Avenue in Downtown Temple. You don't have to be a Temple resident or have a library card to participate.
When Is The Sale?
This year's sale is scheduled for the public from Wednesday, September 1 to Saturday, September 4.
Here Are The Hours
Tuesday, August 31, Noon to 6 PM – Members Only
Wednesday, September 1, 10 AM to 6 PM – Open to the Public
Thursday, September 2, 10 AM to 6 PM – Open to the Public
Friday, September 3, 10 AM to 4 PM - Open to the Public
Saturday, September 4, 10 AM to 4 PM – Bag Day
Wait, There's A Members Only Day?
Yep! If you're a member of the non-profit Friends of the Temple Public Library, you can get in a day early. If you're not a member, you can join at the sale. (More info on that below.)
What Is Bag Day?
Bag Day is the final day of the used book sale. Basically, they hand you a bag, and you see how much stuff - books, DVDs, CDs, etc. - you can fit into it. Then they sell you the whole bag for a low price.
How Much Are The Books?
Most items, including books, videos, and audio recordings, are $1-$2, with some items even as low as 50¢. The occasional item may cost a little more, but the majority of things you'll find will be super cheap.
What Kind Of Books Will Be For Sale?
Fiction and non-fiction, novels, sci-fi, biographies, adventure, romance, horror, cookbooks, history books, children's books - whatever your favorite genre, chances are you'll find plenty of titles to love, and in good condition.
They'll also have hundreds of video and audio recordings. I've picked up a few interesting DVDs and CDs over the years in addition to my book hauls.
Where Do The Proceeds Go?
The money raised by the Labor Day Used Book Sale go toward funding the efforts of the Friends of the Temple Public Library.
Who Are The Friends Of The Temple Public Library?
Exactly that - folks who love the library and want to support its reading programs and community literacy programs. Member dues go toward enhancing the library's resources and helping Central Texans gain access to information about the history and culture of their community.
How Can I Become A Member?
You can sign up for a membership at the book sale, or you can fill out this membership form and mail it to Friends of the Temple Public Library at 100 W. Adams Ave., Temple, Texas 76501.
According to their website:
Membership levels are $10 Individual; $20 Household; $100 Patron; $250 Benefactor; $1,000 Lifetime individual/Couple; $500 Bronze Business; $1,000 Silver Business; and $1,500 Gold Business. Gift memberships and donations in memory or in honor of an individual also are accepted. Gifts and memberships to the Friends of the Temple Public Library are tax deductible.
You can email them at friendsoftemplelibrary@gmail.com.
I Can't Wait!
Like I said, I'm a total bookworm and habitual collector. I never fail to find something that piques my interest at the book sale, and sometimes I find titles I know a friend or loved one will appreciate.
If you're an avid reader or looking for your next literary world to get lost in, definitely check out this sale!
PICS: Check Out The Best Cosplay of Bell County Comic Con 2021
The 2021 Bell County Comic Con was another huge success. While the celebrity guests and panels are great, my absolute favorite part of the con is seeing all the fans who cosplay in tribute to their favorite characters. Let's take a look at some of this year's best!
Here's What's Happening at This Year's Central Texas State Fair
After taking a year off in 2020, the Central Texas State Fair returns this September with everything you love about a rip-roarin' good time at the Bell County Expo Center! Here's your guide to the great shows, music, food, and rodeo action you expect as they do it big for 2021.
Popular Child Stars From Every Year
Below,
Stacker
sifted through movie databases, film histories, celebrity biographies and digital archives to compile this list of popular pint-sized actors from 1919 through 2021.