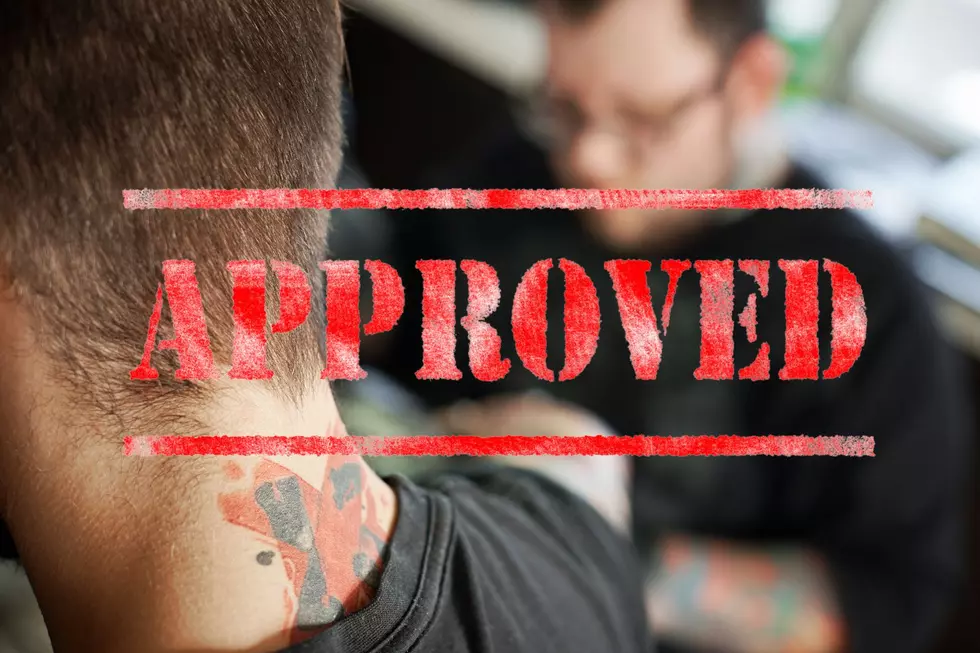 Will Recruitment Rise in Killeen, Texas With New Tattoo Policy?
Canva
If you have been wanting to join the Army, but have some tattoos in the wrong places, here's some good news!
The United States Army is at less than half of its enlistment goal, and according to the Army Times, they are struggling to find military recruits. KWTX is reporting that U.S. Army Secretary Christine Wormuth has issued a new policy allowing soldiers to have small tattoos on their hands, ears, and necks.
New Tattoo Policy for Army
As far as military branches go, the United States Army has some of the most relaxed rules for ink, but to increase its numbers, those rules are even more flexible now.
The following tattoos are currently authorized for Army soldiers:
One visible tattoo on each hand smaller than one inch in measurement. This tattoo cannot be on the fingers (one ring tattoo per hand is okay, as are 'an unlimited number of tattoos between the fingers, as long as they are not visible when the fingers are closed')
One tattoo on the back of a soldier's neck, less than two inches in measurement
One tattoo behind each ear, no larger than one inch in measurement, and not extending beyond the ear lobe
Prohibited Army Tattoos
Prohibitions on type of tattoo or brand remain in effect. Soldiers may continue to
submit religious accommodation requests for a waiver. 
The U.S. Army prohibits any tattoos that are racist, derogatory, sexist, extremist, or indecent. These types of tattoos are not allowed, no matter where you have them on your body, even they are hidden under a uniform.
Army Benefits
The service is currently offering recruiting bonuses up to $50,000, according to military.com. New recruits will also be allowed pick their first duty station (with some limitations). These incentives come on top of existing benefits, like the GI Bill and VA home loans.
Hook 'Em! 7 Celebrity Graduates From University of Texas at Austin
When you think of the University of Texas at Austin, what comes to your mind first? Is it celebrities? Of course, some celebrities are more vocal than others about their alma mater. Matthew McConaughey lets everyone know where he came from, so no surprises there. The actor is also a Professor of Practice at the university's Moody College of Communication, and graduated in 1993 with a Radio/TV/Film degree from UTA.
Aside from McConaughey, you might be surprised at some of the famous people who picked up a degree in the Lone Star State's capital city.
Blue Bell Ice Cream On The List of Top 15 Brands Nationwide
Blue Bell
is the official ice cream of Texas, and my personal favorite.
According to a new list
of the 15 best brands of ice cream nationwide, Blue Bell was ranked in the middle.
In addition to ingredients, texture, and variety,
Tasting Table
used
Influenster
and other site reviews as part of its ranking process.
Scroll on to find out how Blue Bell compared to the number one ice cream, and how all 15 on the list were judged.
Who Are The 5 Richest People in Texas, Not Counting Elon Musk?
However, Bezos is not the world's richest person right now. That title goes to the founder of SpaceX, Tesla, and the new owner of Twitter, Elon Musk. Musk owns a mansion in Austin
but says his main home
is a $50,000 rental from SpaceX in Boca Chica, Texas.
Forbes
lists 63 billionaires in Texas, including Elon Musk. Let's find out who's at the top of the list in the Lone Star State for 2022, right behind Musk.