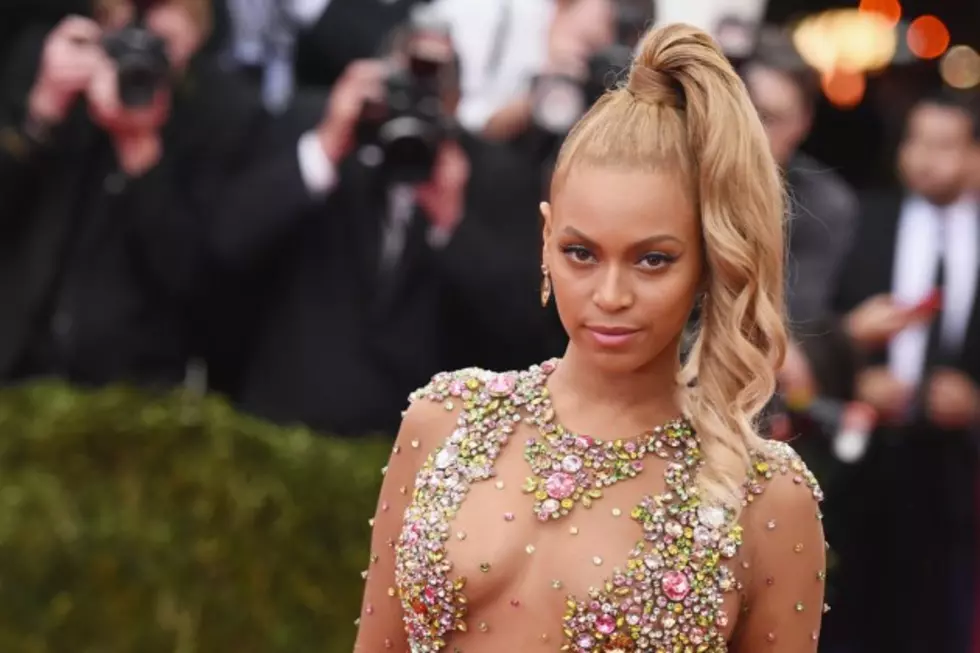 Beyonce, Release That Rap Album You're Hiding From Us
Mike Coppola, Getty Images
Jay Z may be your favorite rapper but Beyonce is coming for his throne.
Since she emerged on the scene in 1996, as the lead singer of the girl group Destiny's Child, Beyonce has been building an international fanbase with her pop star appeal, honey-dipped vocals and seductive moves that make men and women alike ogle in wonder. As one of the best-selling artists of all time, Queen Bey has sold out numerous international tours, racked up 20 Grammy Awards, eight Billboard Awards and additional accolades -- more than 500 to be precise, enough to fill several one-of-a-kind Lorraine Schwartz diamond-encrusted wall units.
But while most of her accolades and fame are a result of her singing voice, on the low, Bey is proving to be quite the rapper these days. Let us be clear, she's no Rakim, 2Pac or her husband Jay Z, for that matter. Yet, Beyonce knows how to keep up with the times and if it involves transitioning from Sasha Fierce to Bey From Block, then it looks like she's up for the challenge.
After the TIDAL premiere of Nicki Minaj's "Feeling Myself" video featuring Beyonce on May 18, you almost felt like you're own swag went up a notch by watching the new BFFs parading around in clothes you wish were in your closet. But a closer examination of the lyrics and the visual brings up a point we need to address. Beyonce, release that rap album you're hiding from us. We're here for it and it needs to happen now. New members of the BeyHive may think Bey's rhymes on "Feeling Myself" -- yes, she rhymes along with Nicki, echoing her on the third verse -- are a surprise, but fans devoted to team BeyHive know this has been years in the making.
Check her bars on the 2014 "Flawless (Remix)," for instance. "We escalating, up in this bitch like elevators / Of course sometimes s--- go down / When it's a billion dollars on an elevator," she rhymes. What made those lines hit even harder than the fact she was finessing on the rap tip was the fact that she addressed the Solange and Jay Z elevator fight in a solid lyrical form. Bey's been killing it in the booth better than some of your favorite rappers.
Let's take a trip down memory lane to 2002, when Jay Z and Beyonce appeared on MTV's TRL to perform their gangsta lovin' duet "03 Bonnie & Clyde." It was their first performance together and seemingly a "coming out" as a couple. The hip-hop influence was already setting in as Bey switched up her southern girl demeanor and opted for a New York Yankees fitted cap, a custom-made distressed denim dress and Manolo Blahnik Timbaland-style boots. Her new Brooklyn look matched that of Jay Z's signature fresh buttas, white T and jeans ensemble. From that moment on, the future wife of hip-hop was born.
However, Bey left the rapping to her man -- it's what he's great at after all. She cheered him on in his rap career like any supportive woman does, but we're sure she's been taking detailed notes all along the way when it comes to maneuvering in hip-hop -- and who better to learn from than Jay Z. The songstress stuck to her singing roots and continued to belt out vocals on hooks and background for songs like Hov's "Pray," "Part II (On the Run)," "BBC" and a host of others, but that moment when she could showcase her rhyming skills was certainly building up.
Beyonce finally gave us a taste of her sing-songy rhyming skills on 2013's "Bow Down / I Been On," a nod to her hometown of Houston, Texas. Her confidence and frequent use of profanity -- especially the word "bitch" -- complemented by the snare-heavy beat, put Bey in a different light, namely the chopped and screwed "I Been On" part of the track. "Gold everything, gold ass chain / Gold ass rings, gold ass fangs / You can see me stunt when you turn on ya screen / You can see me stunt when you turn on ya screen / I'm bigger than life, my name in the lights / I'm the number one chick, I 'on't need no hype / The capital B means I'm 'bout that life," she professes in an aggressive tone. The singer suddenly had the attitude and bravado of a rapper.
But Bey is no top-notch lyricist -- that is still yet to be determined. However, she is an artistic chameleon when needed, one who knows what works and continues to push the envelope. Blue Ivy's mom teased her rap persona yet again in 2014 with her Grammy Award-winning album, Beyonce. She dedicated an entire song, "Yonce," to showcasing her Drake-like dichotomy by infusing rapping and singing. She kicks off the boastful track describing her current setting while dripping swagu (thanks, Kanye). "See me up in the club with 50-11 girls / Posted in the back, got my fangs in my grill / Brooklyn brim with my eyes sittin' low / Every boy in here with me got that smoke / Every girl in here got to look me up and down,' she delivers.
Watch Beyonce's "Yonce" Video
Nevertheless, her approach to rhyming is not riddled in the detailed storylines and imagery like that of seasoned wordsmiths Nas and Kendrick Lamar, but instead she adopts a contemporary approach of using simplistic lines reflective of the times. Her flow on "Flawless (Remix)" is fast-paced and trap-influenced and feels like a mix of her New York influence and Houston upbringing. "And I'm redboned yo / I'm really rit like Donjae / I'm camo in here yo / These thots can't clock me nowadays / You wish I was your pound cake," she raps using slight Auto-Tune.
While there is no mistaking her potential, let's Bey honest; if Beyonce drops a rap album, it could likely sell more copies than that of a traditional rhymer like J. Cole or perhaps even Eminem. The BeyHive will eat it up like Texas barbeque and bow down to her for the effort. Take her song "7/11." Beyonce didn't hit one high note like we've heard her do countless times at awards shows. Instead, she recites redundant lyrics over a corybantic club-ready beat and in just two weeks, the track earned the singer her eighth No. 1 hit on the Billboard Hot R&B/Hip-Hop Charts.
Now is the perfect time for a Beyonce rap album. It's hard to find a person who can honestly admit they don't tap their feet or drop it low once they hear her music. "7/11," with its 214 million YouTube views and counting, is a prime example of her impact when delivering that sing-song rhyming style that's increasingly popular today (in large part due to rappers like Future and Young Thug). It's been more than a year since the Queen has blessed her fans with a new album and by the evolution of her sound since then, a rap album in the making doesn't seem far off.
After the success of her and Jay Z's first joint headlining On the Run tour, rumors began that they were working on their first joint album as well, which is reportedly due sometime this year. Could this be the rap album Bey has been foreshadowing all along? The days of Jigga and Amil are behind us but that same rap chemistry can certainly be had with Jay and Bey ("Can I Get A" still knocks, so perhaps a remake could be in the works).
Beyonce's potential as a rapper is promising from what we've heard so far. When Kanye West and Jay Z dropped their Watch the Throne album, their respective fans enjoyed debates over which rapper had the better bars. But in the case of a Jay Z and Beyonce joint rap album, we've got a seat on the throne waiting for Queen Bey.
Watch Beyonce's "7/11" Video
See 20 Rappers' & Singers' Yearbook Photos You Won't Believe