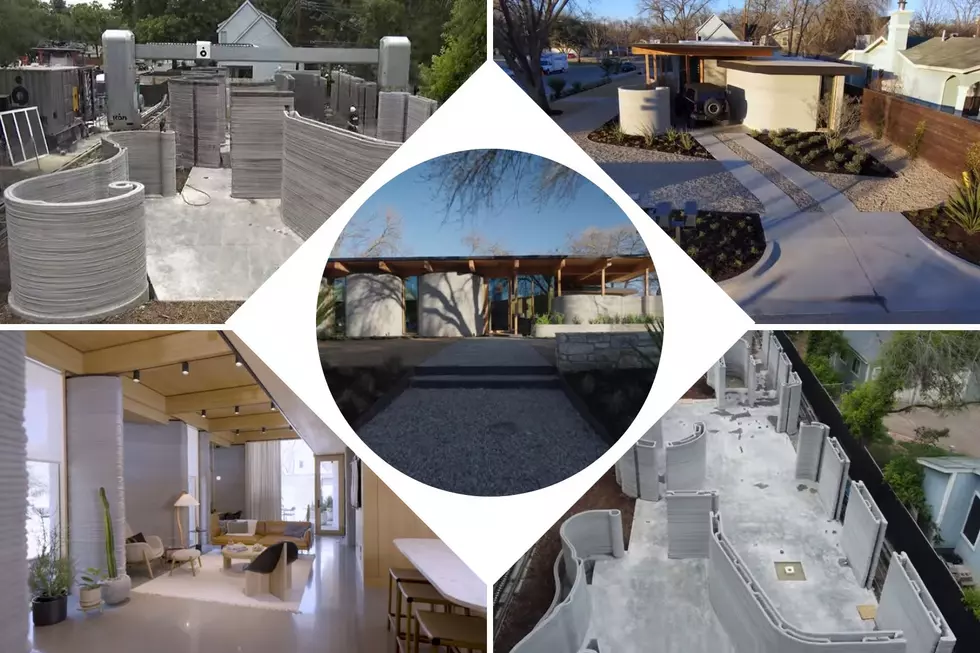 World's Largest 3-D Printed Neighborhood Coming To Georgetown, Texas
ICON - 3D Tech/YouTube
According to its builders, the world's largest neighborhood of 3-D printed homes is in progress now in Georgetown, Texas. Construction has begun on 100 new 3-D printed homes built by Icon and Lenaar, co-designed by architecture firm BIG (Bjarkle Ingels Group). I have some questions though.
Can You Imagine Living In A Robot Made Home?
Well, maybe. 3-D printing construction start up company Icon, based out of Austin is leading the charge by taking on this very ambitious project. It will be called the Genesis Collection at Wolf Ranch. The high profile architecture firm, Bjarke Ingels Group are the designers of the homes, however the team at large includes Hillwood Communities, and the home construction giant Lennar.
"For the first time in the history of the world, what we are witnessing here as a fleet of robots, building an entire community of homes." Jason Ballard, Co-Founder & CEO of Icon said.
 Jobs? Or Nah
I think it's pretty cool that Vulcan 3-D printers, will print out the proprietary Lavacrete walls, and then human builders will install the metal roofing, windows, and doors. This process will require only 2-3 people to oversee the machines doing the work as opposed to dozens. Does this bring more jobs to the state, or take-away?
Safe And Sound?
The design is Texas Ranch inspired which I am sure these homes are going to make a statement. They are saying the homes will also come equipped with cool smart home features like ring doorbells, smart thermostats, and door locks. I love the tech savvy aspects but what about hackers? Another feature to look forward to is a solar panel system to assist in reducing grid-based energy use. That, definitely gets a thumbs up.
Check Out The Video Below
This isn't Icon's first rodeo. Check out their Facebook Page. They have already constructed and completed 3-D homes located in Austin, (one showcased in the video below) to include 3-D constructed tiny homes made for the chronically homeless in the city which I think is amazing. By printing the walls, it allows for the saving of time, labor, and materials, a big benefit, considering where we are with the housing crisis and inflation.
Now Let's Talk Paper Money
So, if everything is going to be cheaper and take less time, it should cost less money right? Ah, ha. Not so much. The one-story homes will have 24 different configurations and 8-floor plans to choose from. The cost will be around $450,000. Are you still in? Sizes will range from 1,574 to 2112 square feet, with up to 4 bedrooms and 4 bathrooms. Ok, so they must be putting high end finishes along with all of the fancy tech to justify the price point. Hmm. My first thought is, I can still get with this. Do you think they will hold their value?
Pre-orders won't be taken until sometime in 2023. However, if you're interested like I think I am, you can register your interest now here. Do you think they will start building 3-D homes in Killeen? Download our free app and tap the chat button. Leave a comment on the Facebook Post. Let me know your thoughts on this.
K-Lew out!
LOOK INSIDE: Marfa's Santa Fe Railroad 'House' Belongs in Temple
Marfa is home to some pretty weird stuff. You've got the famous
Marfa Lights
, the mini
Prada
store, the
Wrong Store
, and
Building 98
, and that's all great, but they've been holding on to something that, in our opinion, belongs here in Temple.
Let's take a look inside this retired Santa Fe caboose. It could use some TLC, but it's in surprisingly good shape. If you've got $254,000 lying around and want to buy this piece of Texas history,
Lauren Meader Fowlkes
with the Odessa Board of Realtors can help you out.
10 Easy Things to Grow In Your Texas Garden
Whether you're an amateur, novice, or pro, these plants are easy to grow in any Texas garden.
Ten Weird World Records Set in Texas