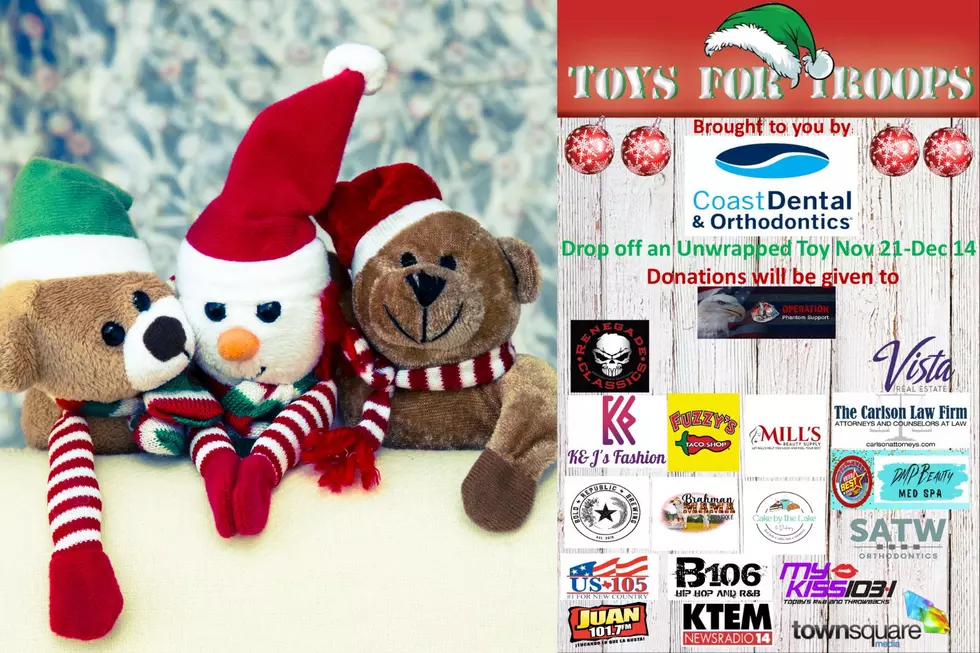 Toys for Troops 2022: How to Make Christmas Magical for Killeen, Texas Military Families in Need
TSM/Canva
Here in Killeen, Texas, to say we love our military, veteran, and first responder families is an understatement. We take pride in being a military town and always having the back of those who've served our country and our community.
When the holidays come along, we also take pride in ensuring that no military or first responder family in need is left without presents to put under the tree.
That's why we're overjoyed to once again team up with Operation Phantom Support and local sponsors to make this Christmas a magical one for those families who could use a miracle.
From now through Wednesday, December 14, Central Texans can leave new, unwrapped toys and gifts in the loving hands of the fine sponsors below. We'll deliver all the toys collected at these locations to Operation Phantom Support so they can make sure they get to the kids of those who are serving and have served.
You've made this annual toy drive such a huge success in past years, even during the turbulent 2020 holiday season, and we know you'll do it again because Central Texans are generous folks.
Thank you for another great year, Merry Christmas, and Happy Holidays!
Toys for Troops 2022: How to Help Make Christmas Magical for Central Texas Military and First Responder Families in Need
Operation Phantom Support and these fine sponsors are collecting toys to help Central Texas military and first responder families in need have a joyous holiday. If you want to help make some Christmas miracles happen, please donate a new, unwrapped toy or gift at one of these fine Central Texas drop-off locations between now and Wednesday, December 14.
CHECK THEM OUT: 100 years of Christmas toys, gifts and fads