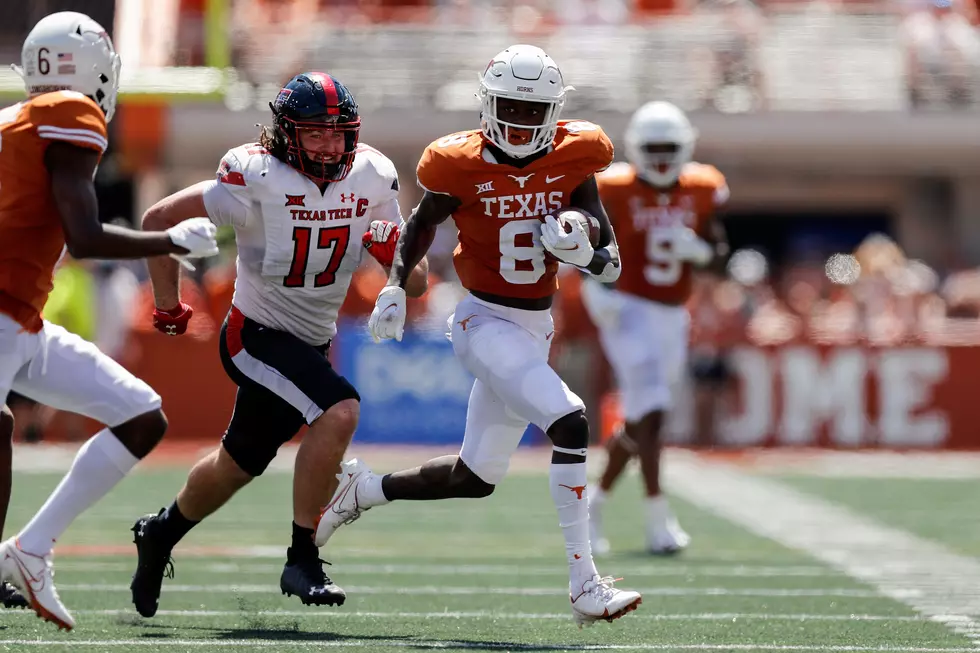 Paid to Play? Texas Player Allegedly Received NIL Deal To Play Elsewhere
Getty Images
NIL deals are the newest thing that players, coaches, and fans are now seeing take place in the college football world. While many, including myself, are happy to finally see the players getting paid, it has also shown that money could bring players to other schools.
Xavier Worthy, a wide receiver for the Longhorns, according to hookemheadlines.com, was offered a substantial NIL deal to play for another program. As of writing, the program that offered Worthy hasn't been revealed.
Fortunately for Longhorn fans, Worthy made it clear that he wasn't leaving the program. He posted this to his twitter on May 2, 2022:
The picture shows himself and Steve Sarkisian fist bumping, affirming his choice to stay in the Lone Star State.
But this isn't the first issue many have taken with NIL deals. Many have come out saying they aren't happy with the potential loss of players leaving programs for more money. Many in college football are also worried about how programs may be undercutting each other to get their players to play for them.
According to Sports Illustrated, with no sense of regulation, coaches are now having to also try and keep players in their programs. Deion Jackson, the head coach of Jackson State, recently spoke out saying NIL is becoming in his words, "free agency."
Time will tell if NIL continues to grow into something that may be hard to control, or if it will be regulated. Do you have an opinion on NIL? Let us know via our station app!
Who Are The 5 Richest People in Texas, Not Counting Elon Musk?
However, Bezos is not the world's richest person right now. That title goes to the founder of SpaceX, Tesla, and the new owner of Twitter, Elon Musk. Musk owns a mansion in Austin
but says his main home
is a $50,000 rental from SpaceX in Boca Chica, Texas.
Forbes
lists 63 billionaires in Texas, including Elon Musk. Let's find out who's at the top of the list in the Lone Star State for 2022, right behind Musk.
Texas in Top 10 Best States to Work from Home in America
How many people do you know that work from home? Since the pandemic, the number of employers with remote jobs has risen steadily.
WalletHub
used 12 factors to compare 50 states and the District of Columbia, including the percentage of people working from home, internet cost, cybersecurity, plus size and population concentration of homes in the state.
Let's take a look at the states that are the best for remote work, and where Texas sits on the list nationwide.
PICS: Texas 'Salvation Cabin' a Perfect Airbnb for Nature Lovers
Salvation Cabin
in Wimberley lies in the Texas Hill Country between Austin and San Antonio. It's a charming 1-bedroom just next to the Blanco River, so depending on when you go, you could do some tubing and kayaking (host Adena even provides the tubes and watercraft), and there's a lot of hiking, exploring, fishing, and nature watching to do.
5 Beautiful State Parks Near Central Texas