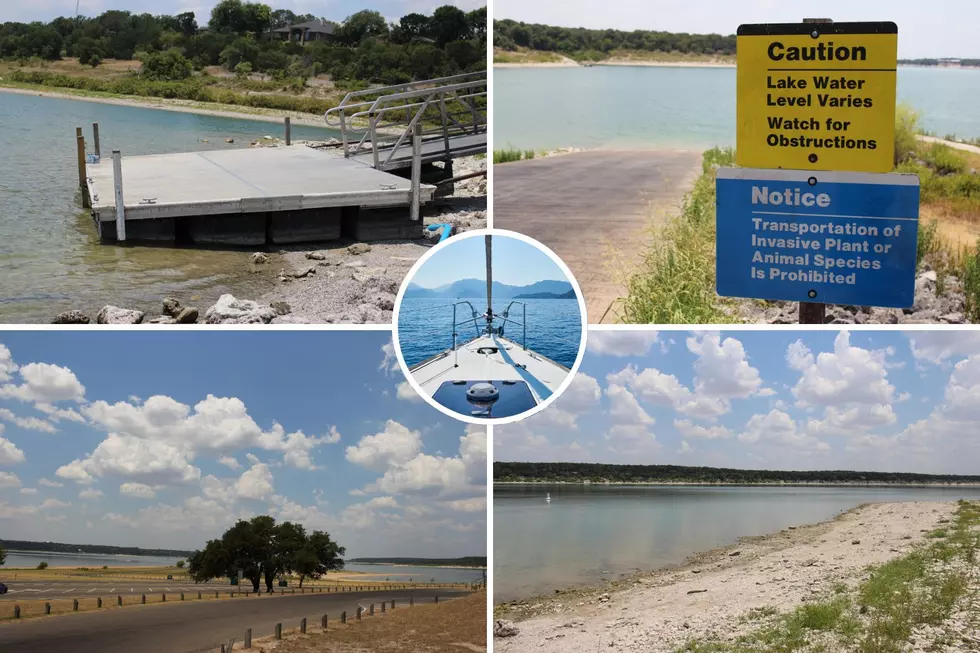 Water Levels Look Scary at Lake Belton, But Should We Be Worried?
Aaron Savage/Canva
Texas heat has definitely shown up this summer, and the effects are being felt  around the state. If you've visited either of our lakes in Belton, Texas lately, you know these beautiful bodies of water are feeling it too.
The slowly lowering water levels at Lake Belton and Stillhouse Hollow Lake have some folks voicing concerns. As a new resident of Texas, I hadn't really had an opportunity to visit either lake until recently, when my co-worker and I used our lunch break to see just how dry things are out there.
To say the least, it looked rather interesting
While it may not look like much, at the time of writing, Lake Belton sits at 587.67 feet, which is 6 feet below normal. This information comes to us from the US Army Corps of Engineers. It was also rather sad to see some parts of the docks almost ashore due to the low levels.
Many of the familiar beaches looked pretty surreal too. You could clearly see where the water levels should be, and it was a little eerie. I'm told it's not nearly as bad as it was in 2011 when you guys had a really bad drought, but still.
Lake Belton isn't the only lake facing issues
Stillhouse Hollow Lake, also facing lower water levels, has been down over 6 feet for weeks now. Our friends Rick Smith and Billy Conway, hosts of On the Dock Radio (Fridays 5-6PM on KTEM-AM), reported in early July that hydrilla has been spotted matted at the surface of the lake.
Hydrilla. if you haven't seen it before is very dangerous to boats. It's much like weeds in the water. So it's important to keep an eye out for it.
The invasive plant species isn't new to anyone who regularly visits the lake. In fact, some people swear there's good fishing in hydrilla patches. Whatever the case, it can pose a danger to swimmers and boaters. It's easy for both human limbs and boat equipment to get tangled up in it.
There's one more important thing to look out for on the water as well
Speaking of invasive species, zebra mussels made a nice, cozy home for themselves in our local lakes a few years back.
These critters pose a threat to you as well:
These little guys do a great job of cleaning up the water they inhabit. The problem is that they do that by filtering out a lot of the small organisms in the water that are vital to the native food chain. They also clog up pipes for local water systems, and can mess up your boating equipment too. Their shells are also very sharp, and pose a cutting danger to swimmers.
Zebra mussel larvae are invisible to the naked eye, but they can get into your boat's livewell or bilge. If you don't clean, drain, and dry your boat after a visit to a lake with zebra mussels, there's a good chance you'll carry them to another lake and start an infestation there.
So it's on us to keep each safe out on the water
Texas Parks and Wildlife has a comprehensive rundown on these little guys, which emphasizes the fact that the clean, dry, drain thing isn't just a clever jingle for a public service announcement - it's the law.
Do we need to be worried?
When Waco issued some water restrictions in response to the hot, dry conditions, and Belton started making irrigation recommendations, we wondered if Temple was considering similar measures.
When we reached out to Alex Gibbs with the City of Temple, he wrote back to tell us that while lake levels are lower than officials would like, there's currently no need for alarm.
So while things may look bad, we're not in code red yet. It's always a good idea to conserve water as much as you can during a hot summer, but for now it looks like our lakes here in Bell County are doing just fine.
Seashells By The...Forest? This Stylistic Airbnb is Bursting With Magic
Ever wanted to live in a seashell? Now you can! Mermaids aren't included, sorry for the inconvenience.
Want To Ship Yourself Away? A Company In Waco, Texas Could Help
Want to stay in a shipping container without the worry of being shipped away? We've got just the ticket.
Bet You Didn't Know: 10 Bizarre Texas Laws Still on the Books
Many states still have strange laws on the books that aren't enforced or taken seriously anymore, and Texas is no exception.
Most of these laws are just funny now, but at one time, there was a valid (or at least somewhat valid) reason for them to exist.
Let's take a look at 10 of the weirdest ones in the Lone Star State.
5 Beautiful State Parks Near Central Texas