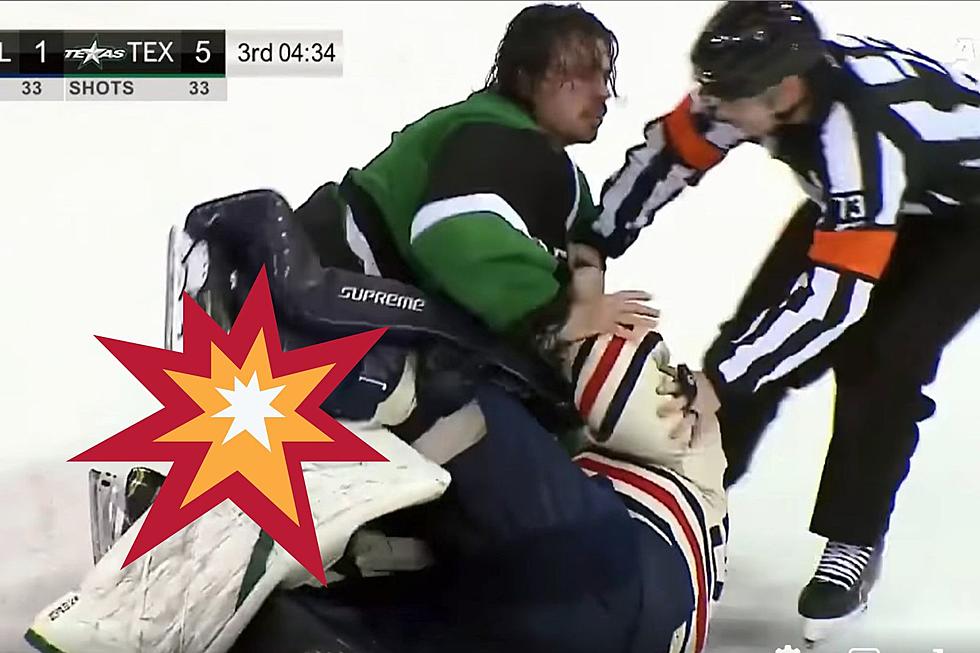 WATCH: Intense Goalie Fight at Last Week's Stars Game in Dallas, Texas
Screenshot taken from Dallas Texas TV Facebook Video, Canva
Did you see this crazy fight break out between the goalies of the Dallas, Texas Stars and the Milwaukee Admirals last week?
Granted, we're somewhat used to seeing unabashed vigor when it comes to hockey. Although of course there are rules and whatnot, it seems like hockey is a bit more...um, feral...when it comes to physical interactions between players.
I've only the opportunity to attend one hockey game in Dallas, Texas. I can't even remember who the Stars were playing. However, I DO remember how exciting the game was--and how semi-violent it seemed to be.
Some sports fans seem to love this about hockey. I've heard, men in particular--but women, too--talk about how much they love a sport that seems to be a bit more "unedited" in how they play the game. They said it makes hockey feel like a more "honest" sport as opposed to some of the others. What do you think?
Goalies Remi Poirier and Yaroslav Askarov became so heated, they actually took each other on--and many of the fans in Dallas, Texas seemed to LOVE it.
Texas Stars fans who attended or were watching the game enjoyed watching the Stars play so well, taking a lead pretty quickly. However, once the game moved into the third period, the opposing team goalies began arguing. That argument then turned into an all-out fight. Refs eventually broke it up and the Dallas, Texas Stars came out the victor with the score settling at 5-3.
Here's the video: 
Welp. There's that. And all's well that ends well--Go STARS! And at least we know they're paid well for all that merry mayhem.
Speaking of sports stars that are paid very well---check this out:
Wanna Take a Look Inside Jason Witten's Amazing Westlake Mansion?
The no-doubt future Hall of Famer brought all he had to every play. But where did one of the greatest tight ends ever lay his head down at night? Let's take a look a the All Pro's former abode.
5 Most Expensive Steaks Served in Dallas, Texas
If you're looking for a delicious and juicy steak and don't care about the price tag, here is a list of the most expensive steaks in Dallas.
Texas Lands 10 Cities Inside Top 30 Most Stressful Cities to Work In
American workers are stressed. But according to a new study Houston, TX is the most stressful city to work in. In fact Texas landed 5 inside the Top 10, and ten inside the Top 30. Let's run this down.
Here is each Texas city that landed on the list next to their placement on it. You can see the entire Top 30 at the bottom.