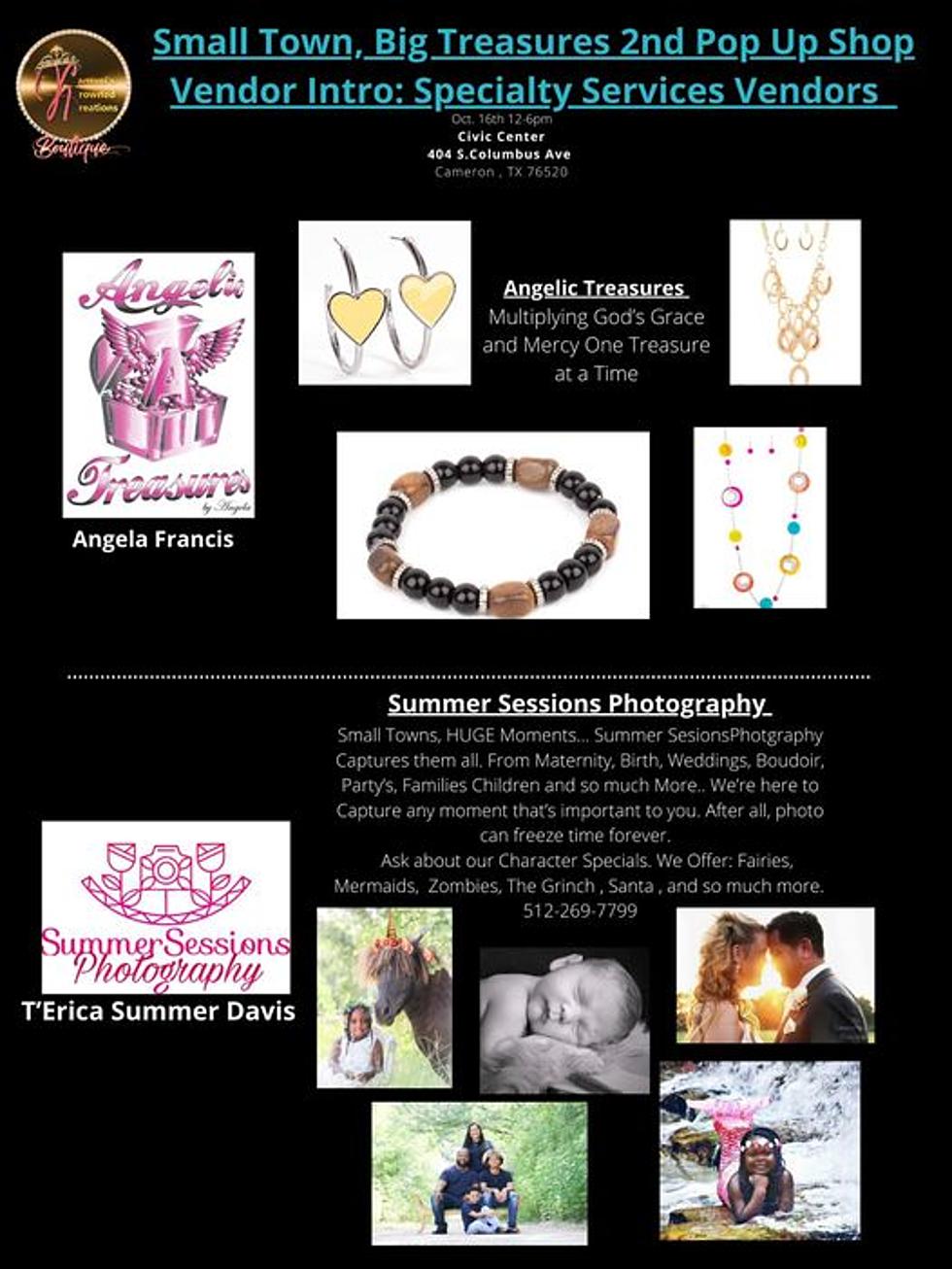 Come One Come All to the Greatest Small Business Event in Cameron
Courtesy of JaLaura Melton
I love when a plan comes together, but more importantly, I love when a  community comes together to make sure that everyone becomes successful. That spirit will be on display this weekend in Cameron, Texas.
It reminds me of an unspoken sisterhood for entrepreneurs. When events are put together, that  means revenue for small businesses and gives a community a chance to learn how to connect and network with each other, which is amazing. Ms. Jalaura Melton knew exactly what she was doing when she orchestrated that same type of operation.
So make sure this weekend on October 16 that you get out to Cameron and witness the community of entrepreneurs coming together for the Small Town, Big Treasure second pop up shop vendor intro specialty services vendors event. This is going to be a sight to see, and there will be vendors of all shapes and sizes from all of Central Texas.
They'll be setting up at the Civic Center, 409 S. Columbus Avenue.
I'm going to make sure that I am out there to take pictures and network myself. I love the idea that you have to start from somewhere, and this is an opportunity for people to expand their business and support others.
Miss Melton knew that and understands that by her operating this event, she is giving vendors all over Central Texas a chance to truly shine. At the end of the day, isn't that what it's all about: making sure that all of us are successful together? There's more than enough money and enough success to go around, so why not share it with your community?
I cannot wait to see what Cameron, Texas has in store for us. I hope to see you there!
ELEMENTS: These are Earth, Wind, & Fire's Greatest Hits
Steve Harvey will host a special Easter Sunday Verzuz Battle between two legendary groups: Earth, Wind, & Fire and The Isley Brothers. As we prepare for what's sure to be a matchup for the ages, we're diving into each group's greatest hits and their enduring legacy. Below, we'll take a look at the absolute best of Earth, Wind, & Fire.
Female singers from Killeen you must know