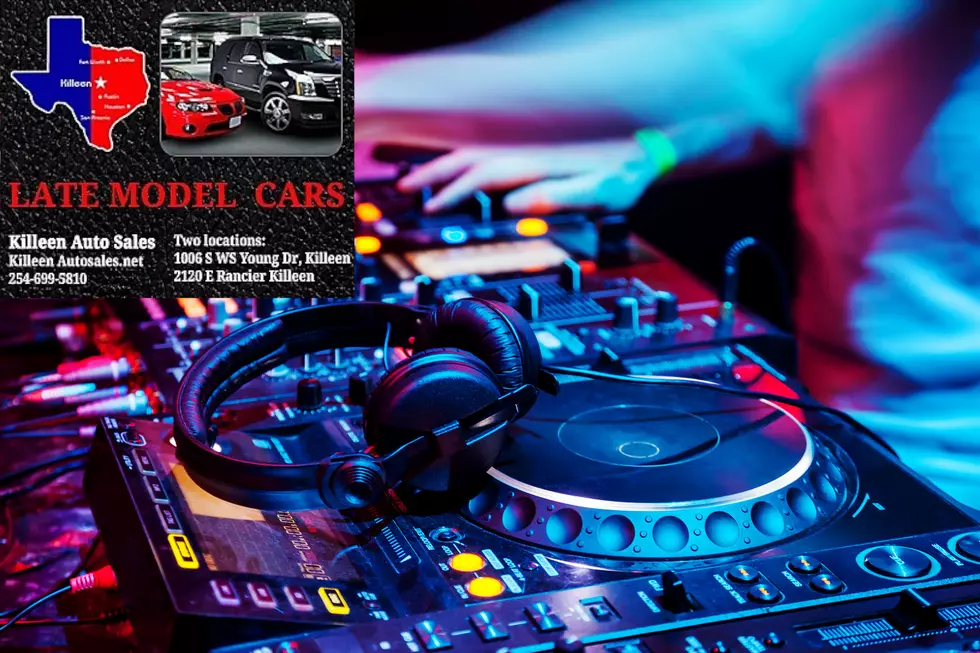 2021 Labor Day Kiss Mixing Brought to You By Killeen Auto Sales
Killeen Auto Sales, Getty Images
MYKISS1031 will be spinning all day long on Labor Day brought to you by Killeen Auto Sales!
Killeen Auto Sales has been in business for 25 yrs in Killeen, serving Ft. Hood and Bell County residents with an excellent record of service before and after the sale.
Come out and meet the friendly sales staff at Killeen Auto Sales and see for yourself why Killeen Auto Sales makes the difference!
Killeen Auto Sales offers guaranteed finance approval
Check them out at 1006 E. W.S. Young Drive, call them at 254-699-5810, or visit their website at www.killeenautosales.net.
Right after the Steve Harvey Morning Show on Labor Day, get ready for a whole day of Throwbacks with your favorite DJs!
P FUNK
DJ EARL
THE BOOLUMASTER
DJ LIL JOHN
DJ Q
DJ STR8 BLAZE
Your Kiss DJs are ready to take you through the day as you enjoy family, friends, and a well-deserved day off!
You'll love the classic hip hop, R&B, and House we serve all-day on Labor Day!
If you are going to be moving around, take us with you!
Download the KSSM app in your app store here for android and here for iPhone!
The app is Chromecast enabled and will work with Apple CarPlay and Android Auto. Check out our free Amazon Alexa Skill to stream us on your Echo device too!
Top 15 Under the Radar Cities in Texas
Texas is booming, and as more people move here, they'll be looking at areas like Austin or Houston to settle down. There are plenty of others places they ought to consider, though.
Using data from the U.S. Census Bureau, along with data about home sales and public school ratings,
Orchard
recently ranked and graded the Top 15 Under the Radar Cities in Texas.
These are unexpectedly good places to make a life for yourself and your family in the Lone Star State. Did your hometown make the list?
10 Cheapest Texas Getaways
June 18 was National Wanna Get Away Day, and it got us to thinking of where Texans can get away from it all this summer and have a great time without breaking the bank.
Here Are 11 New Edition Classics That Are Undeniable
These Are 11 Songs by the R& B Group, New Edition Classic Songs That Are Undeniable
New Edition was formed in the late 1970s in The Roxbury area of Boston Massachusetts.
Bobby Brown, Michael Bivins, Ralph Tresvant and Ricky Bell were the original members in the group when their first manager Brooke Payne added his nephew Ronny Devoe.
The group experienced their share of ups and downs over the years including them booting member Bobby Brown out of the group and later adding Johnny Gill, changing managers because of shady contracts, drug abuse, hitting rock bottom and coming back into success.
Bobby Brown went on to have a rather successful run as a solo artist selling more than 20 million albums.
Johnny Gill, and Ralph Tresvant both went solo after the group broke up in the late 1980s, with Ricky Bell, Michael Bivins, and Ronny Devoe starting their own solo group Bell, Biv, Devoe.
They released a comeback album in 1996 entitled Home Again and their last album with Bad Boy Records in 2004 called "One Love."
In 2017 BET released a biopic on the group and later released a biopic on the life of Bobby Brown.
The legendary group would go on to release 8 studio albums (Including one Christmas album) selling over 10 million albums worldwide.
They recently signed an
agreement with CAA
who has announced a future Las Vegas Residency and a national tour.
Needless to say, they are all back!
Here are 11 songs made from New Edition you can't deny!