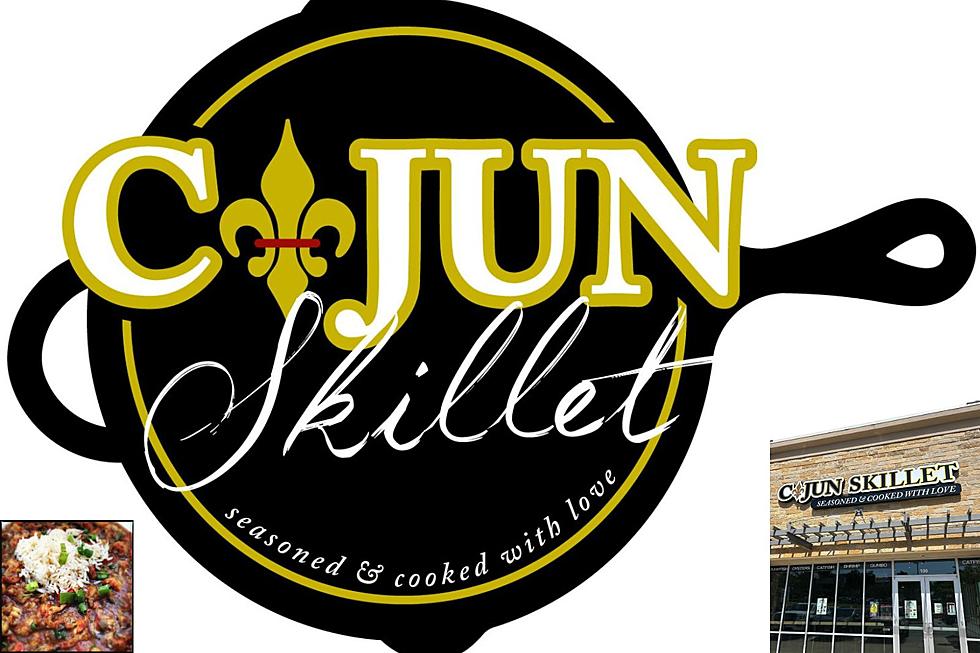 Yummy! Have You Tried Temple's New Delicious Restaurant?
Canva/ Kelsey Kilter
At this point Central Texas, I'm changing my name to Guy Ferreri because as of late, I have been trying restaurants all over Central Texas and I feel like in my opinion, I definitely have good judgment when it comes to great food. The most recent restaurant that I have had the opportunity to try was the first and only Cajun restaurant I've ever seen in Temple Texas called Cajun Skillet. Now, for all my locals, who are familiar with the city of Temple, I am aware that there are Cajun boiling spots where you can get your seafood boiled, but I'm talking about actual delicious, authentic Cajun-Creole, Louisiana food.
HAVE YOU HAD THE NEWEST CAJUN GO-TO SPOT IN CENTRAL TEXAS?
Steven and Shantrese Gillam, who are the owners and operators have truly outdone their selves when it comes to perfecting Cajun Cuisine. This talented couple originates from New Orleans Louisiana, and found yourselves, making Texas their home during Hurricane Katrina. What I love about this particular couple is you can tell that both of them love not only feeding the city but don't take any of their success for granted. The Cajun Skillet is located on 31st St., right across from the Scott and White hospital Suite 100.
PIGGIE HOW WAS THE FOOD?
When you first walk into the establishment, you're greeted by Miss Shay who is by far one of the most positive and welcoming individuals that I have ever met. The whole staff makes sure you feel like you're a part of the family the moment you walk into the building. I  know what you're probably thinking, you keep telling us how great the people are as individuals, but what about the food Piggie? Central Texas I am a product of parents who were born and raised in Louisiana, I can tell you that this is by far the most authentic Cajun cuisine that I have had in a long time, in every bite it tastes just like back home.
CAJUN SKILLET IS A 10 OUT  OF 10 MUST TRY AGAIN!
Steven and Shantrese definitely cook and live their lives with love and you can taste it in every bite. I had the opportunity to try the crawfish étouffée with shrimp, which was recommended by Ms. Shay, and washed it down with basil lemonade. Keep in mind Central Texas, this particular comfort food comes out, very hot and because it's been so hot in Texas you would think it wouldn't be the best dish to try in the heat, but I definitely beg to differ. The flavors in each bite are so consistent that you can't help but close your eyes while eating the delicious food. Not to mention, washing it down with that perfectly refreshed basil-lemonade was most definitely a bonus. The food and drinks are prepared fresh every single day, and you can tell by each bite.
WELCOME TO THE NEIGHBORHOOD CAJUN SKILLET
Now I'm only a Self-made food blogger lol, so maybe you don't wanna take my word for it, but I can say this if you give it a try, you will not be disappointed. Steven and Shantrese have definitely changed the perspective of Cajun food here in Central, Texas. When you first pull up to the building, the first thing it says is," Cajun Skillet, seasoned & cooked with love", and you will believe it in every bite!
Top 20 Restaurants Central Texans Wish Would Come to Temple
A while back, I
asked the good people of Temple
if they could picture a good restaurant to fill the lot on North General Bruce Drive where the soon to be torn down Long John Silver's stood.
This was before it was announced that a Dutch Bros. Coffee location would open there (which was one of the places I predicted as a contender in our article).
So now Dutch Bros. is open in that spot, but the responses to my survey were interesting because they paint a picture of just how diverse Temple's population is. People recommended some familiar restaurants with locations in the surrounding area, but also a few I'd never even heard of.
Here are the top 20 results of the survey. Let's see what the good people of Temple are craving!
7 Seafood Restaurants in Killeen and Harker Heights You Need To Check Out
You don't have to travel to the coast to find great seafood. There are plenty of places right here in Central Texas that serve it up fresh and serve it up right. These are just a handful of our favorites. Did yours make the list? If not, let us know what we should try next!
Meet Our Latest $1,000 Winners!
From now through October 15, we're giving you 10 chances every weekday to win $1,000 instantly or the grand prize of $10,000!
We'll bring you a new cash code every hour between 8AM and 5PM. When you hear a code, tap
our free app
to enter it for your chance to win.
The more codes you enter, the better your chances of taking home some serious cash like these recent winners.