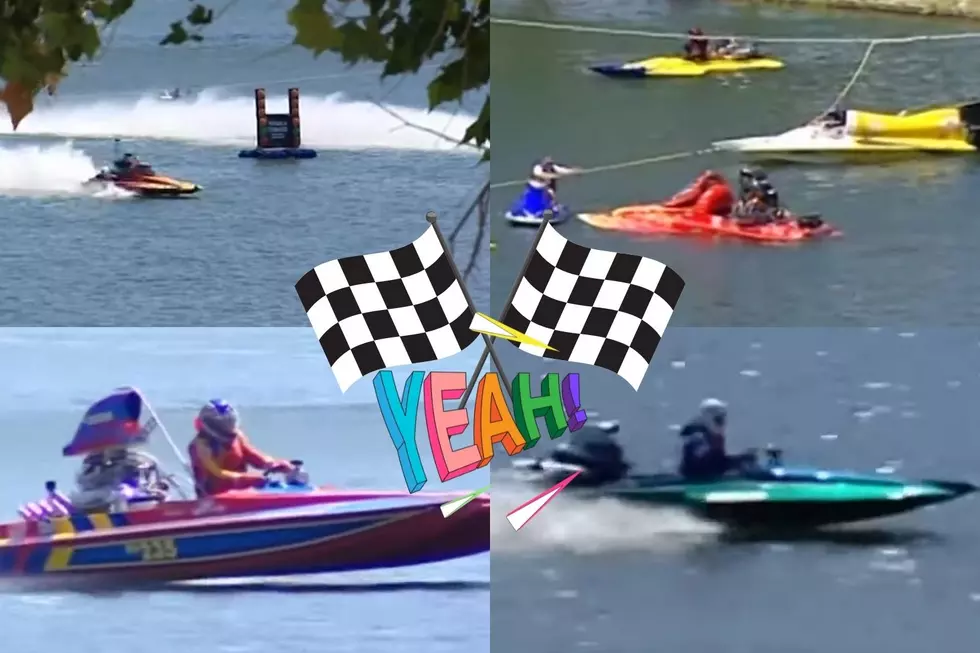 Weekend Fun! Lakefest 2022 Drag Boat Races Kickoff on Friday
KVUE-TV, YouTube/Canva
Making plans for the weekend? Lakefest 2022 kicks off on Friday in Marble Falls, Texas with drag boat races. The weekend weather should be perfect, and hitting the lake for some racing might be the perfect idea for some outdoor fun!
Lakefest 2022
---
---
If you're looking for a nice, quiet day on the lake, just floating along on a raft to the sounds of Kenny Chesney and Old Dominion, this ain't it.
Lakefest is all about boats, drag boats, and drag boat racing. This three day event kicks off on Friday with the Show & Shine in Lakeside Park and Johnson Park from 5pm-8pm. It's a free event  and you can meet the drivers and check out their boat dragsters up-close and personal.
Saturday Qualifying
Marble Falls Chamber of Commerce reports that racing starts Saturday morning at 8am so you'll want to make sure to get out there early for all the action. Racing goes on all day Saturday and ends at 5pm. Unlike Friday's events, Saturdays racing will require a ticket.
Sunday Finals
Once again, Sunday's racing starts bright and early at 8am and ends at 5pm and just like Saturday, you'll need a ticket.
Ticket Info
Tickets prices start at $30 per day for General Admission. GA includes pit passes for Johnson Park access. Pit Passes are $5 if you just want to hang out in the pits but you will need a separate pass for the racing.
Discounts are available for active military, seniors, and veterans and will need to show ID at the gate.
6-Pk of Tickets
Got a group this weekend? This ticket deal might be best. 6 one-day admission tickets, 6 Pit Passes, and the ability to set up a 10X10 tent in your 15X15 spaces $200 per spot plus a prime viewing area on the Beach of Lake Marble Falls.
Get tickets and find info on additional ticket packages HERE.
Chill Out This Summer at the 6 Best Swimming Holes in Texas
Feeling hot, hot, hot? Here are six of the best swimming holes in
Texas
to get your chill on and lower that core temperature.
Trips to Discover
and
The Crazy Tourist
both list the following six places as the best places to cool off this summer in the great state of Texas. You'll want to keep this list handy as the mercury rises and the sweat starts to pour!
Texas in Top 10 Best States to Work from Home in America
How many people do you know that work from home? Since the pandemic, the number of employers with remote jobs has risen steadily.
WalletHub
used 12 factors to compare 50 states and the District of Columbia, including the percentage of people working from home, internet cost, cybersecurity, plus size and population concentration of homes in the state.
Let's take a look at the states that are the best for remote work, and where Texas sits on the list nationwide.