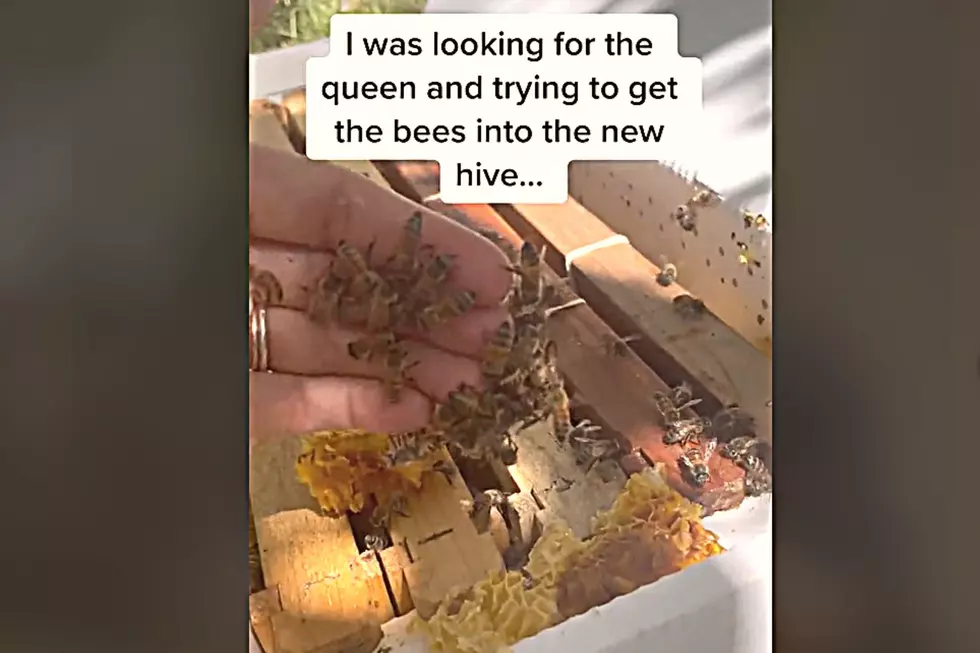 Buzzed: Watch Texas Beekeeper Save Bees With Her Bare Hands on TikTok
TikTok@texasbeeworks, Erika Thompson
Erika Thompson quit her office job to become a professional beekeeper, and she has been saving bees across Texas since 2019.
Thompson is the founder of Texas Beeworks, and she says her mission is to increase the population of bees and hives in the Lone Star State. By the way, she does all of this with her bare hands. Uh, what? Keep scrolling!
Texas BeeWorks in Action
She has 11 Million followers on TikTok, who watch her incredible videos of bee removal and relocation. She just gently scoops up bees and puts them where they need to go with gloveless hands, wearing jeans and a t-shirt.
Thompson is a bee whisperer! Look at this:
Step by Step Video of Bee Removal
As you can see, Thompson carefully preserves the old hive, cutting it into sections to transfer to a new hive that she has brought with her. Then she carries the hive to her truck and brings them to her land where they can recover.
She has taken hives out of a water meter (see above video), a fire pit, and in the most watched clip, her own vehicle (over 125 million views). Watch as she takes them out of a washing machine:
Where Does Texas Beeworks Put the Bees?
The number one question Thompson gets asked is, 'Why aren't they stinging you?'. She says the secret is reading the mood of the bees. According to her website, after the bees are removed, Texas Beeworks relocates them to one of over 25 bee sanctuaries in the Austin area.
We Need to Save the Bees
Do you like to eat? Well, if bees die off, it will end most life on earth. Many animals depend on bees for their survival because their food sources depend on insect pollination.
According to the Food and Agriculture Organization, bees and other pollinators affect 35% of farmland worldwide, and support over 85 leading food crops.
Helpful Slithering: Which Snakes Could Help or Harm in Texas?
Not all snakes are bad. Some Texas snakes actually do a lot to help humans out, even if we don't always see or appreciate it. Then again, some snakes can do a lot of harm. Here's a quick rundown.
LOOK: 15 Pets You CAN'T Own in the City of Temple
Temple is a super pet-friendly place to live, but there are some animals city officials would really rather you not try to tame and keep in your home. Let's take a look at a few of the critters on the
banned list
.
The Perfect Safari Vacation Spot Is Right Here In Central Texas
Do you love wildlife? How about giraffes? If you want to get up close and personal with them while enjoying a comfy Airbnb, then
Blue Hills Ranch
located in McGregor, Texas is the perfect getaway for you and your family. Let's look around at this charming safari right here in our backyards.