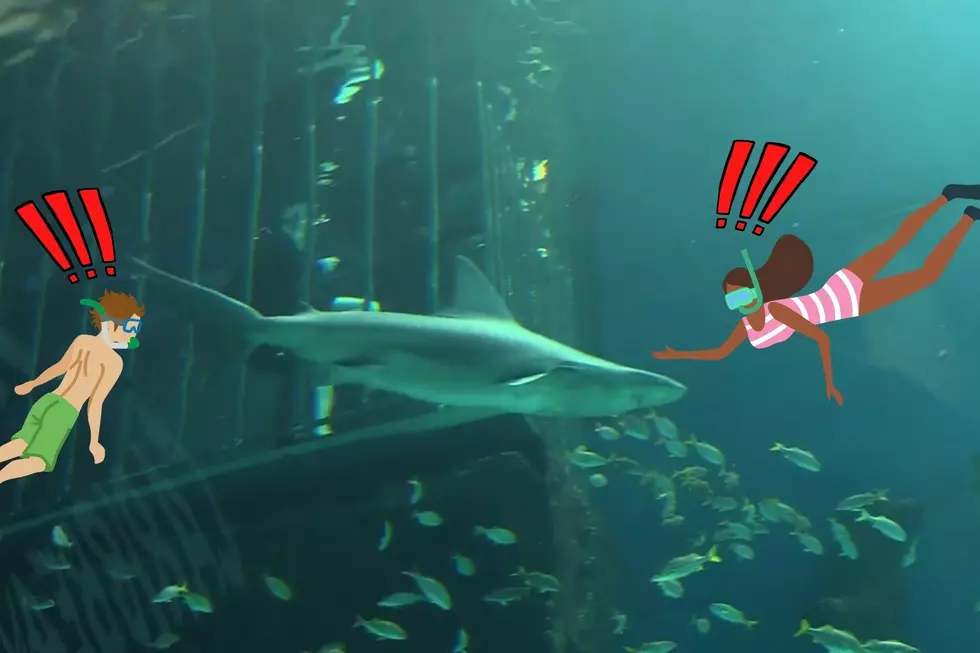 Take A Bite of Adventure by Snorkeling With Sharks in Corpus Christi, Texas
The Wild Side with Clay, YouTube/Canva
If you're looking for something thrilling to do for a change of pace, Corpus Christi, Texas has the perfect adventure for you this summer. The Texas State Aquarium offers you a chance to go snorkeling with sharks!
GET UP CLOSE AND PERSONAL WITH JAWS
It's called an Exclusive Encounter, and looks like the perfect experience for anyone who loves the ocean and all the creatures in it. In addition to sandbar sharks, you'll also get up close and personal time with eels, stingrays, and barracudas.
If you've got a child who has a sense of adventure, the good news is they can enjoy this close encounter too. The aquarium lets kids at young as 8 participate, but anyone aged 8-12 has to dive with a parent or guardian who's also underwater with them.
HOW MUCH DOES IT COST?
It's $99.95 per person, plus admission, and you'll need to sign a waiver. Sure that sounds like a lot, but:
A) How often do you get to snorkel with sharks in a safe environment?
B) How much does it cost to go to a theme park or other expensive place where you don't even get to pet a shark?
YOU CAN ALSO PLAY IT SAFE
If swimming with the sharks isn't your thing, there are other worthwhile encounters at the Texas State Aquarium, including one that lets you feed some of the exotic and beautiful fish there.
WHERE DO I SIGN UP?
You can find all the information you need over on the Texas State Aquarium website.
WHAT CAN I DO AT THE TEXAS STATE AQUARIUM?
If you've never been to the aquarium, it's worth the trip. There are fantastic exhibits there, and even general admission gets you into some areas where you can pet some of the sea creatures.
Whether you love sea turtles, otters, sharks, or octopi, you'll find an exhibit that gets your heart racing and reminds you of how beautiful our oceans and wildlife really are.
This Ain't No Zoo! 20 Pets You CAN'T Own in Killeen, Texas
Killeen, Texas is a very pet-friendly place, but there are limits. You may think keeping a kangaroo around shows some hometown pride, or that an anteater could save you money on pest control, but they're among these 20 animals that are
banned
within the City of Killeen.
Welcome To The Sweet Serengeti Cabin with Zebras Located Right Here In Texas
There is an
Airbnb
in Blanco, Texas with a Serengeti theme that is the perfect vacation spot, especially if you love exotic wildlife.
The Perfect Safari Vacation Spot Is Right Here In Central Texas
Do you love wildlife? How about giraffes? If you want to get up close and personal with them while enjoying a comfy Airbnb, then
Blue Hills Ranch
located in McGregor, Texas is the perfect getaway for you and your family. Let's look around at this charming safari right here in our backyards.