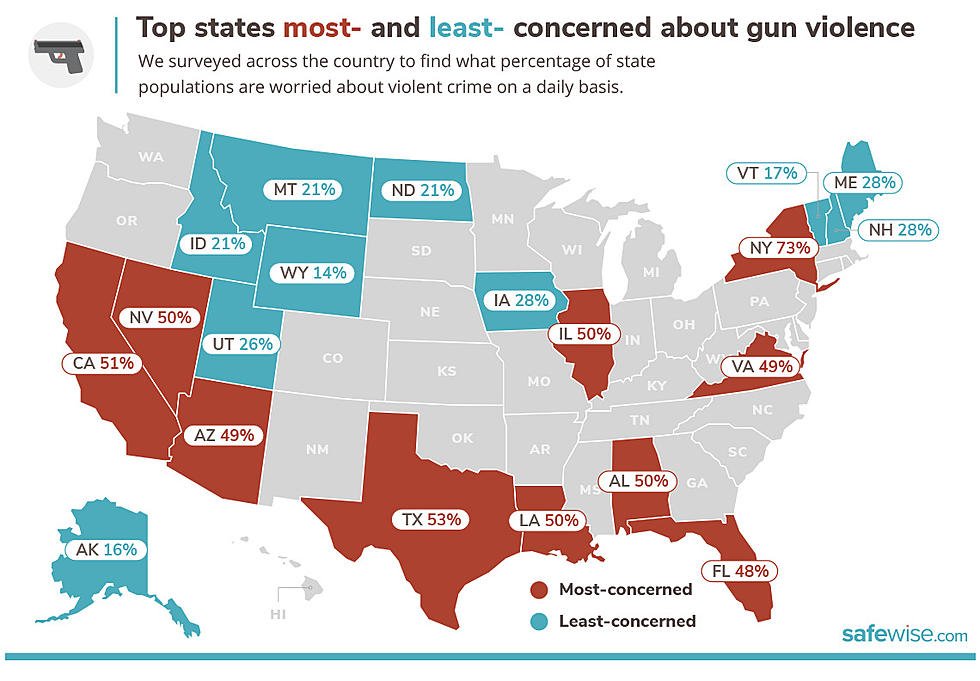 Surprised? Texas 2nd Most Concerned State About Gun Violence
SafeWise
Well, will you look at this.
According to a survey conducted by SafeWise, Texas is the second most concerned state about gun violence.
No Training? No License? No Problem.
I personally think Texas will make it to be the top state seeing as though there's a new law that goes into effect in September under which people 21 and up without a permit or gun training can carry a handgun in Texas.
Survey Says...
The survey asked over 5,000 people across the country how they felt about safety in their state, and citizens of the Lone Star State came in as the second most concerned.
The survey also showed that 61% of Texans named gun violence their top safety concern, with the United States average being 53%.
Over half of the Texans polled (53%) said they are worried about a gun violence incident happening to them, while the US average is 38%
23% of Texans said they protect their property with a firearm, while 14% of Texans said they actually carry a concealed firearm for personal protection. Another noteworthy observation from the survey is that 60% of Texans surveyed think that crime is on the rise.
Where Do You Stand?
At the end of the day, at this point, it's all about protecting yourself.
As I've said before, I am for the right to bear arms. My concern is the sanity of the people who can now carry handguns without any sort of training or screening.
This survey shows I am not alone in my thinking.
SCROLL DOWN:
LOOK: Here is the richest town in each state
Just saying the names of these towns immediately conjures up images of grand mansions, luxury cars, and ritzy restaurants. Read on to see which town in your home state took the title of the richest location and which place had the highest median income in the country. Who knows—your hometown might even be on this list.
10 Cheapest Texas Getaways
June 18 was National Wanna Get Away Day, and it got us to thinking of where Texans can get away from it all this summer and have a great time without breaking the bank.
10 of TLC's Greatest Hits
This is a collection of TLC's Top 10 Hits Over The Years- With T- Boz and Chilli coming to Central Texas on September 30th at the Bell County Expo. I have compiled the top 10 TLC hits (and videos) of all time in order!