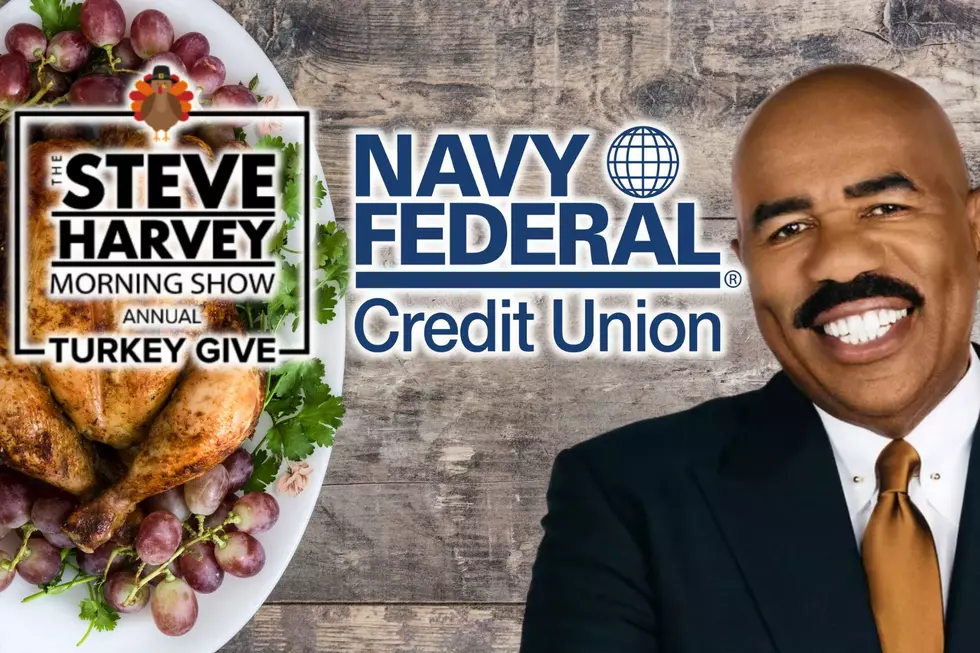 How to Enter the 2022 Steve Harvey Turkey Give with Navy Federal Credit Union
Premiere Networks/Navy Federal Credit Union/Canva
Thanksgiving is Thursday, November 24, and The Steve Harvey Morning Show is teaming up with Navy Federal Credit Union to help ensure families in need in the Killeen, Texas area have a turkey to trim.
It's the 2022 Steve Harvey Morning Show Turkey Give with Navy Federal Credit Union
You know it's not officially the Thanksgiving season until Steve rolls out the annual Turkey Give. This year he's got some help from our friends at Navy Federal Credit Union.
From today through Sunday, November 20, you can nominate someone in need of a turkey this Thanksgiving. (Yes, you can nominate yourself.) The key phrase there is "someone in need". We really want these turkeys to go to families who are having some difficulty and could use a miracle to make sure there's a bird on the table this year.
How Do I Nominate Someone (Or Myself)?
You can fill out the quick, easy entry form below. (Keep scrolling to see it.)
Yes, it's just that easy! We'll draw 45 names and contact the folks who are eligible.
We've Got 45 Turkey Gift Cards to Give Away to MyKiss1031 Listeners
In the past, Steve's handed out frozen turkeys to Central Texans in need. However, getting those turkeys home when you've got a long list of errands to run can be tricky.
To make things a little less stressful this holiday season, Steve's instead given us Walmart gift cards that can be used to get your family's Thanksgiving turkey on your schedule.
Special Thank You to Navy Federal Credit Union
With Fort Hood right in our backyard, Central Texas is a proud military community. That's why we're thrilled to be teaming up with the folks at Navy Federal Credit Union to help make this year's Turkey Give a success.
NFCU has locations across Central Texas, and they're uniquely qualified to help active duty and retired service members, their spouses, and their families as a full-service credit union.
For information on how they can help you with checking and savings, loans, credit, and financial wellness tools to help you build and secure a better financial future, visit them at navyfederal.org, then follow them on Facebook and Twitter for helpful tips and information on local NFCU family events.
Nominate Someone for a Turkey Below
Happy Thanksgiving from The Steve Harvey Morning Show, Navy Federal Credit Union, and MyKiss1031!
LOOK: Here Are the 25 Best Thanksgiving movies of all time