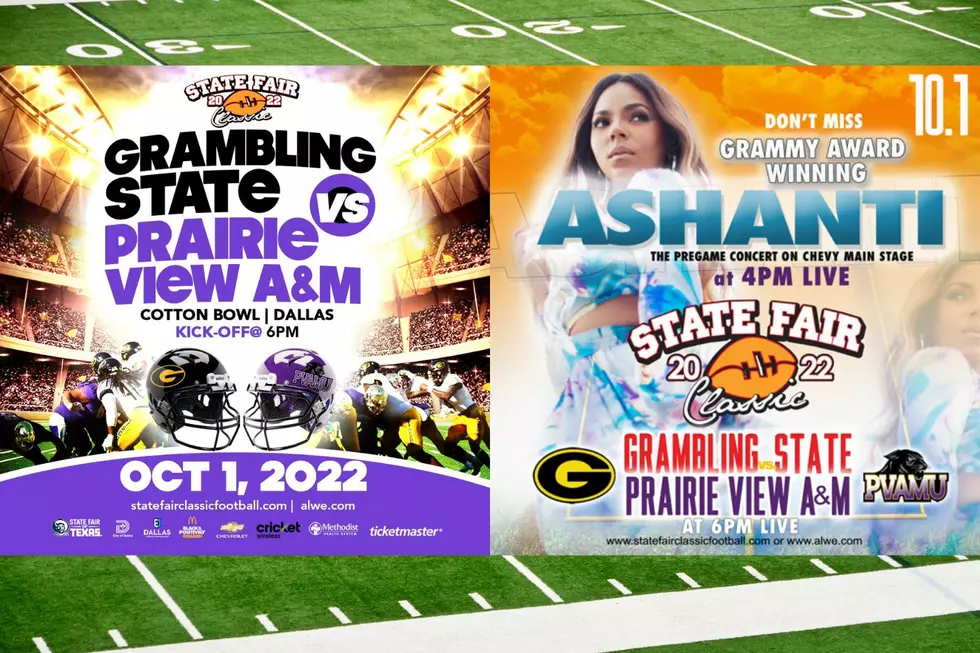 Texas' State Fair Classic Is Back, and We've Got Your Free Tickets
State Fair Classic/Canva
Central Texas, are you ready for some football? It's that time of the year when the State Fair of Texas blesses up with Big Tex, crazy food, and one of the most anticipated games of the year. I'm not talking about the NFL - I'm talking about college football. Specifically, the State Fair Classic.
Want to Win Tickets to the State Fair Classic? Keep Scrolling
TEXAS' STATE FAIR CLASSIC RETURNS
The 2022 State Fair Classic game is coming back on October 1 at 6 PM. This year, Gramling State University and Prairie View University will battle it out with two brand new coaches.
Grambling welcomes coach Hue Jackson, while Prairie View welcomes coach Bubba McDowell. If you've never been to the State Fair Classic, you're truly missing one of the most exciting times in Texas sports.
MORE THAN JUST FOOTBALL
The State Fair Classic also features performances by some of the biggest names in the industry. This year, Grammy award-winning legend Ashanti is going to bless the stage.
If you think watching Ashanti perform is going to be exciting, check out the battle of the bands at halftime. Truth be told, the music performances have always been my favorite part of the State Fair Classic, but the football is always exciting too and part of a long-cherished Texas tradition.
WE'LL BE GIVING AWAY TICKETS TO THE STATE FAIR CLASSIC
The State Fair Classic is one of the best spectacles you can see at the legendary Cotton Bowl.
If you want to be there, be sure to listen to me, Piggie, weekdays September 12-22 from 12PM to 3PM for your chance to win tickets to the best game of the year!
Want to enter to win with the tap of a few buttons? Use the app-exclusive entry form below to be entered into our digital drawing. Don't see it? You're not viewing this article in the app! Download it here free for Android or iOS.
The grand prize includes:
Tickets to the game
Hotel stay
$130 spending money
Let's Explore The Silo at the Laughing Llama Farm in Troy
10 Easy Things to Grow In Your Texas Garden
Whether you're an amateur, novice, or pro, these plants are easy to grow in any Texas garden.