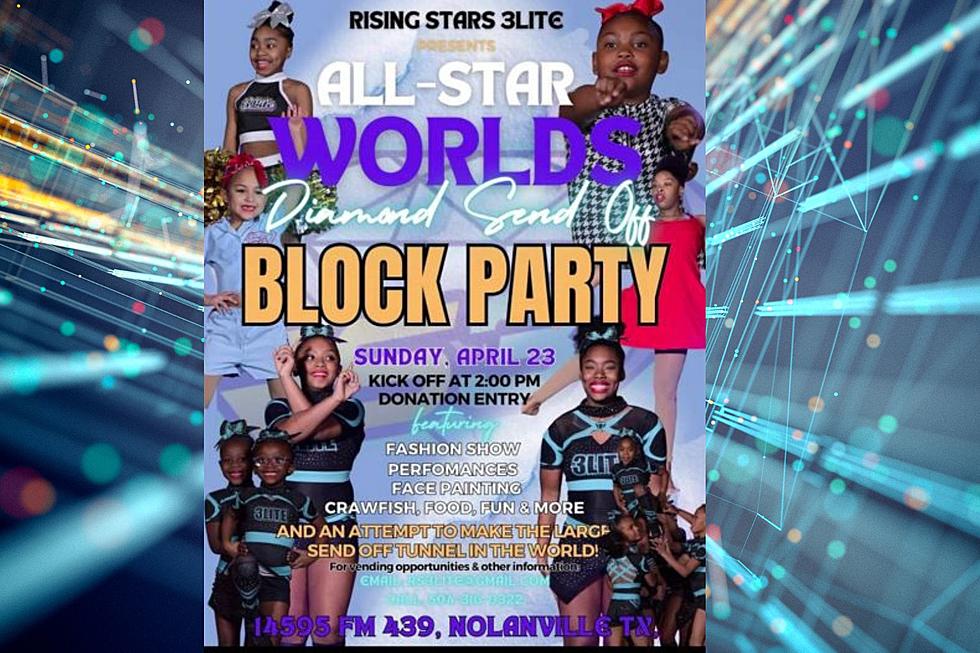 Rising Stars 3lite Is Having A Block Party In Nolanville, TX
Canva /Jessica Smith
Nolanville, Texas, are you ready to dance? The Rising Star 3lite Dance Team will be having a block party Sunday, April 23 at 2 PM. This block party will feature not only fashion shows, face paintings, and performances, but also delicious food.
This isn't just fun and games, though. You could help send these deserving kids on the trip of a lifetime.
RISING STARS NEED OUR SUPPORT
The dance team is raising funds for a trip to Orlando for the All Star Worlds competition. They'll need our help, as there are costs for registration, lodging, costumes. food, and more.
These 38 athletes have kept their spirits up and their dancing going despite some big setbacks. The building where Rising Stars 3lite Cheer, Dance and Tumbling members practice was robbed not long ago, which was a big financial blow to the organization and these kids' dream of competing.
LET'S MAKE THIS DANCE TEAMS DREAM A REALITY
This event is an opportunity for young kids from Central Texas to proudly represent their community and possibly bring a medal home. More than that, it's a chance for them to do what they love in front of thousands of people and in one of the most fun places on earth.
If you're interested in having fun while you help out these hardworking kids, the Block Party will happen Sunday, April 23 beginning at 2PM at 14595 FM 439 in Nolanville.
If you can't make it out but you still want to help, you can donate to their GoFundMe page here.
Celebrating 10 Killeen, Texas Black Owned Restaurants You Must Try
These are 10 restaurants in Central Texas that are black-owned.
10 Junk Foods We Love
Here are my Top Ten Junk foods that we all love, Even though I try to eat healthier now I often crave these foods. Did your guilty pleasure make the list?
20 Hit Films Made Right Here In Texas