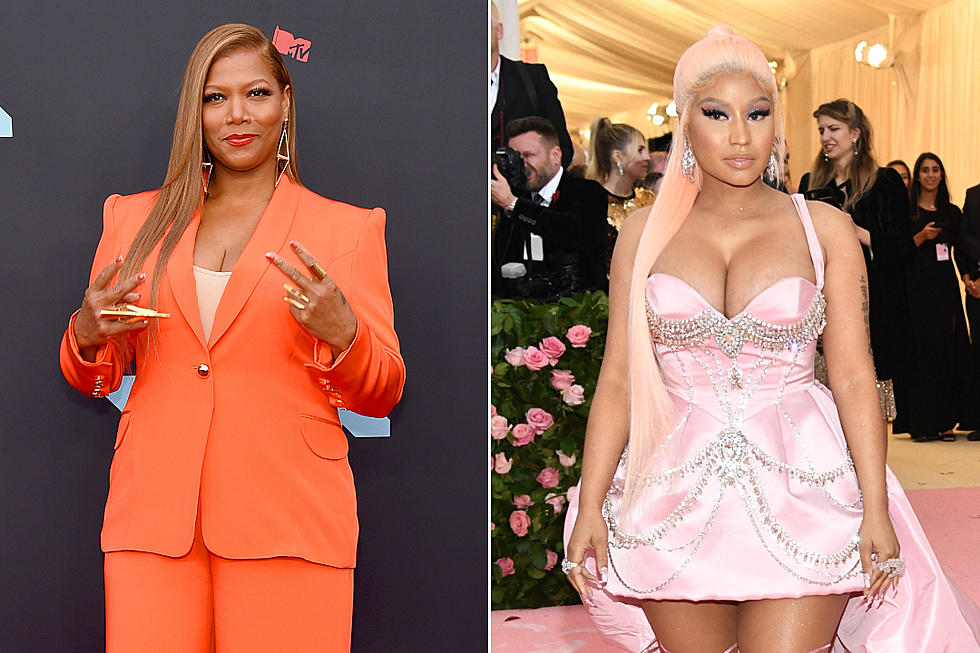 Queen Latifah Thinks Nicki Minaj Will Come Out of Retirement
Jamie McCarthy / Dimitrios Kambouris , Getty Images (2)
According to a report TMZ published Sunday (Sept. 8), Queen Latifah was initially surprised when the celebrity news site told her that Nicki Minaj had retired. Despite her shock, Latifah looked as if she already knew that she would understand the Young Money rapper's decision to leave the rap game.
"She must be in love and happy," Queen Latifah told TMZ. "Let her live. She's been grinding for a long time. Once you're a rapper, you'll always be a rapper," Latifah said. "She'll be back. Let her live first. Let her live her life first."
Last Thursday (Sept. 5), Nicki, who toured Europe earlier this year, posted a tweet in which she suggested she's leaving the music industry for good to start a family with her fiance Kenneth Petty.
"I've decided to retire & have my family," Nicki wrote. "I know you guys are happy now. To my fans, keep reppin me, do it til da death of me, :x: in the box- cuz ain't nobody checkin me."
Shortly after sending out the tweet, Barbz everywhere couldn't contain their shock and sadness. Eventually, she followed up by apologizing for the abrupt message and promised her fans she would explain everything in an upcoming episode of Queen Radio.
"I'm still right here. Still madly in love with you guys & you know that," Nicki tweeted in response to a fan's plea. "In hindsight, this should've been a Queen Radio discussion & it will be. I promise u guys will be happy. No guests, just us talking about everything. The tweet was abrupt & insensitive, I apologize babe ♥️🙏."
Read 10 Wild Stories That Took Place During Hip-Hop Tours