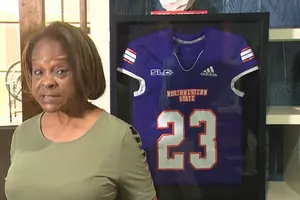 New Info On Murder Of Cedar Park, Texas Football Player
KHOU 11 YouTube/Canva
A student athlete from Cedar Park, Texas was murdered in Natchitoches, Louisiana and it has understandably turned his family, his football team, and the whole university upside down. Thus far in the aftermath of the shooting death of Ronnie Caldwell Jr., 21, two people, including a teammate, have been arrested for various charges, but none of those charges are related to Caldwell's murder.
What do we know about the events leading up to the death of Ronnie Caldwell Jr.
According to Caldwell's father, Ronnie had recently been moved to a new apartment due to mold being discovered at his previous residence. Shortly after being moved, Caldwell told his father that his new roommate, identified as John McIntosh, pulled a gun on him just days before he was murdered.
What was the response of Ronnie Caldwell Jr.'s father to a gun being pulled?
According to the video, Caldwell Jr.'s father pleaded with Northwestern State University's Head Coach Brad Laird to move his son and keep him safe until he could get there over the weekend. Caldwell Jr.'s father never saw his son alive again.
What is being done about the alleged missteps of the university and coaching staff?
The Caldwell family, from the Austin, TX area, held a press conference and have retained a law firm from Houston, TX with intentions of filing a lawsuit naming multiple defendants.
How are Caldwell Jr.'s teammates and university taking the tragedy?
At this point, counseling is available, the football team has canceled their season, and the Coach Laird has resigned. You can read more in this ESPN article.
ALERT: These Bell County, Texas Most Wanted For October 2023
Police in Bell County are always looking for criminals in the area. Have you seen these individuals?
Gallery Credit: Tommy Paradise, Townsquare Media, Bell County, Bell County Crime Stoppers, Canva
Texas Most Wanted - Have You Seen Raul Herrera, Jr. Anywhere In The State?
Law enforcement in the state of Texas are once again asking for the public's assistance in finding this individual, Raul Herrera, Jr.
Gallery Credit: Tommy Paradise, Townsquare Media, Texas DPS, Canva
Have You Seen Texas Most Wanted Murderer Joshua Lockett?
UPDATE 10/6/23 - Lockett has been arrested.
Police in Texas are looking for Lockett after multiple violations of the law. Here's how you can help find him.
Gallery Credit: Tommy Paradise, Townsquare Media, Texas DPS, Canva