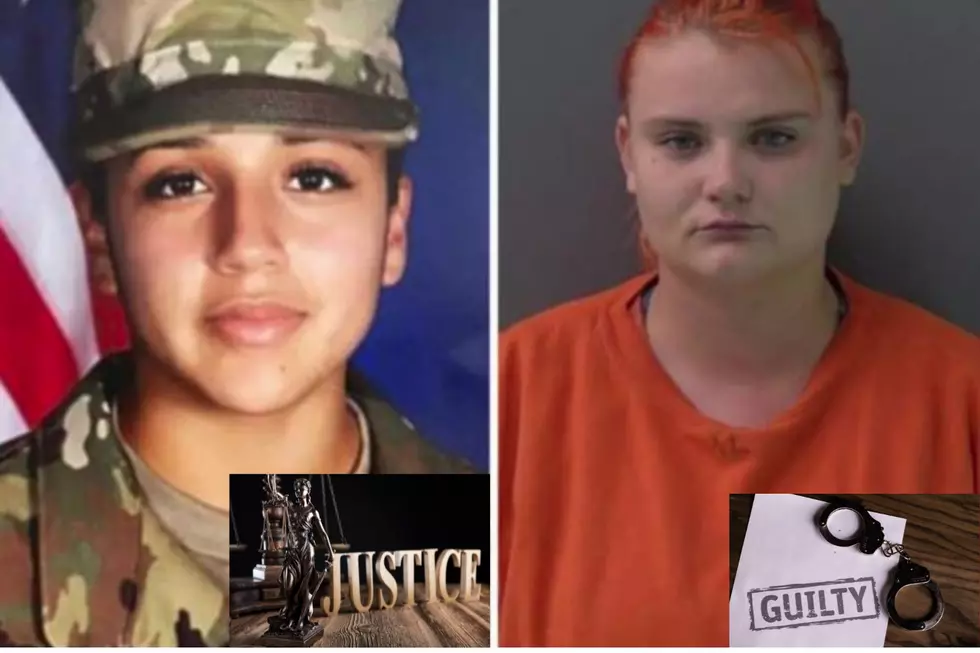 Killeen, Texas Woman Pleads Guilty of Involvement In Vanessa Guillen's Murder
KWTX
The tragic death of a Fort Hood, Texas soldier Vanessa Guillen had made headlines worldwide, shaken up the culture and command at Fort Hood, and and has even become the subject of a lengthy Netflix documentary. With the lead suspect dead by his own hand and his alleged accomplice awaiting trail for so long, it was starting to feel as if we might never see any sort of justice served.
On Tuesday, November 29, that accomplice, Cecily Aguilar, pleaded guilty to felony charges for her role in Vanessa's tragic death.
WHAT IS GOING TO HAPPEN CECILY AGUILAR?
Our news partners at KWTX report that Aguilar stood before U.S. Magistrate Jeffrey C. Manske in Waco Tuesday and pleaded guilty to 4 of 11 charges for which she was originally indicted: 1 count of being an accessory after the fact and 3 counts of making false statements or representations to the government. The remaining charges will reportedly be dismissed as part of a plea deal.
So, what does that mean? Well, we could see Aguilar receive maximum sentence of 30 years in prison with a $1 million fine and also the possibility of 12 years of supervised release after her prison stay.
Authorities say Aguilar helped Vanessa's killer, Aaron Robinson, desecrate and hide Vanessa's remains and tampered with other evidence linking Robinson to the crime. Robinson fatally shot himself as police attempted to apprehend him in June of 2020.
Vanessa was missing for two months before her remains were found. Her family feared the worst, citing the fact that she'd reported having been sexually harassed. In May of 2022, authorities said they believe Robinson killed Vanessa with a hammer after she saw a picture of Aguilar on Robinson's phone. Aguilar was married to another soldier at the time, and investigators believe Robinson feared the consequences of breaking military fraternization rules.
JUSTICE FOR VANESSA GUILLEN
The story of Vanessa is extremely tragic and shook the Fort Hood community to its core, and her family and all of Central Texas continue to search for answers and advocate for change to protect other soldiers.
Since her case caught national attention, Vanessa has inspired legislative action at the highest level, as well as protests and calls for reform across the nation. While her killer won't face earthly justice, today's news means we're at least one step closer to someone involved being held responsible.
Mural Honoring Vanessa Guillen Will Stand Outside Fort Hood's East Gate
39 Missing Children Found in Two-Week Rescue Operation in Georgia
Texas 6 Most Wanted Fugitives
Take precaution and familiarize yourself with the following faces. These criminals are currently listed in the Texas 10 Most Wanted.