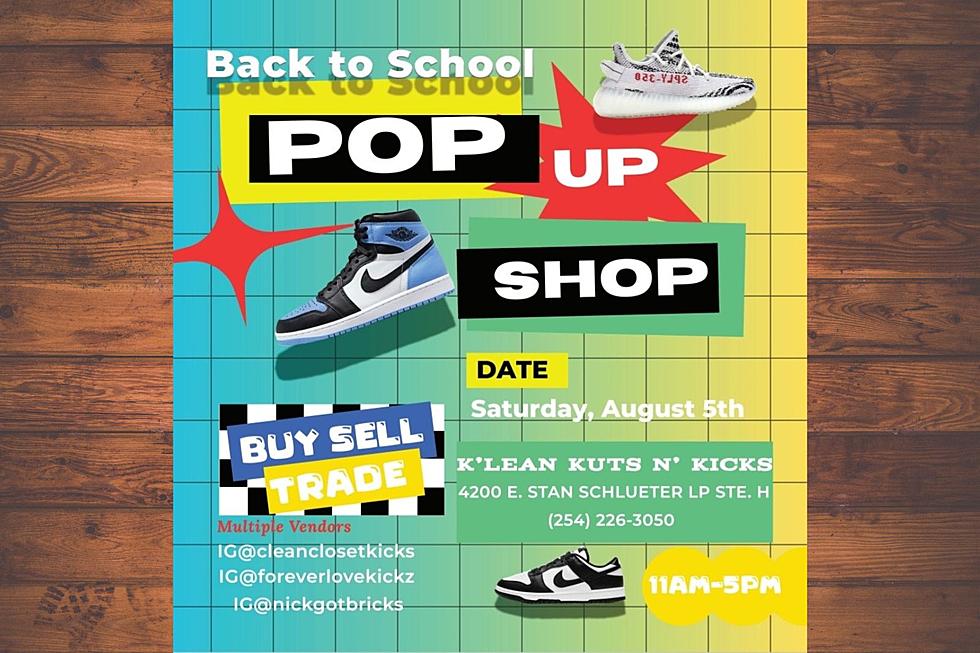 Killeen, Texas Get Ready For The Back To School Sneaker Event
Canva /Jackie Hayes
As the Killeen Independent School District gets ready for the kiddos to go back to school, parents find themselves, becoming more anxious than the children. Even though we may be excited parents, our children might not share the same feelings, and at this point, after two months of late-night, play stations, sleepovers, and just kids driving us crazy we really don't care.
BACK TO SCHOOL POP UP SHOP IS KILLEEN
What I can say is I have spoken to a lot of our kids that are prepared for the 2023- 2024 school year and most children say the same thing. Some kids may not be excited about going back to school, but they are excited about receiving new clothes and especially new shoes. The first day of school is always about whose fashion and shoes look the best. Klean Kuts and Kicks will be hosting its first annual back-to-school pop-up sneaker event. This event is where you can buy, sell, and trade. The event is off will be open to the public and they will also be doing the raffle.
LET'S GET OUR KIDS BACK TO SCHOOL IN THE RIGHT KICKS
If you've never been inside a Klean-Kuts and Kicks, you are truly in for a treat this sneaker shop/barber shop has the latest sneakers today. Make sure on  August fifth from 11 to 5 that you are at 4200 Stan Schlueter Loop Suite H in the prestige plaza. You don't want to miss this event with multiple vendors, and the latest kicks for the kiddos. Jacqueline and her son Antoine Hayes have set up the perfect spot for sneakerheads right here in Central Texas. So let's kick off the school year with a fresh pair of kicks!
Top 20 Restaurants Central Texans Wish Would Come to Temple
A while back, I
asked the good people of Temple
if they could picture a good restaurant to fill the lot on North General Bruce Drive where the soon to be torn down Long John Silver's stood.
This was before it was announced that a Dutch Bros. Coffee location would open there (which was one of the places I predicted as a contender in our article).
So now Dutch Bros. is open in that spot, but the responses to my survey were interesting because they paint a picture of just how diverse Temple's population is. People recommended some familiar restaurants with locations in the surrounding area, but also a few I'd never even heard of.
Here are the top 20 results of the survey. Let's see what the good people of Temple are craving!
13 Celebrities with Roots in Central Texas
Central Texas knows talent! From musicians and actresses to football players, we list 13 celebrities with roots right here in Central Texas.
14 Texas Eats We Can't Live Without