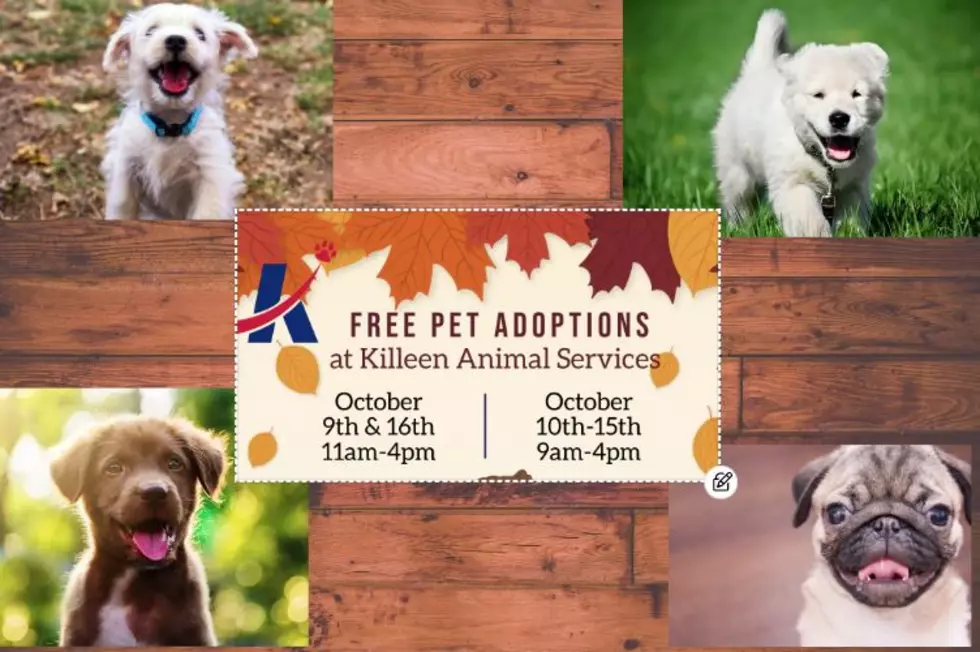 Purrfect! Killeen, Texas Offering Free Pet Adoptions This Month
Canva/ City of Killeen
Fall in Killeen, Texas is the perfect time for you to plan to get a fur baby to grow your loving family. The weather is perfect for getting outdoors and going on walks, romping around in the yard, and just enjoying those slightly cooler temps. Good news: The City of Killeen is hosting another Killeen Animal Shelter pet adoption week, and these fur babies are looking for you and a brand new home like yours.
WHEN AND WHERE?
This adoption event will take place Sunday, Oct. 9 and 16 from 11 AM to 4 PM, and Monday, Oct. 10 through Saturday, Oct. 15 from 9 AM to 4 PM.
The Killeen Animal Shelter is Located at 3118 Commerce Drive.
During this event, the usual $40 adoption fee for dogs and cats will be waived. However, keep in mind their may be costs involved for health necessities like shots, or microchipping for the pet's safety.
BRING HOME HAPPINESS WITH A TAIL
A pet is a big responsibility because they'll depend on you for food, water, and plenty of activities and exercise to keep them healthy and active.
That said, you'll be repaid ten times over with love, affection, and companionship. Especially around the holiday season, it's easy to get stressed out, overwhelmed, or lonely. Your faithful furry friend would be there to help you.
LEARN MORE ABOUT YOUR LOCAL SHELTER, OR VOLUNTEER
For more information, visit KilleenTexas.gov/Animals or call the shelter at (254) 526-4455.
Beware Of These 10 Most Dangerous Animals in Texas
Here are 10 animals in Texas you need to be aware of if you plan to visit or set down roots.
This Ain't No Zoo! 20 Pets You CAN'T Own in Killeen, Texas
Killeen, Texas is a very pet-friendly place, but there are limits. You may think keeping a kangaroo around shows some hometown pride, or that an anteater could save you money on pest control, but they're among these 20 animals that are
banned
within the City of Killeen.
Welcome To The Sweet Serengeti Cabin with Zebras Located Right Here In Texas
There is an
Airbnb
in Blanco, Texas with a Serengeti theme that is the perfect vacation spot, especially if you love exotic wildlife.