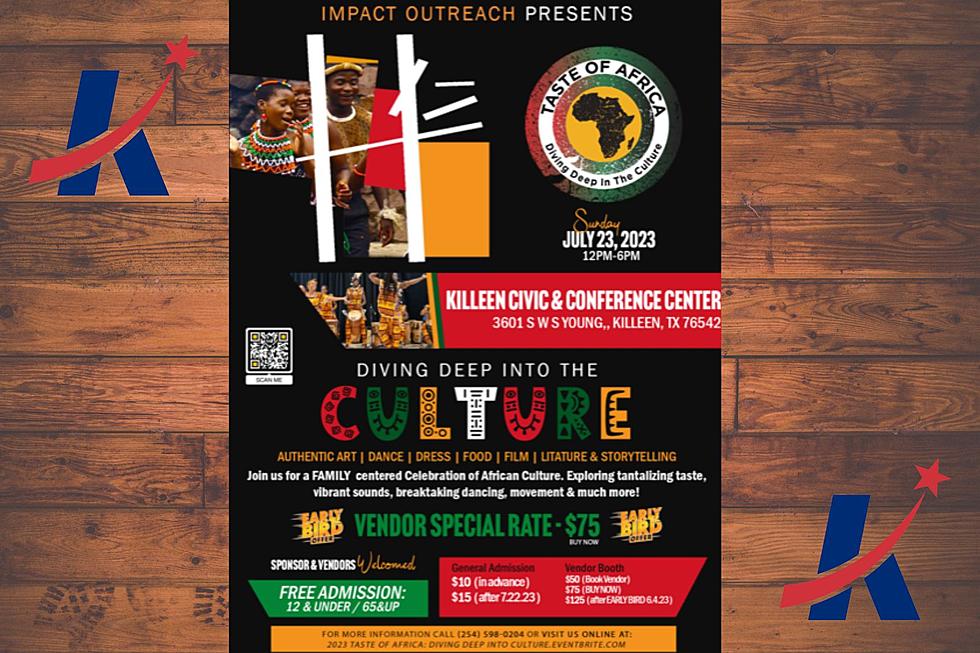 Killeen Celebrates The Return Of "Taste of Africa"
Canva/ Rodney
On July 23, the city of Killeen, Texas is coming out to enjoy African culture at its best. I.M.P.A.C Outreach is celebrating the sixth annual Taste of Africa from 12 to 6. If you've never been to this event, you are truly missing out on some of the most historic and mesmerizing African cultures in the city of Killeen.
KILLEEN TEXAS ARE YOU READY FOR TO GET A " TASTE OF AFRICA"?
African descendants, gather to celebrate the history of Africa and what the beautiful continent has to offer. The experience that you have going to this event really is life-changing. There will be gorgeous, handcrafted art, vibrant sounds, some of the most beautiful and vibrant fabrics and fashions you've ever seen, and delicious food that represents Africa the best way we know how here in Killeen.
COME OUT AND CELEBRATE A TASTE OF AFRICA WITH THE WHOLE CITY!
Rodney Duckett puts on an amazing event every year for the city, and I could not be more impressed and thankful for him. Rodney is all about keeping the history of Africa alive here in Central Texas. The event itself will take place at the Killeen Civic and Conference Center located at 3601 S. WS Young Dr. We don't often get to celebrate African culture, especially as much as I want in Central, Texas, and if you have similar opinions, I would suggest definitely visiting this amazing event. The celebration truly brings out the whole city and it's worth every moment. Come join a taste of Africa. For information about the event, click here.
Celebrating 10 Killeen, Texas Black Owned Restaurants You Must Try
These are 10 restaurants in Central Texas that are black-owned.
Delicious! Killeen, Texas Top 8 Female Chef/ Caterers You Must Know!
This is 8 Caterers and Chefs that are female from Killeen.
10 Real Texas Laws You Won't Believe Are On The Books
These Texas laws seem pretty weird, but they must be there for a reason, right? What on earth led to these having to be passed?