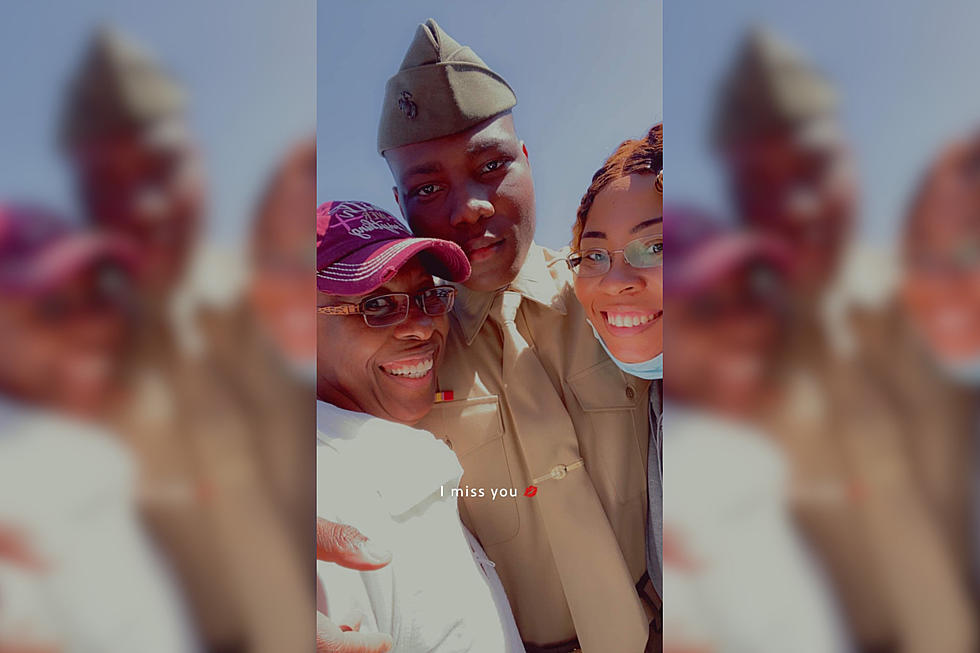 Harker Heights, Texas Mother Thanks The City For Reuniting Her With Marine Son
Photo Courtesy of Brittany Robinson
A Harker Heights, Texas mom is thanking the Central Texas community for helping her get to her son's Marine graduation.
If you can remember sometime last month around January 17th, I wrote an article about a single mother who was asking Central Texas for help. Brittney Robinson has a child who decided to make a very mature and brave decision to join the US Marines. Jeffrey Deloach III has never been away from his family that long in his life. The mother and son made sure to stay in contact through letters while he was in basic training. Brittney patiently waited for letters from her son, then she finally received the most important letter ever informing her that her son would be graduating from boot camp.
CONGRATULATIONS JEFFERY DELOACH!
REUNITED AND IT FEELS SO GOOD!
Brittney knew that she wasn't going to miss the most important moment of her son's life, she just wasn't exactly sure how she would be able to get there. That's why Brittney decided to create a GoFundMe account and ask for the assistance of Central Texas.
I wrote the article hoping that my friends and neighbors would not turn a blind eye to a mother who worked all her life to make sure that her children had everything they needed, and as a mother never asked for anything back. Central Texas not only made sure a supportive mother was able to see her son graduate, but that Jefferey's siblings, who missed him dearly, could be there as well.
WELCOME HOME PRIVATE DELOACH
Jeffrey is now an official US Marine who humbly accepts the responsibilities of taking care of this great nation. Knowing that the good people of Central Texas helped his proud mama be there to see him graduate brings a smile to my face.
Once again, congratulations Jeffrey Deloach III, and great job Brittney Robinson on raising your son!
Top 20 Restaurants Central Texans Wish Would Come to Temple
A while back, I
asked the good people of Temple
if they could picture a good restaurant to fill the lot on North General Bruce Drive where the soon to be torn down Long John Silver's stood.
This was before it was announced that a Dutch Bros. Coffee location would open there (which was one of the places I predicted as a contender in our article).
So now Dutch Bros. is open in that spot, but the responses to my survey were interesting because they paint a picture of just how diverse Temple's population is. People recommended some familiar restaurants with locations in the surrounding area, but also a few I'd never even heard of.
Here are the top 20 results of the survey. Let's see what the good people of Temple are craving!
7 Seafood Restaurants in Killeen and Harker Heights You Need To Check Out
You don't have to travel to the coast to find great seafood. There are plenty of places right here in Central Texas that serve it up fresh and serve it up right. These are just a handful of our favorites. Did yours make the list? If not, let us know what we should try next!
The Yard Truck Food Plaza In Downtown Temple
Choose from a wide selection of cuisines from different cultures at the Yard Truck Food Plaza in Downtown Temple.