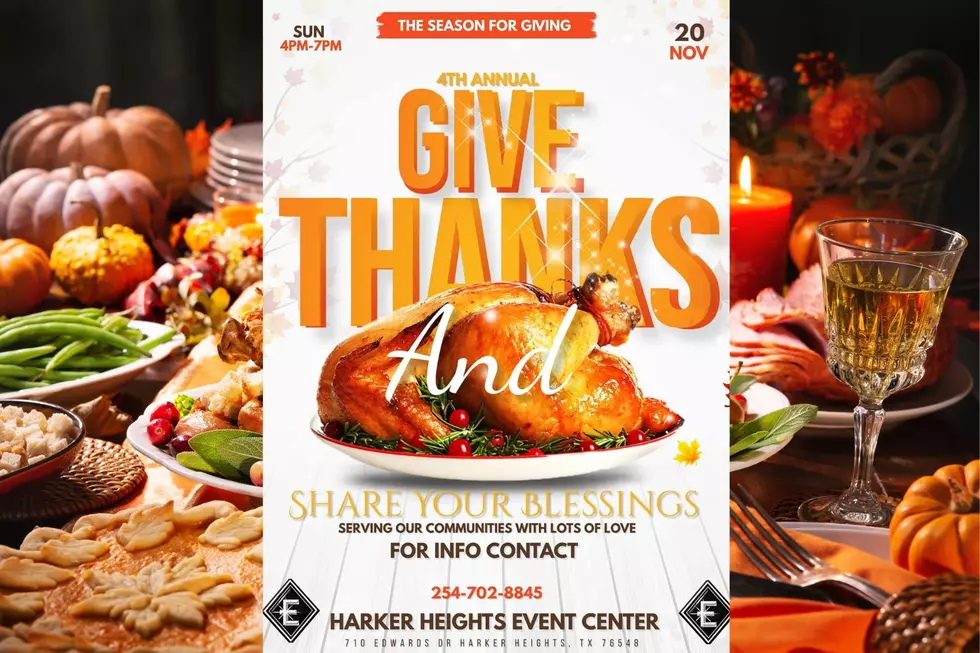 I'm Thankful! The Harker Heights 4Th Annual Give Thanks And Share Your Blessings Is Back!
Canva/ Courtesy of Carolyn Brown
I love when a plan comes together, but more importantly, I love it when a community loves one another and comes together to make an amazing event happen. The fourth annual Harker Heights Give Thanks and Share Your Blessings event is back and better than ever!
LET'S COME TOGETHER AND GIVE THANKS!
Owner and operator of the E Center Carolyn Brown will be hosting another Give Thanks And Share Your Blessing. This event serves the community with nothing but love, great memories, amazing foods, and fellowship with people right here in your own community. This event will be at the E Center, located at 710 Edwards Drive in Harker Heights, Texas. They are looking for food donations, so if you have large tin pans, small tin pans, plates, dining utensils, and/or plastic forks, please contribute those items to Carolyn Brown.
HOW CAN YOU BE A PART OF THIS AMAZING EVENT?
If you have not been to a Give Thanks And Share Your Blessing event, you have truly missed out on a magical and meaningful event! It really is about the community coming together, loving one another, and sharing the fact that we are all blessed just to be able to participate in events just like this year after year.
If you want to help, Carolyn Brown is also looking for volunteers for food service, dessert service, beverage service, someone to break down equipment, and also set up for food prep. It truly does warm my heart to see my community come together, love one another, and take care of each other. I'm a big believer that Central Texas as a whole is not our house, it is our home, and it's very important that we take great care of it! Give thanks to your community!
sides
Steve Harvey Put Smiles On These Killeen Faces For Thanksgiving
Every year since the Steve Harvey Morning Show has been on MYKISS 1031, he and his show have teamed up with Walmart to donate turkeys to listeners here in the Killeen area.
In the past, we've donated turkeys on behalf of Steve and the crew to Operation Phantom Support, Communities in Schools, and The Bell County Child Welfare Board.
This year we did it differently and gave the entire public a chance to enter to win a FREE Thanksgiving Turkey courtesy of The Steve Harvey Morning Show and Walmart.
And boy did you take advantage of the opportunity!
We would like to thank you for entering and we hope your Thanksgiving was a great one!
Here are a bunch of smiling faces that were blessed with juicy birds for the holiday, compliments of the Steve Harvey Morning Show, Walmart, and MYKISS1031!
Do you see anyone you know?
Look Inside Comedian Steve Harvey's Former Texas Estate
2 years ago, Family Feud Host Steve Harvey sold his Little Elm Texas estate for just over a Million bucks! Let's be nosy and look inside!