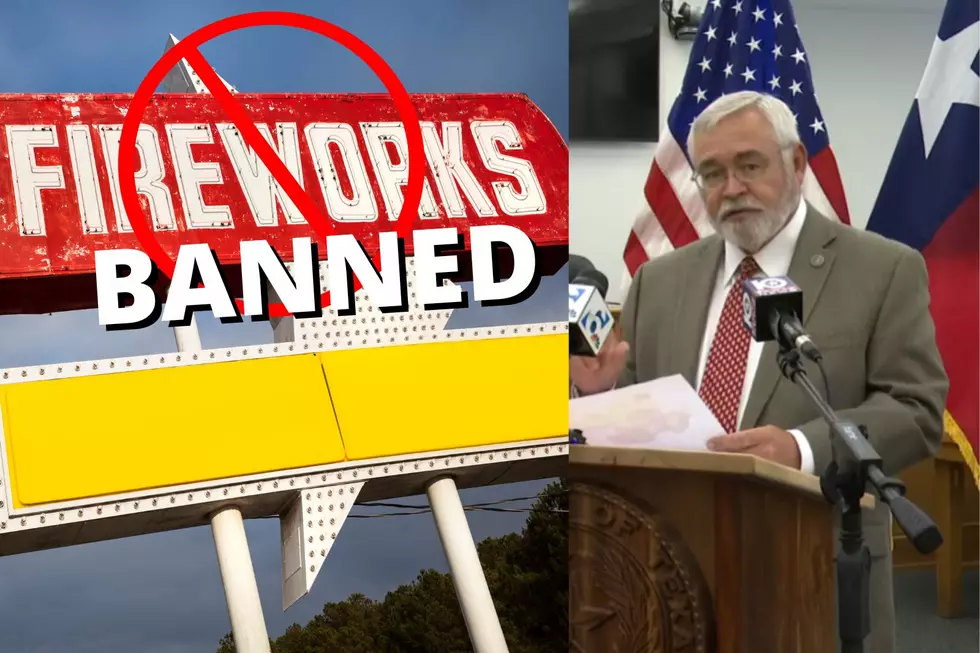 Good News Or Bad News? Bell County Bans Private Use, Sale of Fireworks
KWTX/Canva
Many are looking forward to celebrating the Fourth of July in Central Texas. One of the most traditional things to do on Independence Day is to either set off fireworks yourself, or go out to a fireworks show with the family. For those wanting to celebrate by lighting up the sky at their personal homes in Bell County, we've got some tough news - you'll be on the wrong side of the law if you do.
BELL COUNTY DROUGHT DISASTER DECLARATION
Our partners at KWTX report that Bell County Judge David Blackburn talked to the media today to announce the issues facing the area due to the lack of rainfall and hot weather. The Judge stated that 33 wildfires were reported in the past week, while 75 have occurred just in the month of June. Blackburn also discussed the state of Bell County's drought.
Basically, we're under a drought disaster declaration, and under that declaration, the private sale and use of fireworks is now banned.
"The USDM (United States Drought Monitor) shows that 100% of Bell County is abnormally dry, and 70% of Bell County is classified as in severe drought at this time," Judge Blackburn said.
Blackburn then went on to say that various discussions with fire marshals and the Texas Department of Emergency Management led him to issue a disaster declaration. The declaration is in effect because of the extremely dry conditions in Bell and surrounding counties.
"The body of the declaration, which proclaims and declares, that the sale or use of fireworks in Bell County without a permit issued by the Bell County Fire Marshal is hereby prohibited."
DECLARATION BANS PRIVATE USE, SALE OF FIREWORKS
Judge Blackburn also stated that because of the declaration, "The county's emergency plan is now activated and implemented as a result." This declaration will however not affect public firework shows. As those shows have the resources necessary to make sure no further damage is caused.
When asked what he would say to someone who's upset about this news or was really looking forward to setting off fireworks, Judge Blackburn said, "I would say I'm sorry. I wish weather conditions and ground conditions were different. I enjoy fireworks also, as does my family. So I'm truly sorry about that."
Blackburn said setting off fireworks in these conditions unnecessarily puts people and property in danger.
PUBLIC FIREWORKS SHOWS WILL STILL GO ON
It's not all bad news. If you planned to attend a fireworks show at Ft. Hood, or in Killeen, Belton, or Temple, those shows will still go on because licensed pyrotechnicians and local firefighters will be involved.
What's the Best Thing About the Most Expensive House in Texas? Being Safe
The most expensive house for sale in Texas includes a private marina, multiple waterfalls, a media room, 25 acres of amazing views on
Lake Travis
, and a safe room.
You really need to see
Villa Del Lago
to appreciate all these amazing features. Of course, luxury doesn't come cheap! The property comes with a price tag of $45 million.
Ready for the tour?
Helpful Slithering: Which Snakes Could Help or Harm in Texas?
Not all snakes are bad. Some Texas snakes actually do a lot to help humans out, even if we don't always see or appreciate it. Then again, some snakes can do a lot of harm. Here's a quick rundown.
Chill Out This Summer at the 6 Best Swimming Holes in Texas
Feeling hot, hot, hot? Here are six of the best swimming holes in
Texas
to get your chill on and lower that core temperature.
Trips to Discover
and
The Crazy Tourist
both list the following six places as the best places to cool off this summer in the great state of Texas. You'll want to keep this list handy as the mercury rises and the sweat starts to pour!
Texas in Top 10 Best States to Work from Home in America
How many people do you know that work from home? Since the pandemic, the number of employers with remote jobs has risen steadily.
WalletHub
used 12 factors to compare 50 states and the District of Columbia, including the percentage of people working from home, internet cost, cybersecurity, plus size and population concentration of homes in the state.
Let's take a look at the states that are the best for remote work, and where Texas sits on the list nationwide.