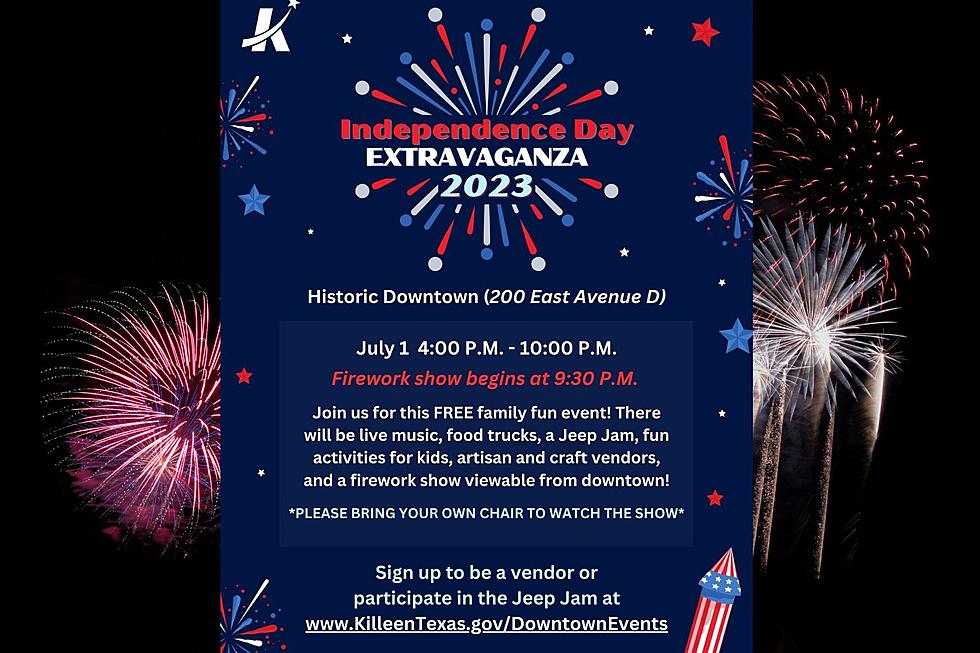 Get Ready Killeen, Texas For The Return Of Independence Day Extravaganza
Canva
I hope Killeen, Texas is definitely ready to celebrate Independence Day the only way we know how which is with our family while having a good time, with great vibes. The City Of Killeen is bringing back the Independence Day Extravaganza and the amazing firework show on Saturday, July 1  at the historic downtown Killeen.
KILLEEN TEXAS ARE YOU READY FOR ANOTHER INDEPENDENCE DAY EXTRAVAGANZA?
If you've never been to an Independence Day extravaganza event here in Killeen, you are definitely in for a treat. I get so excited about the event because this is going to be tons of fun and a chance for you to make plenty of memories. This event is so popular in the city of Killeen that last year, about 2000 people showed up downtown for this exciting event, and the City Of Killeen is expecting, even more, this year. The event will start from 4 PM until 10 PM and it will be located at 200 East Ave. D.
WHAT CAN YOU EXPECT AT THE DOWNTOWN EVENT?
There are going to be delicious food trucks, a Jeep Jam, activities for the kids, arts and craft vendors, and let's not forget one of the largest fireworks shows in Texas. The city of Killeen says if you wanted to sign up to be in arts and crafts or food vendor or participate in that Jeep Jam, you can visit www.killeentexas.gov/downtownevents your deadline is going to be June 1. Come out and enjoy yourself with the community. You will not be disappointed.
That Time We Found Derelict War Planes Hidden in Temple
10 Easy Things to Grow In Your Texas Garden
Whether you're an amateur, novice, or pro, these plants are easy to grow in any Texas garden.
Ten Weird World Records Set in Texas