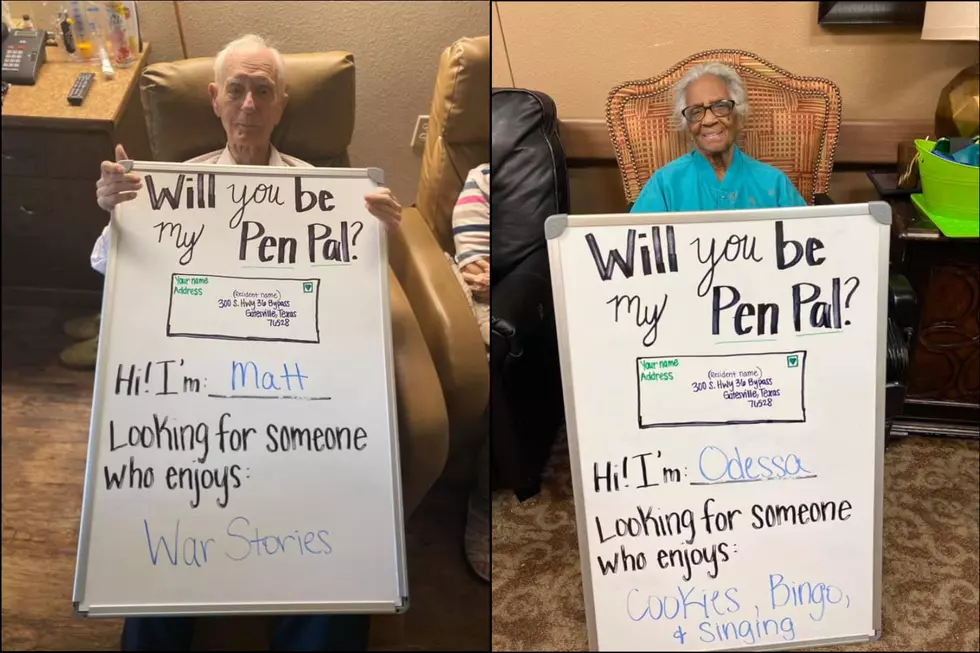 Gatesville Nursing Home Residents Are Seeking Pen Pals
Hillside Medical Lodge/KWTX-TV/Facebook
Residents at a senior care facility in Gatesville are seeking pen pals.
A Facebook post created Monday afternoon by Hillside Medical Lodge has gone viral after the nursing home posted pictures of residents asking for pen pals.  The post has been shared more than 2,000 times so far. In the post, residents are seen holding up signs with their names, the nursing home's address, and what their interest are.
---
---
Susie Meelbusch-Woods, Director of Public Relations at the nursing home, tells Rissa Shaw with our partners at News 10, "It is just blowing up, people are reacting amazingly.  We even had someone comment on our Facebook post that they were going to share it in the Netherlands, so we're hoping it goes worldwide."
Officials at the nursing home say it's been a challenging time at the facility, since residents are unable to see their families and friends because of COVID-19.
Residents are looking for pen pals interested in writing about all kinds of different subjects such as Elvis, roller skating, and Unsolved Mysteries.
If you like to be a pen pal with one of the residents Hillside Medial Lodge nursing home, you can find information here.
So many of our seniors in assisted living centers aren't able to see their families or much of the outside world with safety protocols in place. This would be a fantastic way of showing them that people out there care about them and providing a connection to the world outside.
Enter your number to get our free mobile app
5 Things I Took for Granted Before the COVID-19 Pandemic