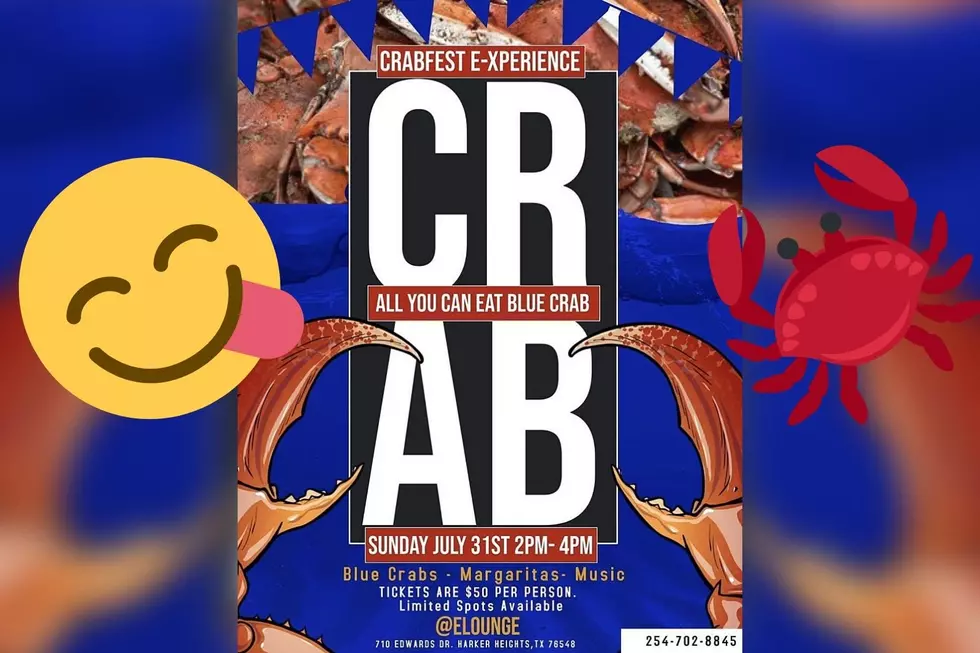 Get The Butter Ready! Crabfest is Coming to the Harker Heights E-Center
Carolyn Brown/Canva
I cannot wait to get a little taste of East Coast crab. Carolyn Brown, AKA the godmother of Central Texas as she is well known, is putting together a blue crab event sure to please Central Texas seafood lovers.
LET'S GET OUR SHELL ON CENTRAL TEXAS
This event will take place at the Harker Heights E Center, 710 Edwards Dr., and it's going to be absolutely delicious.
If you've never been to an event that Carolyn Brown put together, you've never done anything really in Central Texas! This woman knows how to throw a party and make every guest feel like a VIP.
The Crabfest will include all-you-can-eat blue crab (naturally), refreshing margaritas, and great music. There will only be 20 spots available, so you need to get your ticket as soon as you can. (Info on that below.)
WHAT'S CRACKING, CENTRAL TEXAS?
I don't know about anybody else in Central Texas, but I've been to the East Coast and their blue crab definitely tastes different than the blue crab in the south. Don't get me wrong - I love everything about being from the South, but when it comes to cooking crab, especially blue crab, the East Coast definitely takes the win.
Make sure you guys come out Sunday, July 31 for the Crabfest from 2PM to 4PM.
HOW TO GET YOUR HARKER HEIGHTS CRABFEST TICKETS
You can purchase your tickets at this Eventbrite link.
I'm so excited about this crab boil that I can practically smell the herbs and spices now! Hope to see you out there.
Top 6 Beautiful Paradise Islands In Texas You Must Visit
You don't have to hop on a plane or a cruise ship to find an island paradise this summer. Texas has some perfect getaways. Here are just a few.
The Perfect Safari Vacation Spot Is Right Here In Central Texas
Do you love wildlife? How about giraffes? If you want to get up close and personal with them while enjoying a comfy Airbnb, then
Blue Hills Ranch
located in McGregor, Texas is the perfect getaway for you and your family. Let's look around at this charming safari right here in our backyards.
Welcome To The Sweet Serengeti Cabin with Zebras Located Right Here In Texas
There is an
Airbnb
in Blanco, Texas with a Serengeti theme that is the perfect vacation spot, especially if you love exotic wildlife.