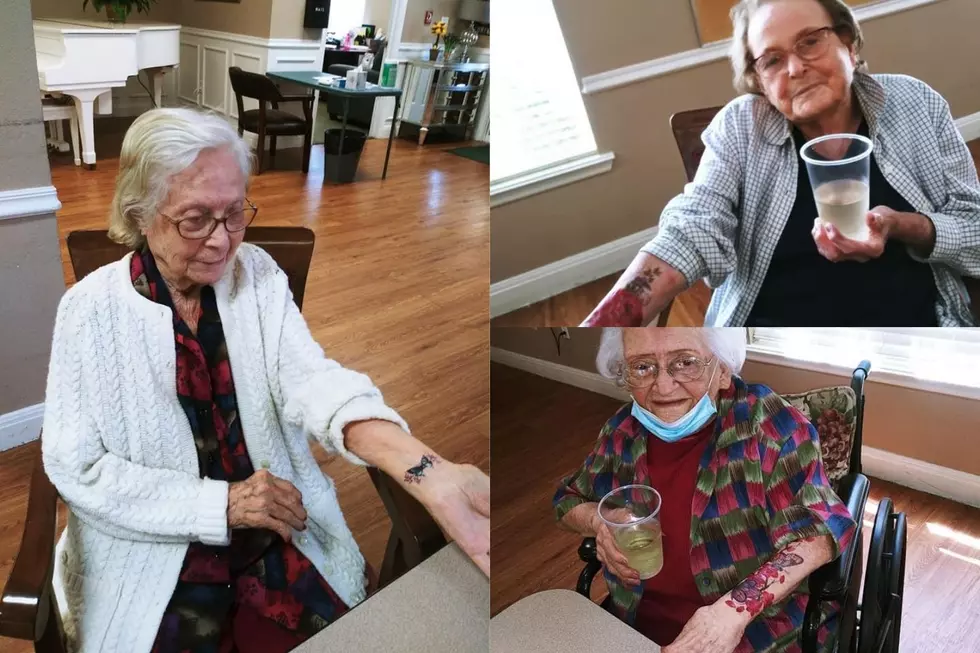 Central Texas Nursing Home Throws Booze and Tattoos Party
Photos Courtesy of Wesley House Assisted Living Center, Hillsboro
The COVID-19 blues are very real. I care for a family member who's at high risk for the worst effects of the virus, so we've been quarantining since March. Cabin fever set in quick, and we're both ready for a vacation, or at least a wild party.
Residents were treated to some ice cold adult beverages and tattoos! Ok, so they were temporary tattoos, but that's a good thing. After all, you don't want to get buzzed and come to with something permanent on your arm.
Susie explained what she had in mind as we chatted via Facebook Thursday evening.
"We've held a 'happy hour' once a month even since before I was employed here," Susie said. "I came up with the tattoo idea when I was planning the one for August. I thought that it was crazy how we've been on lockdown since March, and here we are in August already. Then I thought, what's something crazy that people do when they drink? Get tattoos!"
Susie says the residents had a great time, and even the 99-year-olds were excited about getting their tattoos.
I love where Susie's head was as she planned this party. It's a really cute idea, and it really does look like everyone had a good time.
Like any legendary party, word of it spread fast across the internet, and news outlets as far away as Boston reported on it. That's quite a kegger!
---
---
"As far as our post going viral, we were all surprised," Susie said Thurday. "The residents have loved telling their loved ones that they're famous now!"
I asked Susie if she plans on throwing any more wild parties.
"We do plan on having more events like this, all while following the state's guidelines of social distancing."
Texas Nursing Home Throws Booze and Tattoos Party
Enter your number to get our free mobile app
KEEP READING: What were the most popular baby names from the past 100 years?