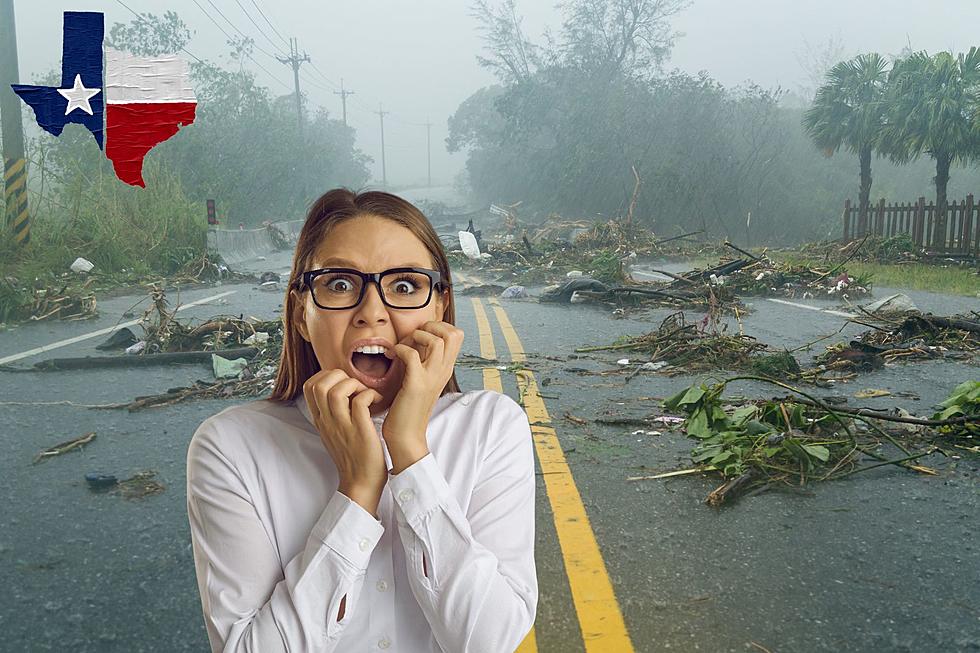 Beware! Here Is The #1County In Texas With The Worst Weather Conditions
Canva
The term April showers, and May flowers in Texas is never used loosely when it comes to weather disasters in the state. You can find yourself really enjoying the most beautiful sunny day around noon, and then by 5 PM, the weather sirens go off to let you know there's a tornado, hurricane, or thunderstorm warning taking place. Especially this year, I feel like Texas has definitely had its fair share of weather disasters from hail storms with balls of ice, the size of grapefruits to tornadoes that are destroying everything in sight.
WEATHER IN TEXAS CAN BE UNPREDICTABLE
Over the years, we've noticed that a lot of people regardless of the weather in Texas have found their selves either wanting to move here or making the decision to move here to Texas. I'm a big believer, that Texas is definitely one of the most beautiful states here in the USA, but like any other state and city, it has certain negative aspects, like weather disasters. The weather in Texas can get very dramatic, depending on which end of Texas you're deciding to live in.
WHAT CITY IN TEXAS HAS THE WORST WEATHER DISASTERS?
If you find yourself, wanting to move to the Harris County area, you might experience more hurricanes due to the fact that Harris County is closer to the coast, if you're living in the Central, Texas area, may find yourself with heat waves that have been described as miserable, and according to Stacker, if you find yourself in Tarrant county, the weather there is the number one most severe weather in Texas.
BE CAREFUL SELECTING WHERE YOU LIVE IN TEXAS
Tarrant County, which is located near Fort Worth is known for its hail storms that leave cars and homes in serious damage conditions. Stacker made its calculations on Tarrant County being the worst city in Texas for weather disasters in 2020, but since then, there has been no record of any other county that has had that much damage. Unfortunately, Tarrant County still holds the crown as the county in Texas with the most severe weather disasters. The damages are over $1 billion, this is how detrimental the weather is in this particular location. If you find yourself wanting to move to Texas, and you're not exactly sure when where you want to move to, I would suggest keeping Tarrant County in mind when you're trying to avoid disasters in Texas, the county again is still number one.
Here Are The Top 5 Safest Places To Raise A Family In Central Texas
These are the top 5 safest places in Central Texas to raise a family.
Beware! Here 10 Counties in Texas With The Most Sex Offenders
10 Cheapest Places To Live In Texas
Whether you're a native of the Lone Star State or looking to put down roots here, these are the places where you can get the most out of your money according to
PropertyClub
.