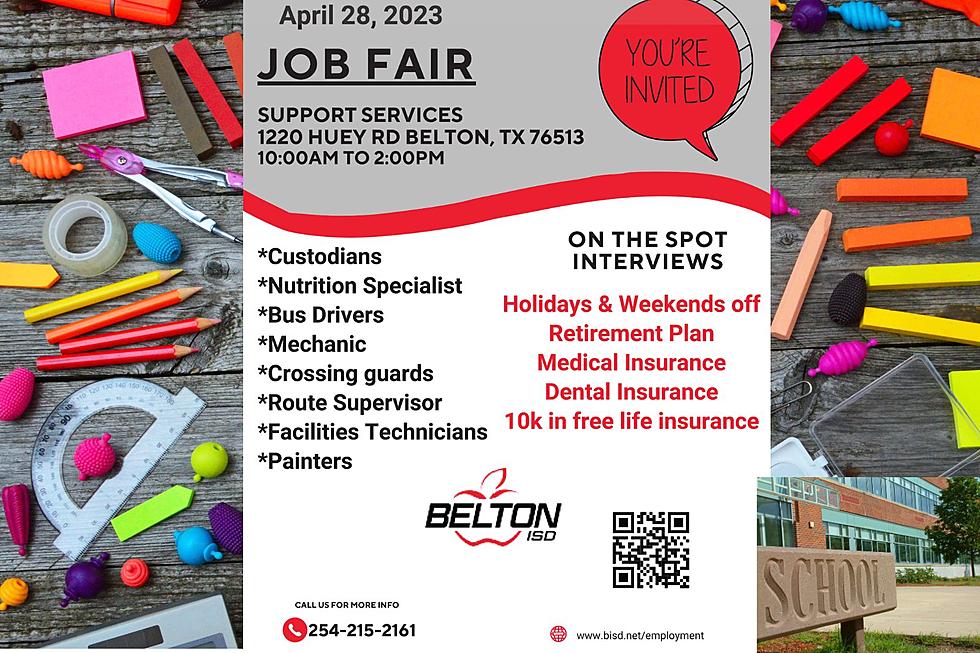 Belton ISD To Hold Job Fair April 28
Canva
If there are educators who are ready to be a part of the Belton, Texas Independent School, District, here is your chance. April 28, which is a Friday, Belton ISD will host a job fair for Central Texas from 10 AM until 2 PM at the Support Service Center located at 1220 Huey Dr. in Belton.
EDUCATORS ARE WANTED IN BELTON ISD
The interviews will be conducted on-site for not only custodians but mechanics, crossing guards, supervisors, faculties, technicians, painters, bus drivers, and nutrition, service staff. The Belton ISD offers not only medical and dental insurance, time off on holidays and weekends, free life insurance, and most importantly, a retirement plan. Todd Schiller who is the assistant superintendent for human resources says,"Belton ISD has something really special to offer those interested in a career in education at any level.
COME OUT TO AND JOIN THE BELTON ISD
We are proud to have a culture that supports and values every member of the team for that reason. Folks want to work in the big red community!" This fast-growing district in Central, Texas has enrolled about 13,600 pre-K through 12-grade students at 19 different campuses. If you're interested in becoming a part of the Belton ISD family come out to this job fair.
10 Easy Things to Grow In Your Texas Garden
Whether you're an amateur, novice, or pro, these plants are easy to grow in any Texas garden.
LOOK: 15 Pets You CAN'T Own in the City of Temple
Temple is a super pet-friendly place to live, but there are some animals city officials would really rather you not try to tame and keep in your home. Let's take a look at a few of the critters on the
banned list
.
That Time We Found Derelict War Planes Hidden in Temple