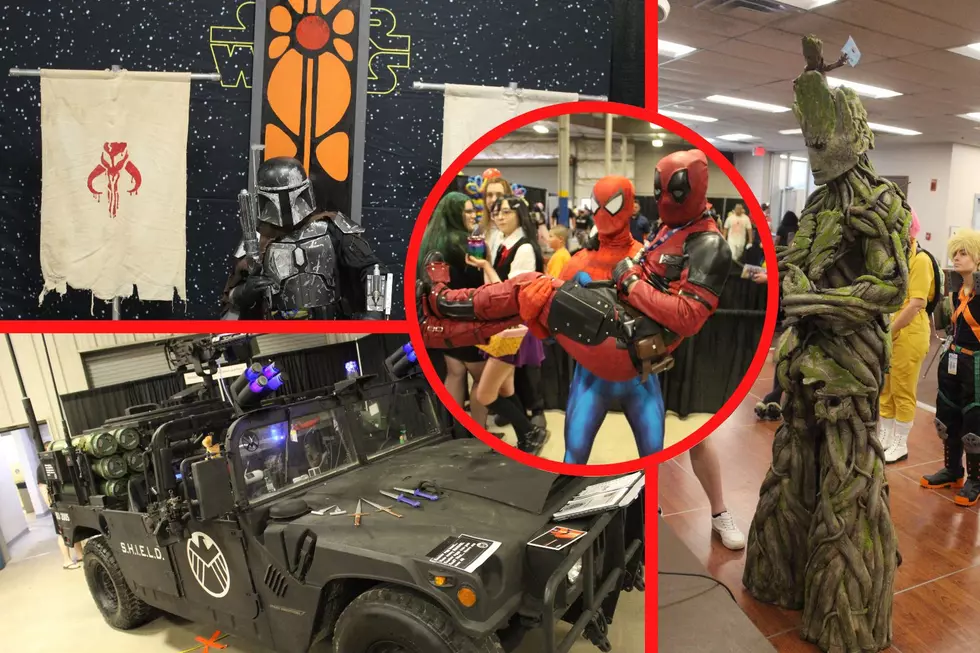 Get Hyped For The 2022 Bell County Comic Con in Belton, Texas
Aaron Savage
It's almost that time of year in Belton, Texas where make-believe becomes reality. If you head to the Bell County Expo Center during the first weekend in August, you'll feel like you've been transported to another world as the Bell County Comic Con returns.
IT'S TIME FOR THE 2022 BELL COUNTY COMIC CON
In case you're new to the Central Texas area, the Bell County Comic Con is a massive event that happens in Belton every summer during the first weekend in August. This year's will fall on August 6 and 7.
At the BCCC, celebrities, creators, cosplayers, artists, experts, and fans of all things comics, anime, gaming, and sci-fi come together for parties, panels, Q&A sessions, contests, and just a whole lot of fun.
The con is organized by natives of Central Texas and their fearless leader, Johnny Huang. So when you go to the Bell County Comic Con, you're not dealing with a faceless corporation. You're a guest at an event designed by and for Central Texans, although people from all over the world show up, including awesome celebrity guests. (More on that in a minute.)
NOSTALGIA IS ON THE MENU AT THE BELL COUNTY COMIC CON
If you've never been to a BCCC, I suggest that you go. It's by car the coolest of the year, and it's the easiest way to bask in every nostalgic cartoon situation you had growing up along with fellow fans.
When I was a lot younger, my favorite TV show every Saturday morning was Teenage Mutant Ninja Turtles. There's traditionally been a major Ninja Turtles guest at every BCCC, and this year is no exception. Remember Judith Hoag? She played April O'Niel in the original live-action Turtles movie, and she'll be a featured guest at this year's con!
ninja Turtles and April O'Neil was one of my favorite people the actual original April O'Neil from all the ninja turtle movies will be there as well I cannot wait.
We all remember the classic sit-com Home Improvement too, right? Well, two of your favorite characters will be there too. Whoop!
THE GALAXY FAR, FAR AWAY COMES TO BELTON, TEXAS
Of course, there are countless Star Wars fans in Central Texas, so how would you like to meet Darth Maul and Darth Vader?
That's right - Ray Park, who played Darth Maul in Star Wars: Episode I and Tom O'Connell, currently playing Darth Vader in the Obi-Wan series, will represent the Dark Side of the Force at this year's con.
ANIME IS WELL REPRESENTED AT BELL COUNTY COMIC CON
Anime fans always have a lot to enjoy at the Bell County Comic Con. Aside from the child and adult cosplay contests (which are always great - check out pics from last year's finals here), you can meet guest anime voice actors Clifford Chapin (Bokugo from My Hero Academia), Kristen McGuire (Hinana from Assination Classroom), Alexis Tipton (Mina from Attack on Titan), and more!
There are also awesome panels where you can learn more about cosplaying from folks who craft their own costumes and props.
GUESTS, GUESTS, AND MORE GUESTS
I don't even have time to list all the fantastic guests you'll meet at this year's BCCC. Whether you're into wrestling, sci-fi, anime, or classic films and TV, there'll be somebody there for you to freak out over.
You can see a full list of guests here.
THIS IF A FAMILY-FRIENDLY EVENT
This is an experience that you and your family should definitely take advantage of. Like I said, it's organized by Central Texans who make safety and the comfort of both the fans and the celebrity guests seriously. Security guards and volunteers are always right there to make sure we're all having a good time and no one's being made to feel uncomfortable.
BUY YOUR PASSES EARLY TO SAVE BIG
I highly recommend buying your single or family weekend passes early so you get them before they're all gone and you don't end up waiting in line on a hot August day to get yours at the box office.
In fact, we have some major deals on passes going on over at seizethedeal.com.
Right now you can get an adult weekend pass to the BCCC valued at $75 for only $35. You can also get a family six-pack of weekend passes valued at $150 for just $60.
EVERYONE IS WELCOME AT THE BELL COUNTY COMIC CON
A lot of people think that this event is for nerds, and...well, it is! But if that's not your thing, then I say you just don't know how to have fun because everyone is a nerd about something.
Love classic cars? They have an annual car show at the con.
Love video games? There are gaming sections where you can put your skills to the test against all sorts of challengers.
Are you a horror fan? There are always other horror movie enthusiasts at the BCCC for you to meet and mingle with.
Everyone is welcome at the con, so don't be shy. I really hope to see you there - preferably in costume!
PICS: Check Out The Best Cosplay of Bell County Comic Con 2021
The 2021 Bell County Comic Con was another huge success. While the celebrity guests and panels are great, my absolute favorite part of the con is seeing all the fans who cosplay in tribute to their favorite characters. Let's take a look at some of this year's best!
10 Easy Things to Grow In Your Texas Garden
Whether you're an amateur, novice, or pro, these plants are easy to grow in any Texas garden.
MORE: 11 of the Worst Marketing Blunders in History