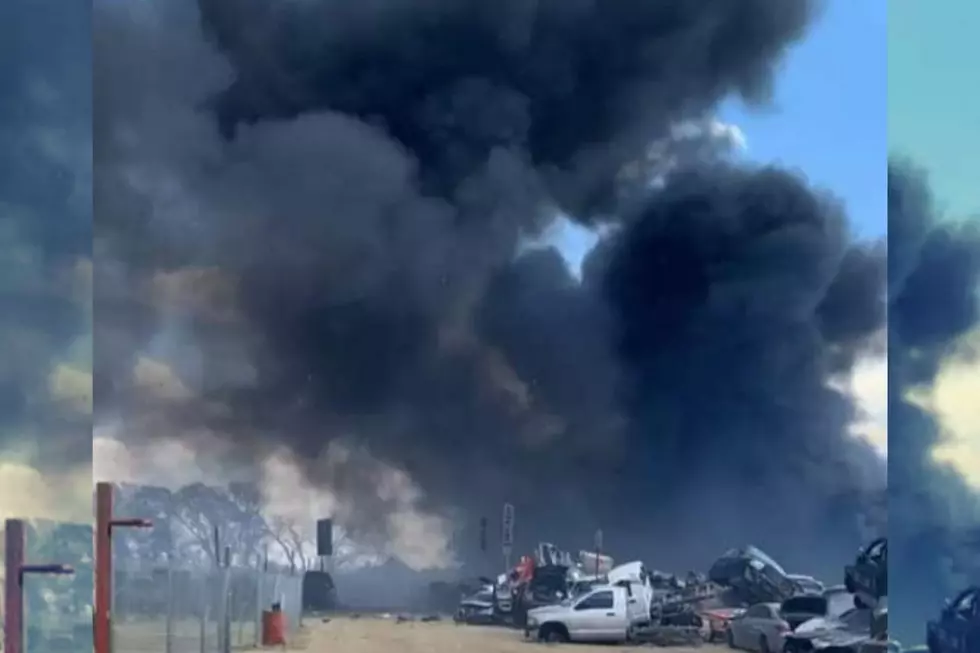 After losing 1,000 Cars to the Dog Ridge Fire, Belton, Texas Business Reopens
Image Courtesy of Crystal Grant
Budget Wrench-A-Part in Belton, Texas saw significant damage from the "Dog Ridge Fire" that burned 150 acres and wiped out more than 1,000 cars.
The business has reopened to the public.
Dog Ridge Fire
No word yet on what started the Dog Ridge Fire on July 28 but the damage was pretty extensive. It burned 150 acres and completely destroyed more than 1,000 vehicles from Budget Wrench-A-Part at 4497 US Hwy 190. According to KCEN, Bell County Fire Marshal, Chris Mahlstedt, says the cause of the fire remains undetermined but did not start at Budget Wrench-A-Part.
---
---
The fire spread quickly once it jumped the fence at the salvage yard. General manager, Ryan Eckerman, said the staff immediately worked to get the customers out of the yard and tried to move as many cars as possible but the fire was too quick.
Open for Business
It took some time but Budget Wrench-A-Part is back open. They were closed for about a week and a half and had to do some property restoration but have finally reopened the gates and are back in business.
Eckerman, tells KCEN that his employees have been working overtime to get the business ready to reopen.
"They're willing to do what is necessary to help out the business and I mean at this point, I don't even want to even consider it a business. They're doing what is needed to get the family back up."
Budget Wrench-A-Part is back open today because of all the work their team was able to do to save the cars they could.
A Work in Progress
Eckerman says the lot is still a work in progress and although the fire was devastating, they have found a way to move forward,
"If you keep looking at it as a loss, then that's what it'll always be. We have to find the good out of it."
Budget Wrench-A-Part is open 7 days a week from 9-5:30pm.
Heroes and Villains Unite: The Best Of Bell County Comic Con 2022
Did you miss any of the costumes at the 2022 Bell County Comic Con? We're got all the photos you need!
Top 25 Delicious Foods & Drinks That Define The Great State of Texas!
There's more to Texas than just Dallas Cowboys and oil in fact, Texas has helped shape the taste of America. From BBQ, to Tex Mex to Ice Cream and beyond, Texas has introduced the rest of the U.S. to the Texas way of life through food. So what foods and drink make Texas so special? Let's take a look.