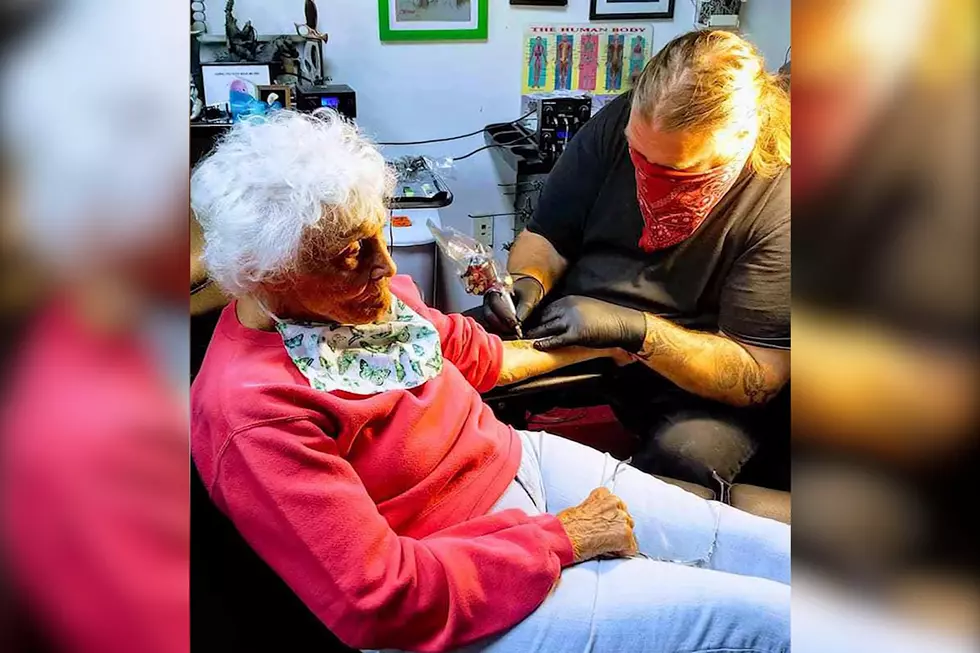 103 Year Old Knocks Two Items Off Her Bucket List
Image Courtesy of Teresa Gomez Zavitz-Jones
Dorothy just turned 103 and has spent the last couple of months hunkered down in isolation in her nursing home. While passing the time, she decided it was time to get a few things done when she got the chance.
First off, a new tattoo. It was a gift to herself for turning 103 years old, and why not - you only turn 103 once right? For her first, she got a tattoo of a frog on her forearm. The tattoo artist said she took it like a champ and didn't flinch once.
So, why a frog? According to KXXV, Channel 25, Pollack says it's the one thing she loves more that beer and burgers.
Dorothy wasn't done there, though. Following the tattoo, she decided to knock another item off that list: riding a motorcycle.
We reached out to a relative of Dorothy's on Facebook, Teresa Gomez Zavitz-Jones. Teresa told us that up until age 100, Dorothy cared for her daughter who suffered from MS. So not only is she a badass granny, but a devoted mom.
It's tough for so many seniors to be isolated right now as we deal with the COVID-19 pandemic. It's great to see someone like Dorothy given a chance to cross some items off the bucket list.
As we reported last week, the Texas Health and Human Services Commission has issued new rules allowing for limited visits to nursing homes and long-term care facilities. You can read all about those rules here.
If you have a relative at such a facility, they'd probably be thrilled to see you after all these months. Just be sure to play it safe by wearing a mask and respecting distancing rules. Better safe than sorry.
Enter your number to get our free mobile app
CHECK IT OUT: Here Are the 77 Most '70s Things About 1977