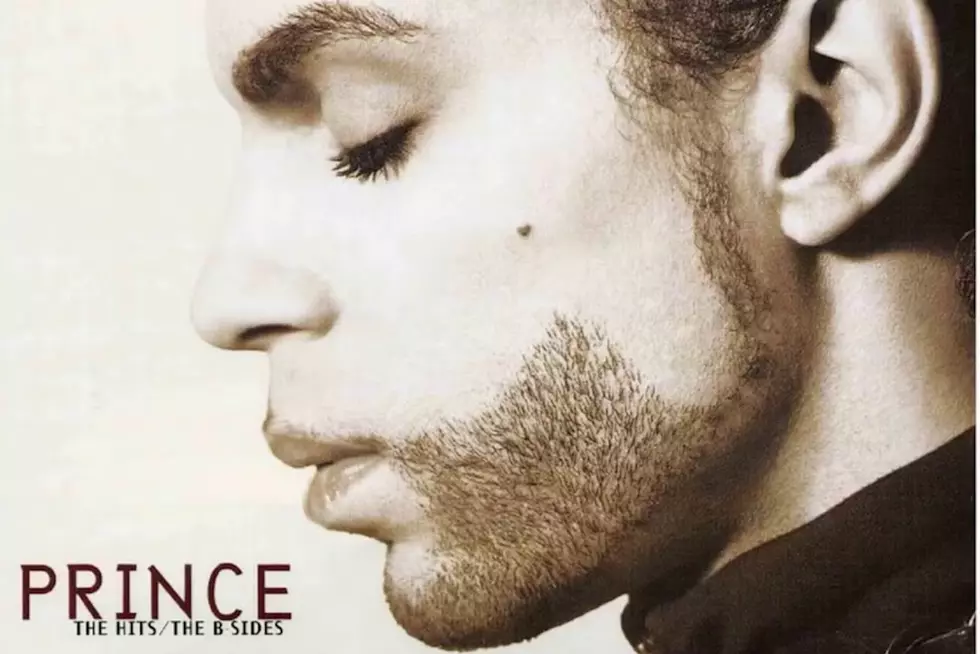 When Prince Took a Begrudging Look Back on 'The Hits/The B-Sides'
Warner Bros.
As well received as it was, The Hits/The B-Sides also represented another round in the seemingly never-ending tangle between Prince and Warner Bros.
He wanted to release the debut album by the New Power Generation; they wanted to issue a long-awaited career overview. The label finally got its way, and this three-disc package arrived on Sept. 14, 1993.
Behind the scenes, Prince insisted that long-time manager Alan Leeds write the liner notes, rather than the author Warner Bros. proposed. "I told him it was an honor, but only if he'd answer a few questions so I could add some background that wasn't common knowledge among fans," Leeds told Reggie Hudlin in 2016. "He agreed but asked me not to write like an interview. So, I simply incorporated some of his revelations into my notes. When I sent him the finished notes, he called to say 'thanks, nice job' and that was it. He surprisingly did zero editing."
Sensing more trouble ahead, label execs reportedly paid Prince a stipend in order to avoid any other meddling, biographer Per Nilsen says. He ended up predictably distancing himself from the set. In a 2015 interview with Ebony, Prince would only say that he "never had anything to do with" The Hits/The B-Sides, which was released alongside a home-viewing set called The Hits Video Collection.
Still, the audio compilation remains a sturdy overview of Prince's career to that point, with favorites from 13 previous studio albums. (Only Batman was left unrepresented.) Tasty extras included the rare "4 the Tears in Your Eyes," a track recorded in the New Orleans Superdome on a tour off-day then tucked away on the We Are the World charity album. Key b-sides like "Erotic City" and "17 Days" provided some of the most intriguing moments for those who hadn't followed closely. The oft-bootlegged "Power Fantastic" finally earned a proper release.
Bigger fans may have groused over the fact that most of the tracks were presented in single-edit form, but if the goal was to provide a compact, affordable overview, then The Hits/The B-Sides succeeded – whatever Prince felt about it.
Listen to Prince Perform 'Peach'
The Hits/The B-Sides became a platinum-selling Top 20 Billboard hit, and went to No. 6 on the R&B charts. "Pink Cashmere," a late-'80s leftover written for Prince's then-girlfriend Anna Fantastic, couldn't break the Top 40 in America, but the follow up "Peach" – which was recorded in 1992 during the sessions for Diamonds and Pearls – soared to No. 14 in the U.K.
Regardless, Prince told Ebony in 2015 that he still hoped to curate his own retrospective project. That wouldn't have surprised Susannah Melvoin, Prince's ex-fiancee and a member of his offshoot band the Family.
"I remember him saying, 'I'm not a reminiscent kind of guy. I don't talk of the past, and I don't reflect,'" Melvoin told Rolling Stone in 2019. "But I knew him well, and I felt he was incredibly self-reflective."
In the period before his untimely death, Prince began to talk more openly about the past – memorably eulogizing Vanity during one of his Piano & a Microphone concerts. And he still had his private notes to Leeds, which Prince briefly posted to his website thedawn.com in 1996. There's no reason to believe he wouldn't have eventually gotten around to creating a more personalized version of The Hits/The B-Sides.
"Towards the end, he was communicating with the audience more, telling stories about his past and connecting the dots," Melvoin said. "He was letting people know why he wrote certain songs and who they were about. He was becoming more and more self-reflective – and that could've been based on the physical pain he was in. It's when you're in so much fucking pain that you're like, 'I don't know how much more of this I can take,' and you start thinking about mortality and life."
How the World Mourned Prince's Death