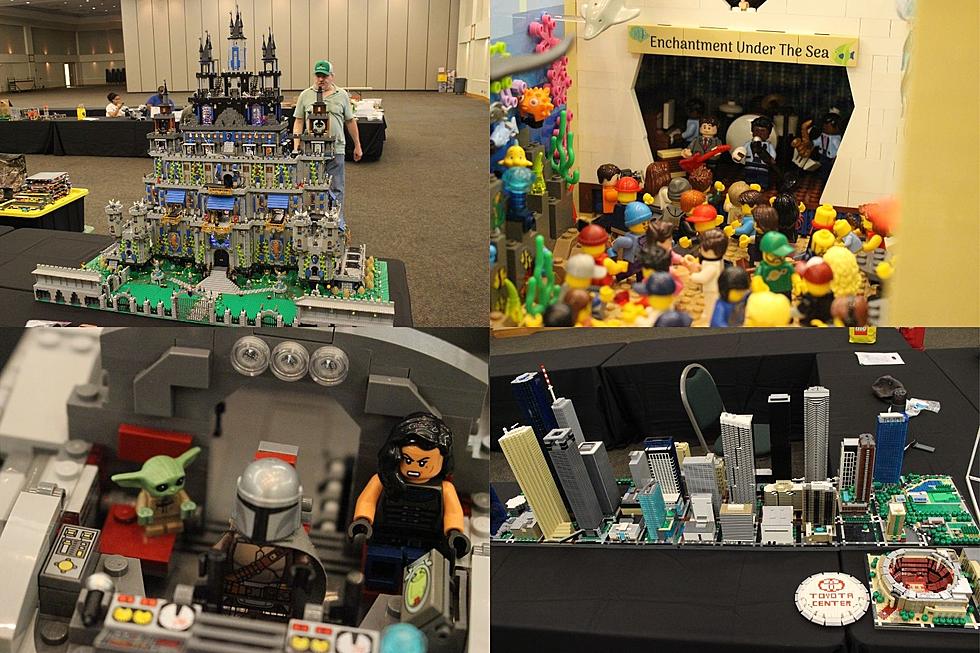 Sneak Peak: Awesome LEGO Builds on Display in Killeen This Weekend
Photos; Townsquare Media
I cannot even begin to tell you how excited I am about this weekend, and it's all because of the Bricks Killeen LEGO event happening at the Killeen Civic and Conference Center.
Early Access
If you follow us, you know I wrote about this event earlier in the week. At that time, all I had to work with was the information the City of Killeen was kind enough to forward me and my imagination.
Today, I was able to sneak in a little early to take a peek at the builds in progress. This was shortly after 1 PM, so many of the builders hadn't yet arrived.
However, I found a handful of master builders who'd arrived early and were working on their displays, and I was thoroughly impressed by what I saw.
Free Lego Event in Killeen September 18 and 19
Before I share some photos, I want to share some information for those who didn't catch my previous article.
The Killeen Convention and Visitors Bureau has teamed up with Texas LEGO Users Group for a FREE, family friendly LEGO event this weekend at the Killeen Civic and Conference Center, 3601 S W S Young Dr.
Hours for the 18th are 10 AM to 6 PM.
Hours for the 19th are 10 AM to 4 PM.
Awesome LEGO Creations
Builders from around the world will be in Killeen this weekend to show off some very impressive builds. Now, when I say there will be folks from around the world, I'm not exaggerating. When I visited the KCCC Friday afternoon, there were visitors from England setting up a display, and more friends from friendly countries will probably be there too.
Visitors will be able to feast their eyes on some pretty awesome LEGO builds at this event, including:
A castle built from 25,000 LEGO bricks
Custom spaceships
A dinosaur ranch
A giant treehouse
A model of Downtown Houston
Victorian houses
Plus, lots more imaginative builds.
As a tribute to our military community, there'll be special display of military aircraft, including a recreation of Whiskey Pete - the famed World War II aircraft of Killeen native and hero Bob Gray!
You Can Be a Part of Building a LEGO Mural
The organizers of this event need your family's help assembling a planned 10'x10' mural containing 75,000 LEGO bricks. The first 144 people in attendance this weekend will be invited to build a portion of the mural. You'll be given enough bricks for your part of the task, along with detailed instructions.
It's All for a Great Cause
Texas Lego Users Group is partnering with Fairy Bricks to help supply LEGO sets to hospitalized children, including patients at McLane's Children's Hospital in Temple.
Sneak Peek
Ok, now that you're all caught up, let's take a look a sneak peek at some of the displays that were being set up when I got a chance to take a look around early Friday afternoon.
Keep in mind that these were mostly builds in progress, so they're just a little taste of the amazing displays your family will be able to enjoy this weekend.
LEGO Hill Valley
I'm a sucker for the 80s movies I grew up with, including the class we all love, Back to the Future.
Marty McFly and Doc Brown call Hill Valley home, and one of the master builders in Killeen this weekend was setting up a LEGO replica of the town's main street, complete with the infamous clock tower!
You'll probably recognize this movie theater and diner, too.
I don't want to give away the entire display, but I had to share this look inside the Enchantment Under the Sea Dance.
Here's another cool display: The Razor Crest from The Mandalorian.
Look at the little Baby Yoda!
And there are all sorts of cool hidden compartments, which just shows you how much detail and passion goes into these builds.
This massive and detailed build of the RTS Houston was still under construction when I arrived Friday, so it'll look even bigger and better when you see it this weekend.
This Roman Circus display was also a build in progress, but was mighty impressive as it was. I can't wait to see what it looks like when the exhibit opens.
This enormous lighted castle is sure to be one of the favorite displays at the exhibit. There's so much detail in the build, including a lot of hidden jokes and mini-figs in disguise. See if you and your family can spot them all.
The same builder had a mysterious Egyptian pyramid in the works as well, plus some beautiful LEGO art.
I absolutely loved this imaginative airship!
Also on display will be a LEGO build of Downtown Houston. It was still being worked on when I was there Friday and should be impressive once it's finished. Heck, I'm already impressed by this!
One last sneak peek. Look at this gorgeous LEGO replica of the Republic if Texas Navy's Steamship-of-War Zavala!
I hope you and your family can make it out this weekend. Again, the event is absolutely free, so stop by and enjoy!
PICS: Check Out The Best Cosplay of Bell County Comic Con 2021
The 2021 Bell County Comic Con was another huge success. While the celebrity guests and panels are great, my absolute favorite part of the con is seeing all the fans who cosplay in tribute to their favorite characters. Let's take a look at some of this year's best!