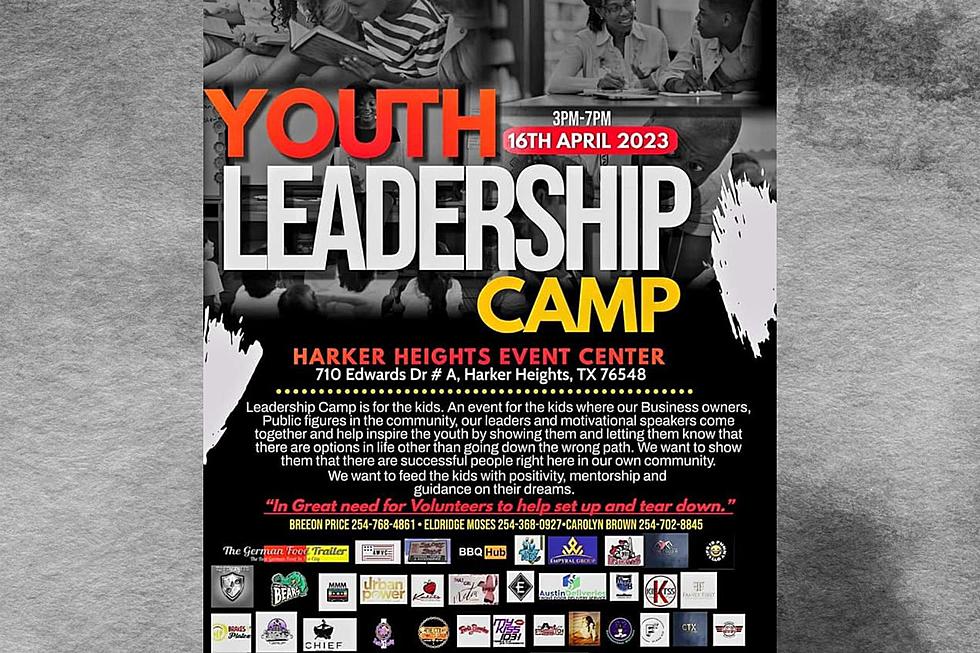 Hope for the Future at Harker Heights, TX Youth Leadership Camp April 16th
Breeon Price / Canva
I think we can all agree that there can never be enough good example for our kids. I am not trying to take away from the great parents who do go out of their way to make sure that their children have people worth looking up to, but the more our kids can see exemplary people and even other awesome kids in their community, the better chance they have of a happy and successful life. To help make sure that happens, the Events Center in Harker Heights, Texas will host a Youth Leadership Camp on Sunday, April 16.
MOLDING THE COMMUNITY LEADERS OF TOMORROW
This leadership camp will feature local business people, community leaders, public speakers, and motivational speakers who want to inspire the next generation of people who will someday, we hope, be just as successful and positive. The idea is to show our local kids that there are so many opportunities in this life, and that there are incredible alternatives to going down the wrong path and getting lost.
LET'S SET THE RIGHT EXAMPLE FOR OUR YOUNG PEOPLE
This is our home where we raise our children and we want not only the best for them, but we want them to succeed outside of our city as well. It starts in the home, but also the hometown, and that is why this event is so important for our future city council members, senators, presidents, and police officers. So it's very important that we show them the right path now, so we have no worries later.
WHEN, WHERE, AND HOW?
The camp will be held at 10 Edwards Dr. Sunday, April 16 from 3 to 7. If you're interested in getting your kiddos involved, check out the eventbrite page here. Tickets are free, so don't be shy about getting registered.
Here Are 10 Exotic Animals You Can Have As Pets in Texas
If you like to walk on the wild side with a fuzzy (or scaly) buddy, here are 10 animals you wouldn't think you can own in Texas, but you totally can. Remember, though: Just because you CAN do something doesn't mean you SHOULD.
50 Texas-Inspired Pet Names That Are Way Too Adorable
Inspired by a friend
Chantel in Maine
, we made a list of Texas-themed names that would be perfect for fur babies in the Lone Star State. Because it's Texas, and everything has to be bigger, we went for 50 instead of 40. Do you have ideas for Texasy pet names that we missed? Tap the Chat button in our
free app
to let us know.
Where's the Money At? Here Are the 10 Richest Cities in Texas
Here's a handy list in case you're looking to join the upper crust.