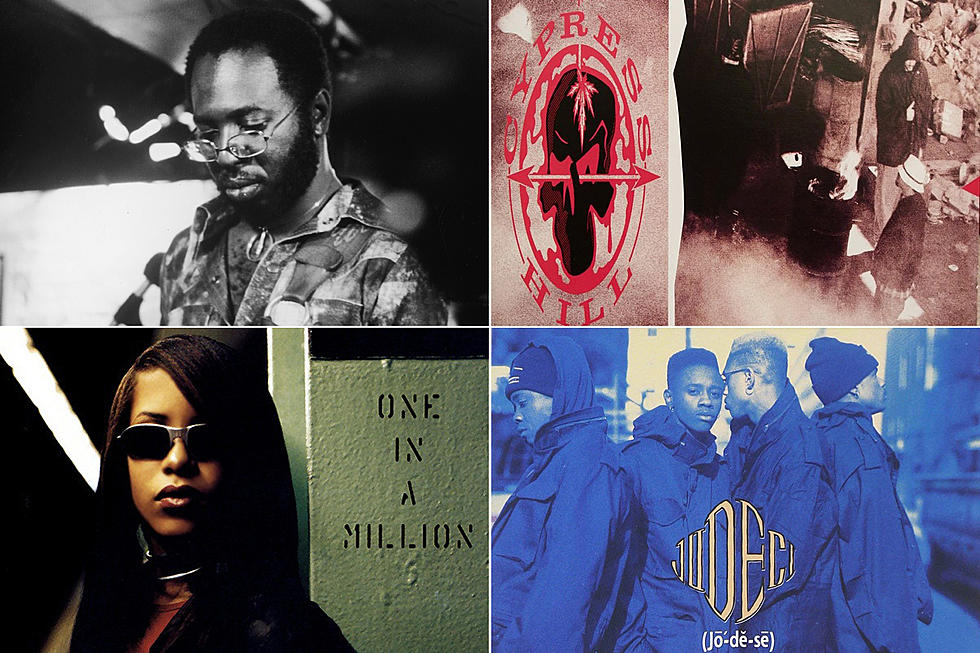 Cypress Hill's Debut Smokes the Competition: August 13 in Hip-Hop History
Hulton Archive, Getty Images / Ruffhouse / Blackground / Uptown
Today in hip-hop history we celebrate Jodeci and Cypress Hill's debut albums and remember the tragedy that left a legend paralyzed.
1990 - Curtis Mayfield paralyzed after light falls on him at a Brooklyn concert
Almost 30 years ago, the legendary soul singer and civil rights activist Curtis Mayfield, who was responsible for classic R&B songs like "People Get Ready" and "Superfly," was paralyzed from the neck down after a gust of wind dislodged an unstable stage lighting rig and fell on him just as he was about to perform at Windgate Field. Known for his gentle spirit and positivity, Mayfield refused to let the accident bring him down.
"I think my spirits are maybe even higher," he said. "It's like I died and woke up to see this wave of love from so many people I knew and people I didn't know. Of course it doesn't mean you don't every once in a while find a tear in your eye. Your body does not allow you to do many things that your mind says. Your mind always says 'I'm ready, let's go.' You have to deal with it; you have to learn patience. It's tough being a person who totally has to rely on someone else when you've been independent all your life."
Although he could no longer play the guitar, he released one last album, 1997's New World Order, which he completed by singing one line at a time while lying on his back, before his passing on Dec. 26, 1999.
1991 - Young MC drops Brainstorm
Two years after Stone Cold Rhymin' turned him into a Grammy-winning star, Young MC's follow-up, Brainstorm, suffered a different fate. Although it went gold, it only reached No. 66 and its first single, "That's the Way Love Goes," stalled at No. 54. Brainstorm came after a lengthy lawsuit with his former label, Delicious Vinyl, who sued him when he left for Capitol, but Young MC also realized that he could have done things differently in the studio.
"Brainstorm was on Capitol because I left Delicious — would you let an artist that just won a Grammy and just sold 2 million records leave?" he told Rolling Stone. "The lawsuit was major. I couldn't record for a year and a half. Trust me I was not sitting down, seamlessly going from one record to another. In hindsight, there's records on Brainstorm I could remix right now and would work."
Young self-deprecatingly acknowledged his career downturn in the title of his fourth album, 1997's Return of the 1 Hit Wonder.
1991 - Cypress Hill releases their self-titled debut 
Unlike Young MC, success was just the beginning for Latino American hip-hop group Cypress Hill when they debuted their self-titled album. Singles like "The Phuncky Feel One," "How I Could Just Kill a Man" and "Hand on the Pump," which combined English and Spanish lyrics led to the album selling over two million copies.
"The thing about Cypress Hill compared to N.W.A. was that they was hard, in-your-face motherfuckers," DJ Muggs said in Check the Technique. "We did the same thing, but we'd pull the gun out and laugh at you, then make a joke about shooting you."
Cypress Hill received very high reviews from critics and it has regularly been ranked among the best hip-hop albums of the '90s.
1991 - Jodeci puts out "Forever My Lady"
Cypress Hill wasn't the only group to find success in 1991. New R&B quartet Jodeci dropped their second single from their debut album of the same name. The record was the first of five No. 1 R&B hits for the group, spending two weeks atop the Billboard Hot R&B Singles chart and also peaking at No. 25 on the Hot 100. The song, produced by member DeVante Swing and singer/producer Al B. Sure!, was dedicated to Al B. Sure!'s then-girlfriend Kim Porter, as well as their newborn son Quincy.
1996 - Cypress Hill releases Unreleased and Revamped
Five years to the day after their debut, Cypress Hill put out their second EP, Unreleased and Revamped. It was a combination of remixes of previously remixed songs, "Boom Biddy Bye Bye," "Hand on the Pump" and "Hits From the Bong" and new material like "Intellectual Dons" and "Whatta You Know." The album peaked at No. 21 on the Billboard 200 and No. 15 on the Top R&B/Hip-Hop Album charts.
1996 - Akinyele drops Put it in Your Mouth
Along with Cypress Hill, rapper Akinyele also dropped his EP Put it in Your Mouth on Aug. 13, 1996. It continued the sexually explicit themes found on his 1993 full-length debut, Vagina Diner. The title track turned out to his biggest hit, and Complex magazine ranked it at No. 4 for the "25 Songs About Oral Sex That Don't Suck."
1996 - Facemob releases The Other Side of the Law
Scarface remained active outside of the Geto Boys when he debuted a new group, Facemob, with The Other Side of the Law. He assembled the group by going outside his native Houston, finding Devin the Dude, 350, Smit-D, Chi-Ray and DMG, all of whom came from different states. They didn't put out a second until 2002's Silence, which did not feature Devin the Dude.
1996 - Case arrives with his self-titled debut
After cutting his teeth with Usher and Al B. Sure!, Case signed with Def Jam and put out Case in 1996. It included the Top 20 hit "Touch Me, Tease Me," which featured contributions from Foxy Brown and Mary J. Blige and was part of the soundtrack to the Eddie Murphy remake of The Nutty Professor. The album reached at No. 7 on the Top R&B albums chart and No. 42 on the Billboard 200.
1996 - Aaliyah returns with "If You Girl Only Knew"
Aaliyah dropped the lead single, "If Your Girl Only Knew" off her sophomore album One in a Million. The song, written by Missy Elliot and produced by Timbaland, rose to No. 11 on the Billboard Hot 100 chart becoming her third single to reach the Top 20. It reached the top of the Billboard Hot R&B Singles chart for two weeks. The single was also a Top 10 hit in Japan and the U.K.
The album received positive reviews from Billboard, Los Angeles Times and Entertainment Weekly. Shannon Marcec of Complex wrote, "Baby Girl delivers her usual sweet yet haunting vocals over one of Timbaland's best beats. But it's arguably the lyrics, from Missy and Timbaland, that make this one of Aaliyah's hottest songs."
1997 - Busta Rhymes drops "Put Your Hands Where My Eyes Can See"
"Put Your Hands Where My Eyes Can See" was the lead single from Busta Rhymes' second album, When Disaster Strikes. The song earned a Grammy nomination for Best Rap Solo Performance, but it's probably best remembered by its music video, which included an homage to the 1988 Eddie Murphy film Coming to America. In an interview with XXL, Busta Rhymes reflects on the making of the video.
"We were in the other room. We mixing the song and Coming to America came on...no audio," he said. "So, when you mix records—sometimes it's an eight, nine-hour process to mix the record properly—the movie was playing the whole time with different scenes. The record sounded like some African shit, and the movie was some African shit. I bugged out when I looked at that shit. I said, 'Nigga, I'm going to call Hype [Williams]. So, I called Hype, and I told Hype that, 'I want to do Coming to America all over and I want to be the Eddie Murphy nigga. I'm gonna send you this song and you gon' understand why I'm telling you this shit.'"
2002 - DJ Jazzy Jeff releases The Magnificent
After rising to fame with Will Smith, DJ Jazzy Jeff went solo with The Magnificent. He said that it took him a while to start his solo career because of his connection to Smith.
"I was offered a couple of projects but never really wanted to do it because everybody back then was asking if Will was going to be on it," Jeff told Jerry Barrow of Okayplayer. "And I wanted Will on it if I wanted him to be on it, not to sell it. That was my first fight with just my independence. I was cool with Pete [Adarkwah] from BBE through Kenny Dope. I used to go record shopping with him. He said, 'I want you to make an album that makes up who you are as a producer.' He gave me a budget, and I didn't think about [the fact] that I was locked into making this record [now]. He knew what he was doing. Sometimes you have to push people to get it out. I was basically cornered."
2002 - Keith Sweat releases Rebirth
On the same day as The Magnificent, Keith Sweat released his eighth album, Rebirth. The album reached No. 14 on the Top Album charts, while its single "One on One" reached No. 44 on the Hot R&B/Hip-Hop Singles & Tracks chart.