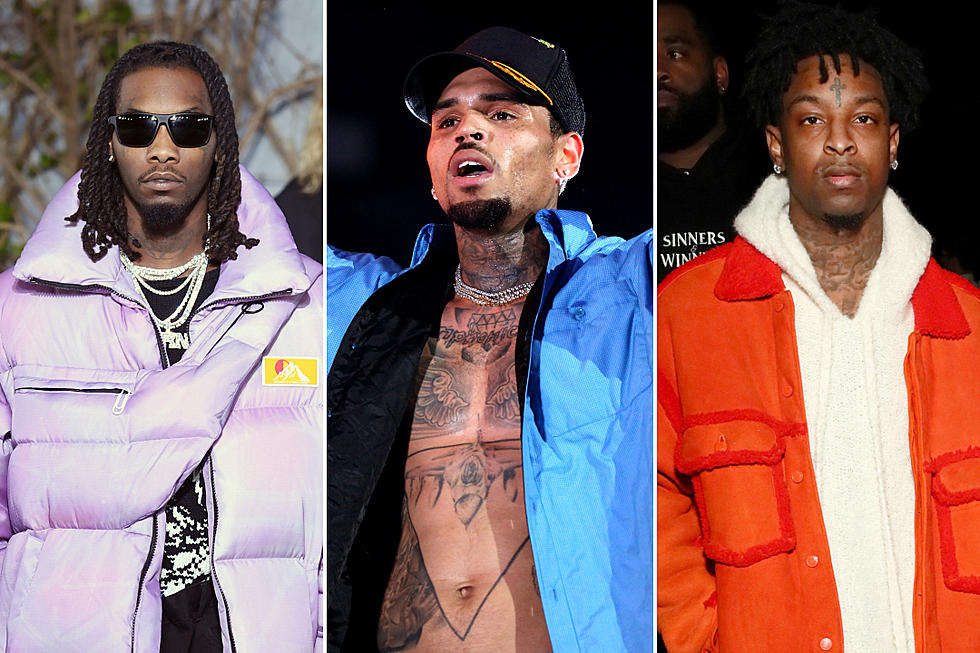 Chris Brown Tells Offset to Fight Him After 21 Savage Meme Criticism
Pascal Le Segretain / Ser Baffo / Astrid Stawiarz , Getty Images (3)
"@offsetyrn FUCK YOU LIL BOY," Brown began his angry response. "BETTER WORRY ABOUT WHAT U GOT GOING AND FOCUS ON 'YOU.' ALL THIS CAP ON IG IS WHAT'S LAME. YO ENERGY WONT LIKE THAT WHEN I CAME TO DRAKE SHOW IN LA. IF YOU DON'T GET YO A HIP A HOP A HIBBET A HIBBET TO THE HIP HOP AND YA DON'T STOP THE ROCKIN FACEASS OUT OF MY COMMENTS. SENSITIVE ASS NIGGA. CALL ME PERSONALLY. U WANT SOME CLOUT WHEN ALL U GOTTA DO IS PULl UP No camera no flexing and all at!!!!! IF YOU A REAL MAN FIGHT ME. Oh and another thing, SUCK MY DICK!!!!"
As we alluded to up top, this entire situation began after Brown posted a video 21 Savage meme which shows an edited version of his 2016 XXL Freshman cypher verse dubbed by vocals from the U.K.'s Big Shaq. It's a joke about 21's newly proven roots in the U.K. Shortly after Breezy uploaded the video, Offset called him out on it by saying, "Memes ain't funny lame." After firing back at Offset, Brown then took their quarrel to his Instagram story where he continued to come at the Georgia rapper.
"If he don't get his EARTH WIND AND FIRE pootytang space suit WEARING CAP ASS LIL BOY da fuck out my comments and off my dick."
Offset didn't continue their argument in Brown's comment section, but it looks like he hit up his Instagram story to respond. "Coke head don't want 💨," Offset wrote.
Check out Chris Brown and Offset's back-and-forth below.
See Photos of Chris Brown's Different Looks Over the Years