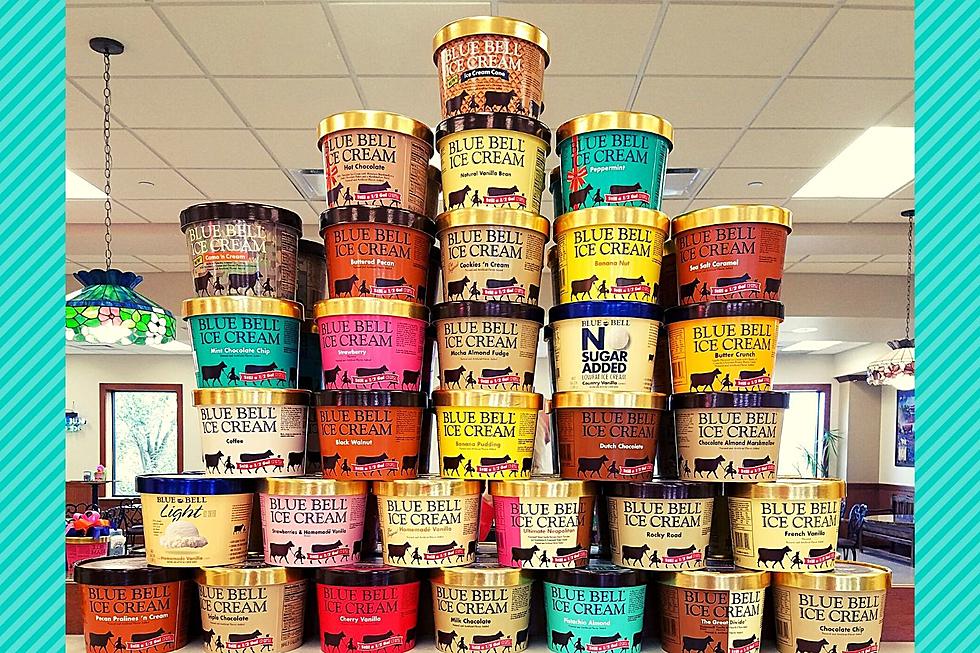 Blue Bell Ice Cream on list for Top 15 Brands in USA – What's #1?
Tamme Taylor, Townsquare Media
We love our Blue Bell ice cream in Texas. My kids have fond memories of visiting the creamery in Brenham when they were younger, and of course, their favorite part was getting our samples at the end of the tour.
I believe my children could have eaten most of this display!
If you've never been, you should really take the time to visit. There are so many great photo ops!
Blue Bell got started in 1907, when the Brenham Creamery Company was established to produce butter, but within a few years the company was also making ice cream. For the first few years, the ice cream was made in a hand-cranked ice cream maker and delivered to local customers in a horse-drawn wagon.
The Biggest Ice Cream Producer in Texas
Texas ranks fifth for dairy production, and much of that milk goes toward producing ice cream, according to Texas Farm Bureau Insurance.
It's not surprising that Blue Bell is one of the largest ice cream producers in Texas.
New Texas Creameries
In the last few years, there has been a sort of 'craft' ice cream renaissance in Texas.
You can find a list of small-batch Texas ice cream shops to try out here.
The Best Ice Cream in Texas
Tasting Table did a list of the 15 best ice cream brands, and ranked Blue Bell in the middle of 15 different brands available nationwide. It was the only Texas brand to make the list.
According to Tasting Table, Blue Bell products were definitely better than a lot of other products they tried, but wasn't quite the 'cream of the crop'.
What Makes The Best Ice Cream?
Tasting Table used the following guidelines for judging:
High quality ingredients (avoiding too many additives)
Extra creamy texture (no ice crystals)
Variety of flavors available
Blue Bell Ice Cream On The List of Top 15 Brands Nationwide
Blue Bell
is the official ice cream of Texas, and my personal favorite.
According to a new list
of the 15 best brands of ice cream nationwide, Blue Bell was ranked in the middle.
In addition to ingredients, texture, and variety,
Tasting Table
used
Influenster
and other site reviews as part of its ranking process.
Scroll on to find out how Blue Bell compared to the number one ice cream, and how all 15 on the list were judged.
Still Hungry? Check This Out:
Choose from a wide selection of cuisines from different cultures at the Yard Truck Food Plaza in Downtown Temple.