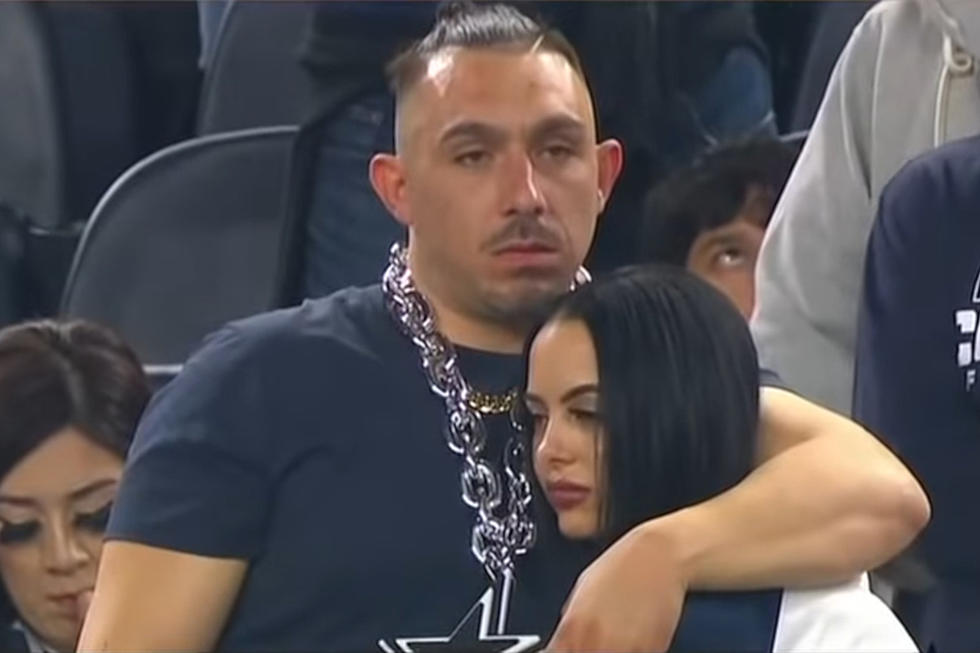 Yikes! Sad Dallas Cowboys Fan Was Actually With His Side Piece – Now What?!
ESPN, YouTube
Remember that sad guy at last week's Cowboys Game shown hugging his girlfriend because the Dallas Cowboys were eliminated from the playoffs?
Well, turns out the beautiful woman he's consoling in the picture above is NOT his girlfriend!
Yikes! More on him in a minute...
Sadness For Dallas Cowboy Nation
Just to recap, the Dallas Cowboys lost to the San Francisco 49ers 23-17 in a nail biter last weekend in the NFC Wild Card game.
Hundreds of thousands of Cowboy fans worldwide were saddened, upset, and frankly tired of their beloved football team (which hasn't appeared or won in a Super Bowl since 1995) losing again.
During the final moments of the game, TV cameras caught tons of humiliated Dallas Cowboy fans at AT&T stadium sulking.
For instance, this one girl's reaction summed up the pain Cowboys fans felt.
Of course, you know ESPN's Stephen A. Smith had a field day with teasing Cowboys great Michael Irvin about the loss.
Serial Cheater/ Cowboys Fan
Now, back to this guy...
If you ask me, this is a very messed up way to get caught in a lie.
It's one thing to lie about it, it's another thing to see your face on TV in front of millions.
I'm sure he would never think it would have been his face on ESPN and other sports networks.
Think about this though: he paid a ton of money for those Cowboys playoff tickets. If I am taking someone with me, I am taking someone I value.
Maybe the lady who was his ex was actually the side chick?
Anyway, Cowboys fans, there's always next year, right?
10 "Outside the Box" Ideas for Valentine's day
Celebrating Valentine's Day can be as simple as a nice card, flowers and a box of chocolates but if the expectation is for something bigger, and more creative, this list might help.
Although there is nothing wrong with dinner and a movie, let's take that idea a little further. Keep in mind, some pre-planning may be in order here but literally the sky is the limit.
There are so many ways to say "I Love You" to that special someone and for the sake of the "Outside the Box' definition, let's go with anything other than dinner and a movie.
Here Are 11 Clubs And Bars In Killeen, Texas To Check Out
Ever thought to yourself "where are the good clubs around here where I can have a good time"?
Well if not exactly in those words, but something like that.
Are you looking to find nightlife here in Killeen?
This is for people who are relatively new to the area and have no idea where to party in Killeen and Harker Heights.
There are a number of clubs in the area that specialize in country and Latin music as well as a number of hip hop clubs, there are even R&B spots for the "grown folks."
Here are 11 clubs and bars to check out in both Killeen and in Harker Heights:
Put These 7 Things in Your Vehicle and Stay Safe This Winter in Central Texas
Let's take a look at some of the best-rated emergency items to keep in your car or truck, where you can find them, and how much they cost.
This Killeen House Is Over 5 Million Dollars - Want To See Inside?
Want to see inside the most expensive house for sale in Killeen, Texas? Scroll onward!