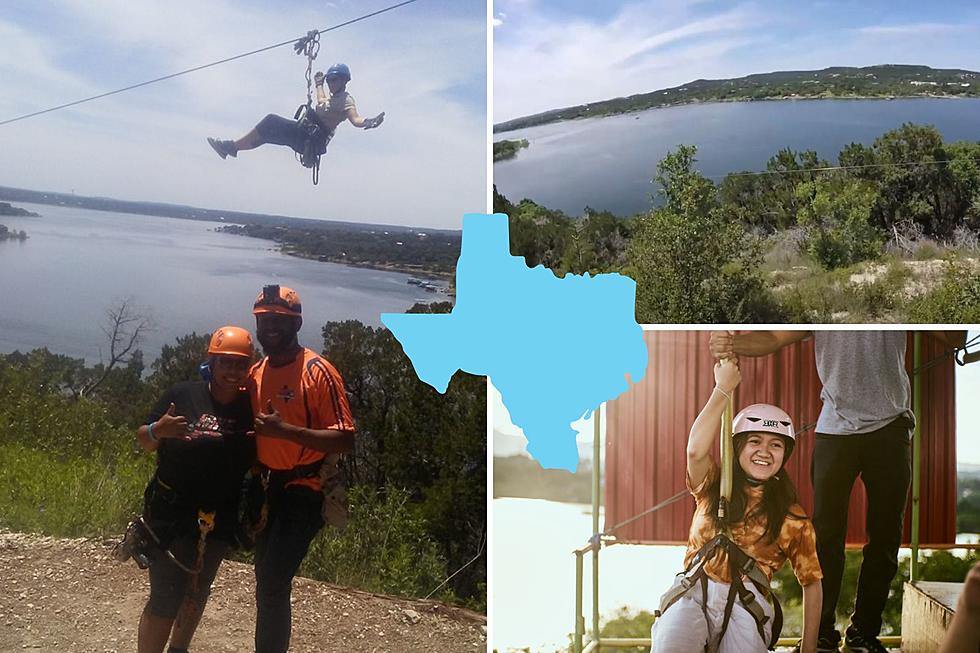 WATCH: Take A Ride On The Longest And Fastest Zipline In Texas
Melz/Canva
One Of The Most Fun Things I've Ever Done Since I've Been In Living In Texas Is Being Able To Ride The Longest And Fastest Zip Line In The State.
I'm not an "action sports" person in the least. The way my knees are still hurting from the last time I played basketball (last year) proves that point. But I'll still get out there and try some different things and this is something that is certainly SUPER awesome and if you find yourself in the Austin area, I highly recommend you check it out!
Lake Travis Zipline Adventures Is Without A Doubt One Of The Best Adventures In Texas.
4 hours away from East Texas sits Lake Travis and its where you'll find Lake Travis Zipline Adventures where they have a 3 hour tour set up for you ride 5 different ziplines including 3 that are the fastest and longest in the state. Your booking includes all necessary equipment, boat transportation, and unlimited bottled water throughout the tour. You can also enjoy all day access to their private lake front property where you can picnic, play beach games, or relax in one of their hammocks.
I Strapped On A GoPro Camera And Took The Ride!
A few years ago, I strapped on a GoPro camera and zipped all around and over Lake Travis myself with my wife and it was AMAZING! It was an experience I won't ever forget as we zoomed through the trees and over the lake and I was kind of mad that whole experience went by so quick!
They Also Offer Sunset & Night Zip Line Experiences
All I gotta say is check it out for yourself. They are open for the season and tours are priced at $139 and reservations are required.
Tech Infused Mini Golf Bar Opening Soon In Texas
Puttshack is opening up locations in Houston and Dallas soon and this aint your mom and dad's "putt-putt"! Let's take a look inside!
After Arrests, 44 People Are Facing Felony Charges In Smith County (March 20, 2023)
Smith County authorities were busy the week of St. Patrick's Day. More than 120 were arrested throughout the week and these 44 people are now facing some kind of felony charge or are being held on some kind of detainer.
Everyone featured is considered innocent until they are proven guilty in a court of law.
You Need to Know What These 8 Painted Symbols Mean on a Tree in Texas
Most of us are familiar with what purple means when its painted on a fence post or tree, but there are some other painted symbols you need to know about.