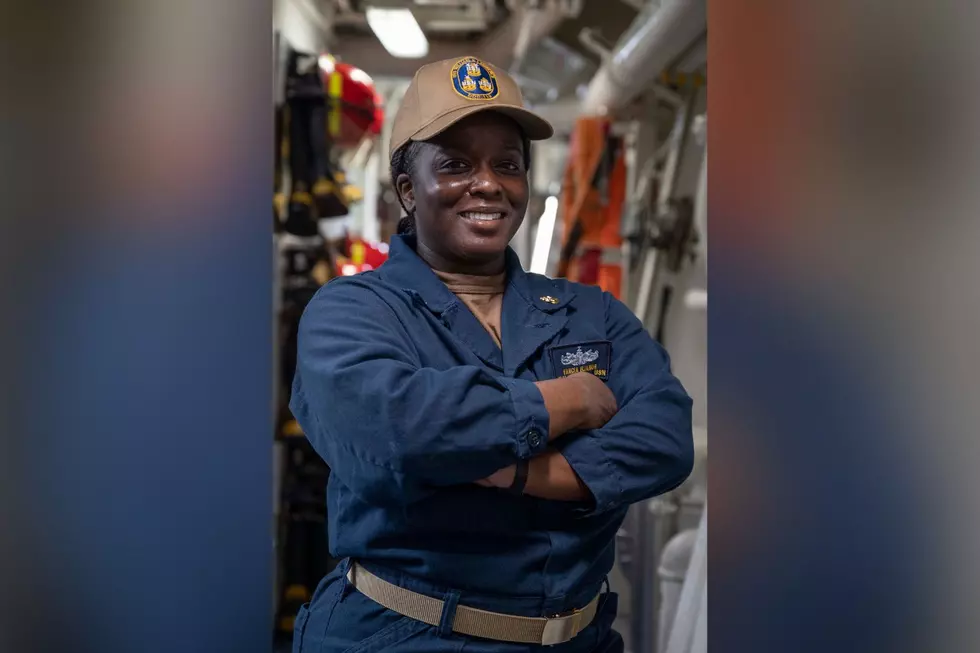 Killeen, Texas Native Taking Part in Largest Maritime Warfare Exercise, RIMPAC
Navy Outreach/Canva
Central Texas has its share of greatness that leaves a mark across the world. People like Ciara and LaDainian Tomlinson are just two of the many we know from the Lone Star State. However, celebrities aren't the only people from the Killeen, Texas area making an impact. Some people are doing far more substantial things, and it's always great to be able to shine a spotlight on them.
Meet Chief Petty Officer Vancia Elianor
Who is Vancia, you ask? She's a native to Killeen who graduated from Harker Heights High School in 2011, and is currently stationed aboard the USS William P. Lawrence in Pearl Harbor.
According to Navy Outreach, Chief Petty Officer Elianor is a quartermaster. The job of a quartermaster is easily explained, but more complicated to do: Officer Elianor handles helping navigate the ship.
CPO Elianor Is Part Of Something Bigger Than Herself
Rim of the Pacific, also known as RIMPAC, is the largest international maritime warfare exercise. According to Navy Outreach, "RIMPAC provides a unique training opportunity that helps participants foster and sustain cooperative relationships that are critical to ensuring safety at sea and security on the world's oceans."
Translation - it's a massive training exercise in which our best and brightest, along with naval personnel from ally nations, put the skills they've learned serving our nation to the test and learn how to better protect our shores and way of life.
CPO Elianor spoke of the honor of participating, saying: "I'm looking forward to experiencing everything that happens during RIMPAC. The work we will do with the navies from all the other participating countries is exciting for me."
What Will Be RIMPAC's Main Focus?
Mike Gilday, Chief of Naval Operations Adm, RIMPAC will help with the overall strength and response of the Navy.
"For 245 years, in both calm and rough waters, our Navy has stood the watch to protect the homeland, preserve freedom of the seas, and defend our way of life," Gilday said. "The decisions and investments we make this decade will set the maritime balance of power for the rest of this century. We can accept nothing less than success."
For those wanting to know more about RIMPAC, click here.
She's Making Us Proud
Thank you so much to CPO Elianor and everyone serving in the U.S. Navy. Even in times of relative peace like these, our men and women at sea protect our way of life by defending trade routes and the infrastructure that keeps us connected to the world.
Killeen is a military community, and we couldn't be more proud of all the people who are out there defending our nation.
Top 25 Delicious Foods & Drinks That Define The Great State of Texas!
There's more to Texas than just Dallas Cowboys and oil in fact, Texas has helped shape the taste of America. From BBQ, to Tex Mex to Ice Cream and beyond, Texas has introduced the rest of the U.S. to the Texas way of life through food. So what foods and drink make Texas so special? Let's take a look.
Bet You Didn't Know: 10 Bizarre Texas Laws Still on the Books
Many states still have strange laws on the books that aren't enforced or taken seriously anymore, and Texas is no exception.
Most of these laws are just funny now, but at one time, there was a valid (or at least somewhat valid) reason for them to exist.
Let's take a look at 10 of the weirdest ones in the Lone Star State.
Shaq Dunks Into Dallas, Texas: Look at The Big Aristotle's New House
Shaq's new home in the Lone Star State has finally been revealed. Let's take a peek inside and bask in its glory, shall we?
6 Bizarre Town Names in Texas and the Stories Behind Them
There's no shortage of bizarre town names in Texas. Ding Dong, Kermit, Oatmeal, Reklaw, Pflugerville, and Zephyr: that's just the tip of the iceberg when it comes to the oddest town monikers.
Have you ever wondered how on earth these names got on a city sign? Keep scrolling to see the history behind some of the weirdest town names in Texas.