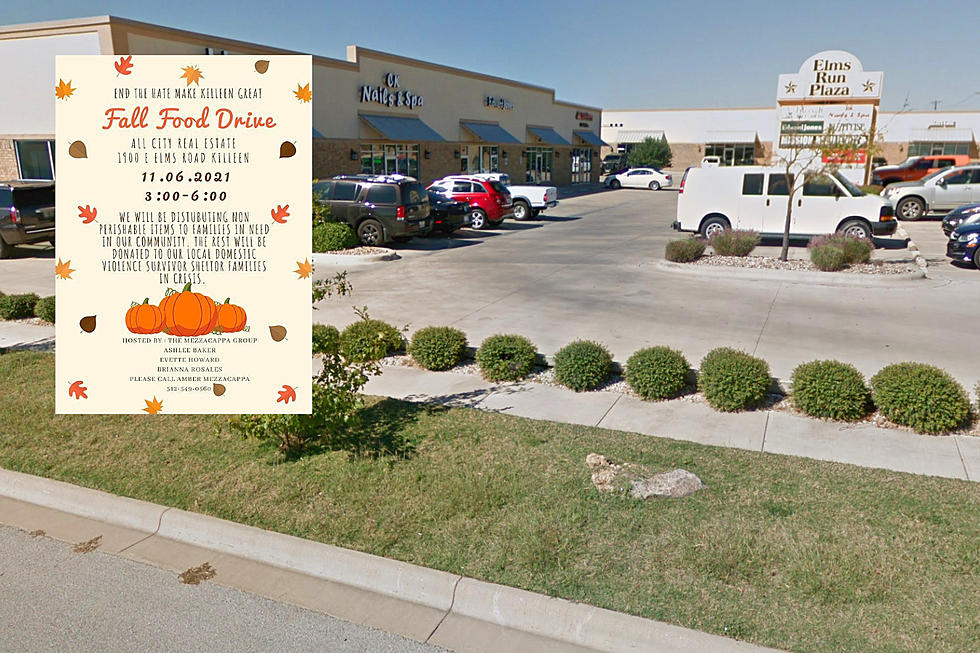 Share the Love at the End the Hate Make Killeen Great Fall Food Drive
Amber Mezzacappa/Google Maps
Families in need and domestic violence survivors are invited to partake in a loving food distribution event in Killeen happening Saturday, November 6.
---
It definitely warms my heart to know that when our city of Killeen goes through something, the first thing I think about is how hard it is to break us! We are definitely a community that sticks together through the good, the bad, and especially the ugly. We want to make sure that that our family, friends, and neighbors are protected and taken care of. I think that just comes with a town growing up with each other.
It is truly amazing to me how genuine and loving people can be with so much compassion that it warms my heart. A lot of us need to pat ourselves on the back and say "you're doing a great job" because, in all honesty, we're doing a great job!
This brings me to a young lady that I know personally - Miss Amber Rose. Amber is the founder of the Amber Mezzcappa group, which is an organization founded with the intention of helping out in the community.
I remember years ago when she started the End the Hate Make Killeen Great foundation. I'm so proud that she took the community's needs into consideration, and she's continuing her efforts with a fall food drive.
On November 6 between 3 PM and 6 PM, she will be hosting the food drive at 1900 Ellms Road in Killeen. She and others of this organization like Evette Howard and Brianna Rosalee will be giving out perishables to Central Texas families in need. Any remaining items will be donated to our local domestic violence survivors shelter,  Families in Crisis.
How could you not love this woman? This is what Killeen is about. When people ask me what makes me love the city of Killeen when there can be so much violence and negativity, this is what reminds me of why I am a proud native!
The Perfect Treehouse Escape
Located in Baird, Texas is a treehouse that matches nature's beauty. The treehouse gives you the space and opportunity to live out all your treehouse dreams, while still staying comfortable.
21 Texas Towns Outsiders Can't Pronounce
Ten Weird World Records Set in Texas