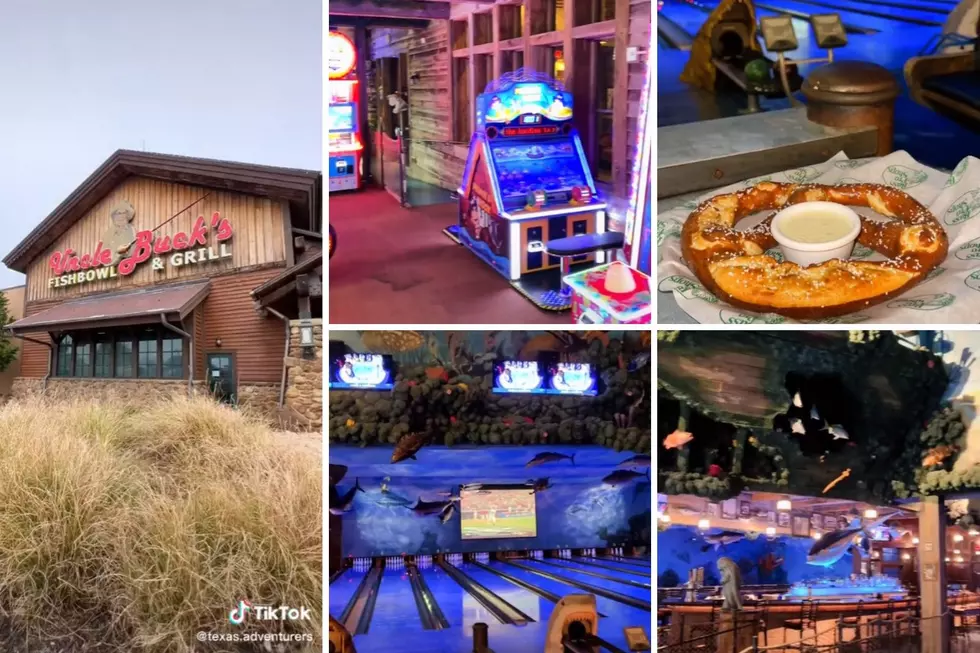 Round Rock, Texas Restaurant Lets You Bowl And Enjoy The Sea
Texas Adventures Tik Tok/Canva
For some of us, going out to eat sometimes has to be an experience. One that most of us know is Dave And Busters. Which, side note, why isn't there one of those in Temple? We digress of course, but we'll talk about that soon.
While Temple continues to grow in both size and business, there's other parts of the state that also grow too. Austin and the area around it seem to be getting bigger by the second, and with that, businesses move in. We've talking previously about Ninja Nation, which is coming soon.
But for those who aren't as agile, there's always this restaurant they can visit, which is like being...under the sea???
Uncle Buck's Fishbowl And Grill
Yes this isn't a joke, Texas Adventures has the video of the rather interesting entertainment center:
We weren't kidding on the underwater theme. The alleys themselves even have various designs the simulate the feeling of being underwater, according to the business website.
Also seen is an arcade, which any restaurant with an arcade is a winner in the Tommy Paradise book, and of course, food. But there's another interesting tidbit regarding the business.
How Many Of These Establishments Are There?
At the time of writing, only five of these places exist in the United States. And there's only one in Round Rock. So I think it's time that we put forward the idea of one being built in Temple!
I mean think about it, who wouldn't want to at least bowl once while feeling like their underwater? I would. Let us know your thoughts by sending us a message on our FREE station app using the chat feature!
Bet You Didn't Know: 10 Bizarre Texas Laws Still on the Books
Many states still have strange laws on the books that aren't enforced or taken seriously anymore, and Texas is no exception.
Most of these laws are just funny now, but at one time, there was a valid (or at least somewhat valid) reason for them to exist.
Let's take a look at 10 of the weirdest ones in the Lone Star State.
Who Are The 5 Richest People in Texas, Not Counting Elon Musk?
However, Bezos is not the world's richest person right now. That title goes to the founder of SpaceX, Tesla, and the new owner of Twitter, Elon Musk. Musk owns a mansion in Austin
but says his main home
is a $50,000 rental from SpaceX in Boca Chica, Texas.
Forbes
lists 63 billionaires in Texas, including Elon Musk. Let's find out who's at the top of the list in the Lone Star State for 2022, right behind Musk.
Hook 'Em! 7 Celebrity Graduates From University of Texas at Austin
When you think of the University of Texas at Austin, what comes to your mind first? Is it celebrities? Of course, some celebrities are more vocal than others about their alma mater. Matthew McConaughey lets everyone know where he came from, so no surprises there. The actor is also a Professor of Practice at the university's Moody College of Communication, and graduated in 1993 with a Radio/TV/Film degree from UTA.
Aside from McConaughey, you might be surprised at some of the famous people who picked up a degree in the Lone Star State's capital city.
10 Myths About Texas That Even Some Natives Believe
Everything's bigger in Texas, including the tall tales! Our state can seem pretty strange to people from far away, or even our immediate neighbors. There are several myths about Texas that range from quirky to fun and just plain ignorant and insulting, and even some people born and raised her believe 'em. Here are a few we can dispel today.