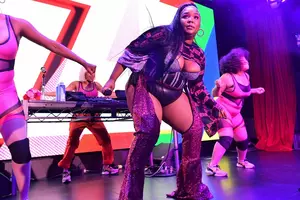 Lizzo Claims 'Racist Bigot' Security Guard Attacked Her Stylist at a Music Festival
Dia Dipasupil, Getty Images
Lizzo performed at a Milwaukee music festival on Thursday (June 27) and reported that her hair stylist was attacked by a security guard while she performed. Lizzo reportedly called the security guard a "racist bigot" according to the Milwaukee Journal Sentinel.
Lizzo shared the first tweet about the incident, "Did anybody get footage of the security guard that tackled and attacked my team @Summerfest?," Lizzo posted Thursday night. "They slapped and manhandled my hair stylist and stylist and I'm out for blood."
In a since-deleted tweet, Lizzo shared a video where she reportedly showed the alleged attacker claiming that he manhandled and slapped her hair stylist. "They're keeping me from going over there and having my way with him, but I'm filming this right now just in case I need some evidence and just in case I need to put this on the internet," she allegedly said in the video.
Deleted Tweets Celebrities Wish We Never Saw