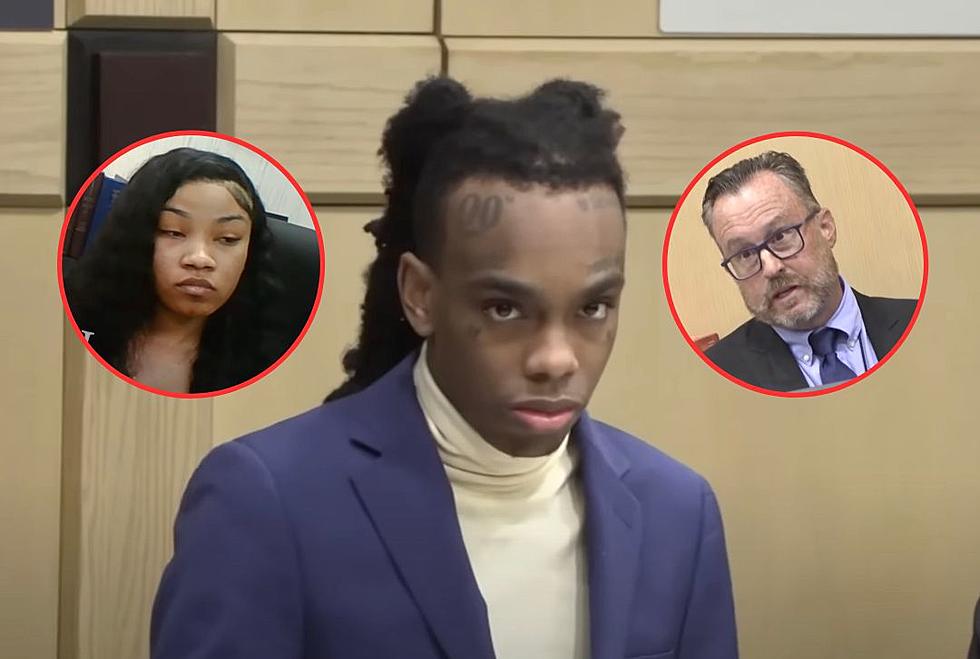 YNW Melly's Ex-Girlfriend Accuses Police of Threatening to Arrest Her to Get Information in Rapper's Double-Murder Case
Law&Crime Network/YouTube (3)
YNW Melly's ex-girlfriend has broken silence and is accusing police of threatening to arrest her in order to get information in the rapper's double-murder case.
YNW Melly's Ex-Girlfriend Speaks Out on Rapper's Double Murder Case
In an interview with Law&Crime's Sidebar podcast, which premiered on Monday (Sept. 18) on YouTube, Mariah Hamilton, YNW Melly's ex-girlfriend, is accusing police of threatening her with jail if she doesn't divulge information regarding Melly's double-murder case. The South Florida rapper is accused of killing his best friends YNW Sakchaser and YNW Juvy in October of 2018. Melly is facing a second trial after his first one ended in a mistrial on July 22.
Hamilton told the legal outlet that she's been elusive because she is trying to get a warrant lifted so she could offer her testimony in the case.
"I'm currently wanted," she told Sidebar host Jesse Weber. "I've tried to get the warrant lifted plenty of times but it's just been a constant battle with my lawyer and the prosecutor [Kristine Bradley]. So I've just been laying low trying to get the warrant lifted before I could even come in and speak my part."
"I just want people to know that I'm not running because of any money or anything like that," she added. "It's because I don't want to go to jail for something that I didn't do or something that I'm not a part of. I just feel like they're looking at me wrong and what they're showing is not true."
Prosecutors alleged Hamilton talked to Melly after the shooting and may have information about the night in question. They also believe Felicia Holmes, Hamilton's mom, was nearby during the call, based on the police statements she gave in 2018. Hamilton was 17 at the time of the shooting.
Elsewhere in the interview, Hamilton accused police of threatening her to give information in Melly's double-murder case.
"Because I was his girlfriend at the time, so they thought I knew more than what I telling them. Which I didn't," she explained. "So they were just harassing me. When the situation first happened, I was threatened. I was 17, about to turn 18. They came to my house, telling me they were going to arrest me on accessory after the fact. My mom didn't know what to do."
Hamilton revealed that she has filed a complaint against the lead investigator in the case, detective Mark Moretti, for allegedly harassing her.
"When he first came to my house, it was so unexpectedly," she explained. "I had pulled up with my cousin and they were outside my house. I was so confused; I asked my mom what was going on. She [Felicia Holmes] said they want to talk to you, you have to talk to them. They're threatening that you're going to go to jail, so I was like 'Oh my gosh.' I told them my story, I told them what I knew."
"He told me that I was lying," she continued. "He told me I knew more than I was telling and that he could arrest me for accessory after the fact. So he wanted me to get on a tape recording and tell him what he wanted me to tell him, which I did."
"And after that, he said they wouldn't bother me anymore. [But] they were still calling and texting my mom asking for me. I refused to talk so many times. And I haven't talked to them since 2019," she added.
Hamilton's mom told Law&Crime that she believes the prosecutors are forcing them to tell a story that would convict YNW Melly of the double murders.
"We were forced to tell a story," she said. "Are you going to take my 17-year-old daughter to jail? I don't want my daughter to go to jail for anybody. Get your case together and stop making the witnesses pay for your mistakes."
What's Next for YNW Melly?
Last month, YNW Melly appeared at a hearing to confirm the date for his upcoming second trial. Initially set to begin on Oct. 2, the new trial has been pushed back a week to Oct. 9, which was a request made by Melly's defense team. Meanwhile, YNW Bortlen, who is accused of being a co-conspirator in the double murder with Melly, is headed to trial on Oct. 2.
YNW Melly will remain in jail until his next hearing.
Watch Law&Crime Network's Interview With Mariah Hamilton Below
See Why These 25 Rappers Are in Jail or Prison Right Now