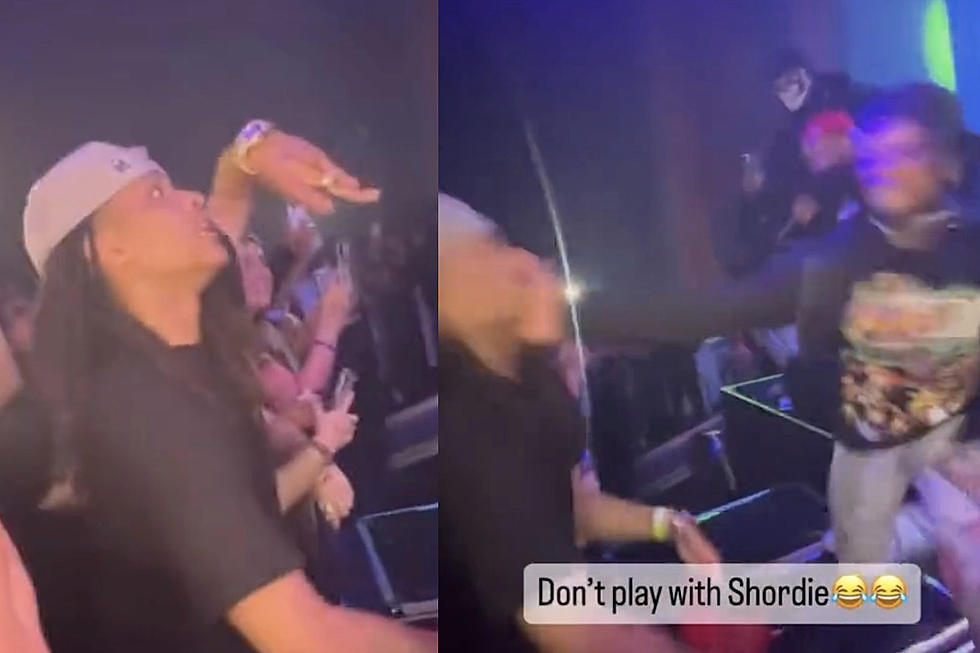 Shordie Shordie Punches Fan in the Face for Throwing Up Alleged Gang Signs at Show
bitchdisbsfr/Twitter
UPDATE (Oct. 1):
Shordie Shordie hopped on his Instagram Story to respond to a viral video of him putting paws on a concertgoer who was throwing up alleged gang signs at him while he was performing.
In the clip below, the 27-year-old rapper made it very clear that the person he assaulted wasn't a fan or a female.
"That was a disrespectful-ass n***a who needed his face slapped," he said. "And we did that," Shordie added while panning the camera to his friend who delivered the second blow to the fan's head during the fracas.
"That's how it go. You out the lips, n***a, slap the lips," Shordie Shordie concluded.
ORIGINAL STORY:
In an alarming video, Shordie Shordie punched a fan in the face for throwing up alleged gang signs at his show.
Shordie Shordie KOs Fan for Throwing Up Alleged Gang Signs at Show
On Saturday (Sept. 30), Shordie Shordie went viral after a video surfaced on social media of him punching a man for throwing up what appears to be gang signs at him during his concert performance. In the fan-captured clip, which can be viewed below, the Baltimore City rapper is rocking the mic when he notices a man holding a red bandana and throwing up alleged gang signs at him.
Shordie Shordie pauses for a second before delivering a massive blow to the man's face. Then his hype man follows up with another huge punch to the fan's head, which sends him crashing to the floor. The concertgoer attempts to stand but appears dizzy from the vicious blows. Security jumps in and escorts him from the venue. There's no word on the man's injuries.
"On Westside Hoover, what I look like n***a," Shordie said. "Don't ever bang on me."
According to Twitter user @bitchdisbsfr, who posted the video, Shordie Shordie was implementing gang politics to the alleged transgressor. "Shordie Shordie knocks out fan after trying to 'bang' on him," the person wrote.
Fan Runs Up on 50 Cent and Gets Tackled by Security
There seems to be an unforeseen trend of fans trying to get rappers' attention at their shows. Last month, an overzealous fan at 50 Cent's concert in Chicago decided to jump on stage so he could interact with the New York MC. Of course, the fan was met by security who weren't friendly to him.
In the video below, the person slips through security and hops on stage and makes a run for Fif. But what the person didn't see was the security guard coming from the side before he got tackled like he was a wide receiver catching a football. Several more men jumped on the fan and a brief scuffle ensued before he was carried away.
50 Cent took a moment to observe the melee before continuing his performance as if it was just another day at the office.
Check out the shocking video of Shordie Shordie punching a fan at his show below.
Watch Shordie Shordie Punch a Fan in the Face for Throwing Up Alleged Gang Signs at His Show
See Rappers' Most Wildest Insults They've Said During Beefs